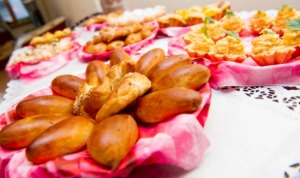 I am looking for luncheon ideas for a Mother's Day luncheon. We will be having older ladies, as well as girls. We plan to have a silly fashion show, the speaker will be talking about how what we wear is not important, it is our inner beauty that pleases the Lord. What can we serve that all ages will enjoy? Any help will be greatly appreciated.
By Teresa
Answers

April 9, 2013
1

found this helpful
Finger sandwiches, salads and bar desserts are popular for luncheons.

April 9, 2013
0

found this helpful
One thing I find that most people like are assorted berries mixed with yogurt and shortbread cookies.

April 9, 2013
0

found this helpful
Different kinds of mini muffins are also good with a variety of spreads.

Marg
Gold Feedback Medal for All Time! 520 Feedbacks
April 9, 2013
0

found this helpful
Great fun! I wish I could come.
Marg from England.

April 10, 2013
0

found this helpful
I would make a strata. It's an egg based casserole with any kind of vegetables. There are many recipes online. You can also add ham, bacon, etc. I always make these for my brunches or luncheons.
The best part is that you make them a day before and just heat them up. This, with a nice salad and rolls, are perfect.

May 22, 2022
0

found this helpful
I am having a silly fashion show as well. I would love some of ur ideas. Thanks
Answer

this Question

I am hosting a luncheon at my church for the single women's ministry. This is my first time doing this and I really need help. I need ideas on a nice menu, maybe finger foods and some gifts that I can give the ladies who attend. My theme is "Forgiving and Rebuilding: Giving young women the tools to regain what was lost in the storm".
By Shay from Oxford, MS
Answers

July 30, 2010
0

found this helpful
As a former pastor's wife, I have hosted many luncheons over the years. As to menu, I always tried to have meat, veggie, salty and sweet. One of the favorites was BBQ Farmhouse Bundles (Taste of Home), stuffed celery (celery spread with a cheeseball type mixture), chips, fruit picks(your choice of fruits layered on a wooden skewer) and a variety of cookies.
As to gifts, it depends on if you want to stay thematic. You could choose a variety of small, pretty tools - tape measures and small household tools with pretty colors or patterns. Or journals and pretty ink pens are always appreciated. Or small jar candles in soothing scents to enhance their Quiet Time reading and praying. Hope this helps.

July 30, 2010
0

found this helpful
how about a refrigerator magnet with a pic of a tool box and this verse over printed over the top: Do your best to present yourself to God as an approved worker who has nothing to be ashamed of, handling the word of truth with precision. II Timothy 2:15 ? For center pieces you could have small colorful sand buckets filled with flowers and place a few dollar tree tools in each for decoration. Good luck. :)

July 30, 2010
1

found this helpful
I like this Care Kit. All the items can be put in a small gift bag.
Care Kit
A paper clip- To help keep things together when they seem to be out of control.
A rubber band - To remind us that there are times when life stretches us.
A tissue - To wipe away a tear, your own or someone else's.
A candy kiss - To say "I love you in a sweet way".
A small smooth stone - To remind you that rough times help refine and polish us for smoother tomorrows.
An eraser - To erase any mistakes or misunderstandings that are really troubling you.
A note card - To send as long, over-due greeting to someone who is lonely
A recipe - To make when you wasn't to do something special for someone.
An adhesive bandage - To remind you of healing, perhaps of hurt feelings your own or someone else's.
A scripture verse - To share God's Word of love.

July 30, 2010
0

found this helpful
Dollar Tree or a dollar store would have excellent affordable gifts such as maybe a notepaad and pens for taking notes during the sermon. Dollar Trees are also excellent for stocking stuffers, small birthday gifts, etc.
When I was cooking for my daughters wedding, I googled "cooking for a crowd" and found some really helpful websites. I hope this helps!

July 31, 2010
0

found this helpful
How about a small emergency umbrella?

August 1, 2010
0

found this helpful
I personally like the emergency umbrella idea, sounds appropriate to your theme.
For menu, might be easiest to provide a variety of cold cuts, condiments and bread. The ladies can build their own sandwiches, and you can have several different kinds of chips, or a green salad and two or three kinds of dressing.
If that isn't simple enough, I recall my soon-to-be daughter-in-law provided mini-weiners simmered in BBQ sauce and skewered on a toothpick as a finger food at a ladies' gathering. Cheese and crackers are also excellent finger foods, as is a relish tray or fruit tray.
Enjoy your fellowship.
Answer

this Question

I am looking for ideas for a church ladies luncheon with the theme of "Binding Hearts and Hands". We will be decorating approximately 20 tables and need to stay within a limited budget. I would appreciate any help anybody might have.
By Juanita Parsons from Galt, CA
Answers

March 15, 2010
0

found this helpful
Here's a thought; use instructions from the following link to create "hands" from Plaster of Paris using latex gloves as molds. (Make sure to hang straight so the bottom will be flat to sit on the table - curve the fingers a bit for interest). Use a single "hand" or a pair of "hands" per table depending on your budget.
After drying spray paint or decorate with any color you desire --paint at least one heart on each hand more if you prefer. Finish with a coat of clear gloss laquer. A few sprigs of greenery or some confetti sprinkles , perhaps a candle in the center of a pair of hands. and you'll have unique theme centerpieces. These could be given away at the end of your luncheon - a drawing or a "ticket" under one chair at each table to be found by the lucky guest at the end of the luncheon. Good luck and have fun. www.ehow.com/list_5961684_children_s-crafts-plaster...

March 16, 2010
0

found this helpful
You could make a 'paper people chain' and put it around a glass hurricane with a candle. The candles could be different sizes and could be found probably in the church if it's large or could be brought by several people. Then, make (or you might be able to buy) the people chain (see link below for example). If you use sturdy paper and tape the chain into a circle they will probably stand freely, otherwise you can put a little tape or those 3m sticky things on the back.
cache2.asset-cache.net/.../85452116.jpg?v=1&c=IWSAsset&k=2&d...
If the link doesn't work just google 'people paper chain', that's what I did.

May 28, 2018
0

found this helpful
You could use gloves to represent the hands linked around a centerpiece of flowers. Dollar Tree has two pack gloves for a dollar and ivy bowls and flowers.
Answer

this Question
I am looking for ideas for decorations, food, and activities for our music ministry luncheon which will include the choir and musicians.
By Janet W

Answers

Pghgirl40
Bronze Feedback Medal for All Time! 196 Feedbacks
May 30, 2018
0

found this helpful
I am all about budget and "green" parties....
If you have someone crafty...have them cut a watermelon or cantaloupes with a musical theme...Pinterest has lots of these ideas...then you can eat your decorations!
www.google.com/search?q=watermelon+bowl+musical...:
Or
www.google.com/search?q=watermelon+bowl+musical...:
I often see cute paper products with musical theme at the local dollar store. This is not the best "green" option...but can be budget friendly.
For an edible party favor, find someone to make a music them shaped chocolate candy. If you don't have a local vendor or someone in your group who can do this, you can order them (less cost effective, but greener than giving out a CD or some other gee gaw that would get tossed in a drawer).
www.candywrapperstore.com/.../302005.htm
You could use old (non valuable) song music as placements.
Your entertainment can be a sing along!
Have fun with it!! Enjoy!!

Judy
Gold Post Medal for All Time! 677 Posts
May 30, 2018
0

found this helpful
I would have a music theme. Have musical note decorations. You could have a Name that Tune game featuring religious songs. You can also serve foods mentioned in the Bible, like loaves and fishes.
Answer

this Question
I am in charge of a large gathering (approx 200) to celebrate the 40th ordination of a minister. All Lutheran churches in the area are invited. The problem is we have limited space, probably for 120 people and quite a few elderly parishioners. What's the best solution for not enough seating?
By Cheryl from Wheeling, WV
Answers

October 3, 2013
0

found this helpful
Is the space available for 120 for a sit down dinner or for a standing crowd? Is a special program planned where everyone needs to sit down? This all plays into your planning. It can be an afternoon "standing" tea, with plenty of chairs around the sides for the elderly who need them, or in small circles so they can visit. A brief program where the guests can still stand while a brief "honoring" ceremony takes place. If possible have a "history" wall of pictures and articles about the honorees past 40 years can get or keep conversations going. Also can do a "guest of honor" small table for the honoree to greet guest from. Lots of things you can do. Just have to coordinate the program with the reception/dinner(?) so they work together.
Answer

this Question