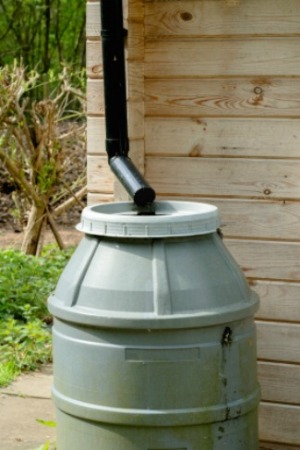 You don't have to spend a lot of money to have a beautiful and bountiful garden. This is a guide about frugal gardening tips.
Ad
---
Solutions: Frugal Gardening Tips
Read and rate the best solutions below by giving them a "thumbs up".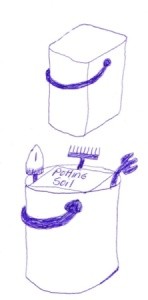 I have an idea but not the components to make one. So, indulge if you will, my art work. Four gallon square buckets fit inside five gallon round buckets. By putting the square one inside the round one, you have a center place for your potting soil and small spaces for the gardening implements and garden stakes. I am enclosing a picture. The four gallon diameter is 9 15/16 inches and the diameter of the five gallon is 11 inches approximately. You may have to play around with the different sizes, but if you have two at home that you can try out, why not? This would also work with boots in the center and umbrellas around the edges, tall and short dried flowers, or anything you want to keep handy and don't want to dig around for. Hope this helps!
PS: If this isn't practical, please be kind.
By Poor But Proud from Sweet Home, OR
I use a flat bottom sled for garden waste. I find it very easy to pull all year round, and it holds tools as well as garden weeds. I put an old dog leash on the sled by using hooks through each end to put through the holes on each side of the sled. Then I just drag it along over my neck and shoulder as I garden.
I have bamboo, so that means I need something that will allow long stems. I have roses and this keeps the thorns contained, until I get my recycling bags ready. It is good for taking plants from the car to the garden as well. It is great for pulling out your recycling bins. All around my most useful garden invention.
By Barbara W. from Ewing, NJ
If you normally use a wheelbarrow to move mulch, dirt, compost or weeds, try an old bed sheet instead. Lay the sheet open on the ground and rake or throw the mulch, dirt or weeds onto it then grab three corners and drag the whole bundle to its new location. Lift up one side of the sheet at the new location and pour out the contents.
By Robin from Durango, CO
When you go outside to garden and take your cordless or mobile phones with you, pop them into a zip-lock bag to keep them dry and dust free. Zip-lock bags come in lots of sizes, so there's one for each phone.
By Suanne from Australia
I have a passion for gardening, but am always frustrated that garden accessories, like good tools, are so expensive. The other day I was planting some herb seeds and trying hard to get out all the small rocks out of the dirt. The more I raked the more I found, but so many just went through the tines of the rake. I thought to myself, "there must be a better way," and then I thought of my plastic cat "pooper scooper". It worked like a charm and I wondered why I had never thought of using it as a garden tool before! So now my seeds can grow without competing with so many little pea shaped stones.
By Maggie from North Springfield, VT
I had just moved in at the beginning of summer last year and found a fabulous deal on flowers! There wasn't a flower bed on my acre! So right over my grass, I laid Eco Friendly roofing paper. Then flat bags of inexpensive top soil here and there. With a razor knife, I carefully cut the top off the bag, then took a screw driver and a hammer and punctured drainage holes in several places. Right in the bags, I planted the flowers, then mulched with pine straw over the roofing paper, around the bags, and carefully between flowers. Voila - a beautiful bed! No one could see the paper or bags! I added bushes and trees and just slit an X in the roof paper!
This spring, I carefully cut the bags and pulled them out. The bed is still beautiful! The easiest garden bed I've ever done! (I couldn't resist adding a picture of my vegetable garden, before everything bloomed this spring. I salvaged old school bleachers to do my beds.)
By Mammio from AL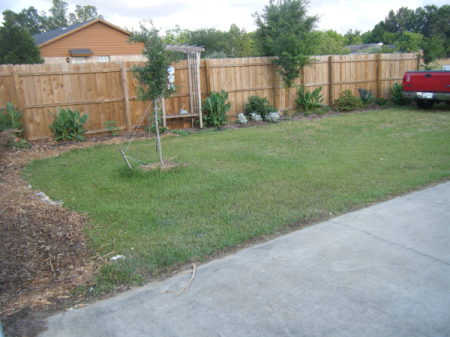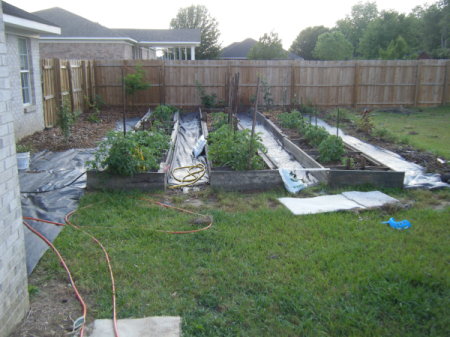 I hate how dirt gets under my nails when I garden. No matter how hard I try, I couldn't get all the dirt out from under my nails. Then I discovered the dish sprayer from the kitchen sink. A few seconds squirting directly under the nails, and all the dirt is gone. And it feels good.
By Kathleen from Reno, NV
For those of you that love flowers and have a friend or acquaintance that loves fishing, ask them to save the "dirt" that their bait comes in. This can be added to your potting soil to boost its enrichment. You can put it directly into flower pots to revive that worn out soil, with out going to the expense of new potting soil.
Source: I read an article in our local newspaper about someone that raises worms just for the soil they leave behind. It was sold as "black gold". Having a husband that loves to fish encouraged me to do this on my own.
By Sally from Bedford, IN
I have several tips:
I use all of my neighbors and my grass clippings to mulch my vegetable garden. I have few weeds, great organic vegetables, save money and time weeding.
I use the twist ties from biodegradable garbage bags to use as support ties for various vines.
When starting a new area to grow a garden, plan ahead. In the fall or winter begin by adding newspaper over the area, then all of your fall leaves, and pile up the grass clippings. When spring comes, it will have decomposed, and you will not have to dig up grass and weeds. The newspapaer will have killled the old vegetation and the composting will have begun. In the spring, you will be able to begin planting. If you did not start early enough, add it any way and give it a few weeks to compost and then plant.
Think out of the norm. I planted tomatoes in the front yard with the flowers as well as zucchini. I have too much shade in my back yard to grow vegetables. This year, I will mix in more vegetables. Many people stopped by to talk and share about their gardening challenges.
By Cynthia from Chicago, IL
Use:

I have been a gardener since I was a little girl, taught by my dad, and it's always fun to learn new thrifty and creative ways to enhance my gardening skills. Over the years, I have picked up many great ideas from several friends and relatives, and also just by experimenting. I hope you find these tips interesting.

Seeds:

Seeds don't always expire by the date printed on the package, so don't toss them automatically if you think they are expired. The seeds can often last for many years and still be viable. I have used tomato seeds that are 5 years old, and most germinated. Just plant the seeds a little thicker than usual. You can also pre-soak the seeds overnight in a little water to give them a head-start. This won't work for all seeds, but it's worth a try before tossing "old" seeds.

You should also consider saving your own seeds from any open-pollinated (NOT hybrid) plants from year to year. I have been saving pole bean seeds and tomato seeds for many years this way. That way, you have free seeds to grow the next season, and you can share them with your friends, too.

Seed starting: use the cardboard egg cartons with a little seed starter mix in each cup to start seedlings indoors. You can also use the bottoms of egg shells to start seeds.

An inexpensive shop-light (flourescent) works well instead of a more expensive grow-light to start seedlings. Just put it a few inches over the emerging seedlings, and raise it as they grow.

Once your seedlings are growing, use an old cookie tray or a plastic serving-tray to put your seedling containers on, and then water from the bottom, using the tray to hold the water. (Burger King plastic trays work great. My mom went in to one of their stores and asked to buy an old tray, and they gave her one for free.)

Don't forget to harden off your seedlings before planting them outside. You can transport them on your trays outside for a few hours a day, lengthening the time till they are sturdy and stocky and ready to go into your garden.

Enriching the soil:

I am an advocate of composting whenever possible. We keep a compost pile in the corner of our yard. Into this we put vegetable scraps, coffee grounds, eggshells, leaves, grass, etc. Once a year, in the spring, we empty the pile into our garden and rototill it all into the ground. Then we start a new compost pile. It's a great way to enrich the soil, it's a way to recycle, and it's free.

Sometimes we also go to a local stable and cart away some free rotted horse manure. That also goes into the garden to be tilled under. It's an excellent free fertilizer.

I often save grass clippings and use them to mulch the garden once the plants are established. It's good for pathways and the edges of the vegetable garden. Since it generates heat while decomposing, don't put it too close to the plants. In the fall, till it into the garden. It adds necessary nitrogen to the soil.

Consider growing a "green manure" crop like alfalfa or buckwheat. Till these into the soil and let them decompose, and they also add nitrogen to the garden.

I have also collected buckets of rotted leaves and well-rotted wood chips (never use fresh wood chips) from the town's collection site to add to the compost or the garden. Fresh wood chips (free from the town or from some tree removal companies) can be used to make mulched pathways in the garden, but they must be very well rotted before you can add them to the growing area, as they will rob the soil of the nitrogen that the plants need. There are so many things you can add to enrich your soil, and many good books on this subject are available at the library.

Staking plants:

I use trash-scavenged broomsticks (and the like) as tomato stakes. Recycle old pantyhose and tights and cut them into strips to tie the tomatoes to the sticks.

Mulching:

You can also use layers of newspaper as mulcg. Wet the paper with a hose after you place it around the plants. Put grass clippings, peat moss, or rotted wood chips on top to hold the paper down. This can all be turned under after the growing season.

Using, saving and sharing the harvest:

Enjoy your fresh garden produce while it's producing. Look for new recipes to use up what you have grown. (Check out the world wide web, as well as your local library for ideas.) Also, you can can, freeze, or dry the extra. Your local cooperative extension has booklets on how to do this. Lastly, share the bounty (whether veggies or flowers) with family, friends and neighbors. As my father always says, "You can make a lot of friends by giving away a little produce." The best benefit of all is how great you will feel by sharing with others! Enjoy!
By Ness - Lakeview, NY
I took this picture along with a close up and sent both to my county agricultural agent. I'm posting it on ThriftyFun because I think it has a nice combination of early fall colors.
To the far left is a tiny patch of marigolds. Beneath them, a few small ajuga Burgundy Glow. To the far right you see a portion of a bed of vincas. Near bottom center is the beginnings of a semi circle of Chocolate Chip Ajuga. Ajuga spreads rapidly, so my circle will be complete in one season.
In the center is a bunch of ailing achimenes. This is my reason for taking the picture. Beautiful early on, the achimenes now appear to be diseased. By sending the pictures to my Ag agent, I hope to learn what's wrong with my achimenes and how to treat it.
So, I'm posting this picture for two reasons: to share the nice colors and to remind you that your local county agricultural agent is there to offer free advice on any gardening question. Submitting a picture will do wonders in helping the agent identify your problem.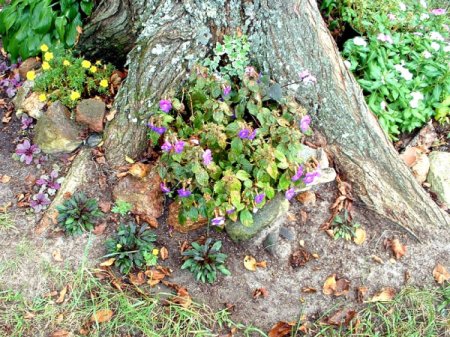 In tobacco growing areas, when the leaves were harvested by hand, they used to use large burlap sheets to collect and move the leaves. I decided that that was a great idea and do the same thing with old sheets. They make it easy just to drag weeds and clippings to the compost pile. Also good if you are working somewhere away from home and can't take a wheelbarrow with you.
Anne in NC
By anne [10]
Most people haul dirt and plants, etc. in their trunk. Keep it clean by spreading a cheap shower curtain in the car trunk to catch spills and dirt. The shower curtain can be washed.