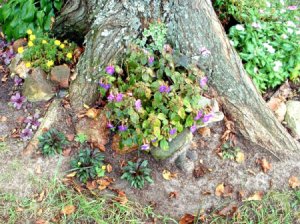 I took this picture along with a close up and sent both to my county agricultural agent. I'm posting it on ThriftyFun because I think it has a nice combination of early fall colors.
To the far left is a tiny patch of marigolds. Beneath them, a few small ajuga Burgundy Glow. To the far right you see a portion of a bed of vincas. Near bottom center is the beginnings of a semi circle of Chocolate Chip Ajuga. Ajuga spreads rapidly, so my circle will be complete in one season.
In the center is a bunch of ailing achimenes. This is my reason for taking the picture. Beautiful early on, the achimenes now appear to be diseased. By sending the pictures to my Ag agent, I hope to learn what's wrong with my achimenes and how to treat it.
So, I'm posting this picture for two reasons: to share the nice colors and to remind you that your local county agricultural agent is there to offer free advice on any gardening question. Submitting a picture will do wonders in helping the agent identify your problem.