Frugal Gardening Tips
Solutions
Share on ThriftyFunThis guide contains the following solutions. Have something to add? Please share your solution!
I use a flat bottom sled for garden waste. I find it very easy to pull all year round, and it holds tools as well as garden weeds. I put an old dog leash on the sled by using hooks through each end to put through the holes on each side of the sled. Then I just drag it along over my neck and shoulder as I garden.
I have bamboo, so that means I need something that will allow long stems. I have roses and this keeps the thorns contained, until I get my recycling bags ready. It is good for taking plants from the car to the garden as well. It is great for pulling out your recycling bins. All around my most useful garden invention.
By Barbara W. from Ewing, NJ
If you normally use a wheelbarrow to move mulch, dirt, compost or weeds, try an old bed sheet instead. Lay the sheet open on the ground and rake or throw the mulch, dirt or weeds onto it then grab three corners and drag the whole bundle to its new location. Lift up one side of the sheet at the new location and pour out the contents.
By Robin from Durango, CO
I had just moved in at the beginning of summer last year and found a fabulous deal on flowers! There wasn't a flower bed on my acre! So right over my grass, I laid Eco Friendly roofing paper. Then flat bags of inexpensive top soil here and there. With a razor knife, I carefully cut the top off the bag, then took a screw driver and a hammer and punctured drainage holes in several places. Right in the bags, I planted the flowers, then mulched with pine straw over the roofing paper, around the bags, and carefully between flowers. Voila - a beautiful bed! No one could see the paper or bags! I added bushes and trees and just slit an X in the roof paper!
This spring, I carefully cut the bags and pulled them out. The bed is still beautiful! The easiest garden bed I've ever done! (I couldn't resist adding a picture of my vegetable garden, before everything bloomed this spring. I salvaged old school bleachers to do my beds.)
By Mammio from AL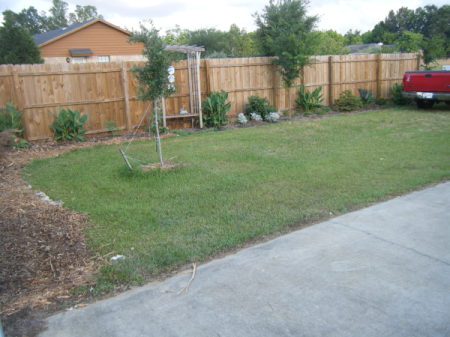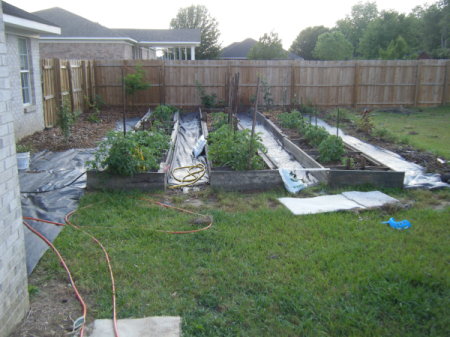 For those of you that love flowers and have a friend or acquaintance that loves fishing, ask them to save the "dirt" that their bait comes in. This can be added to your potting soil to boost its enrichment.
Read More...
Ness - Lakeview, NY
1

found this helpful
Here are some great thrifty gardening tips from Ness, all around thrifty woman extraordinaire!
Read More...
I use all of my neighbors and my grass clippings to mulch my vegetable garden. I have few weeds, great organic vegetables, save money and time weeding.
Read More...
I took this picture along with a close up and sent both to my county agricultural agent.

Read More...
October 26, 2004
0

found this helpful
Plastic food storage bags make great shoe covers when you're working in the muddy garden. Slip 2 bags over each shoe and secure them with rubber bands around your ankles.
Read More...
May 7, 2004
0

found this helpful
Here in France we buy our croissants, pastries, etc. in lidded "cellophane" boxes. They come in all shapes and sizes, but all are deep and ideal as mini-propagators for seeds and/or cuttings.
Read More...
If you love gardening, but don't want to spend all your savings on keeping everything blooming, this is the book for you. It will tell you everything you need to know about gardening and landscaping beautifully on the cheap.
Read More...
Related Content