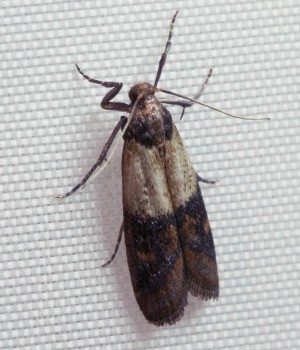 Whether Indianmeal or North American High-flyer moths have invaded your kitchen, they can be a persistent pest. This guide is about getting rid of pantry moths.
Ad
---
Solutions: Getting Rid of Pantry Moths
Read and rate the best solutions below by giving them a "thumbs up".
I had a bad case of moths a few years ago. I finally found that my problem was a bag of pecans in the shell that we had stored in the laundry room until we could get them all shelled out, and the moths started there and migrated to my pantry. I bought moth traps that can be ordered from this link: www.gardensalive.com
They worked very well for me, and I now transfer all packaged goods into glass jars with screw down lids. This works in two ways. It keeps the moths in if you should happen to get a product that in infested. And it keeps them out of a product that is not infested. They don't always show up right away. Some just hatch out in time.
Another thing that helps to keep them out is to freeze products like oatmeal, flour, pasta, etc for a week or so before putting them in the sealed jars. I label my jars with masking tape. Many things are obvious, but I have regular flour and self rising flour, and it needs to be labeled. Hope this is helpful to many, as this is a terrible problem to tackle.
By Harlean from Hot Springs, AR
Give a "thumbs up" to the solution that worked the best! Do you have a better solution? Click here to share it!
Questions
Here are questions related to Getting Rid of Pantry Moths.
I am having a problem getting rid of meal moths. I have emptied the cabinets and washed them. I have opened packages of products to check for them and thrown away things that they were in and put the remaining items in the freezer but I am still seeing them.

Margie from New Haven WV
AnswerWas this interesting? Yes No
Ad
---
---
Most Recent Answer
By KS Granny 4 119 05/11/20110 people found this helpful
It's weird how bay leaves work for some, but not for others, I don't know whether it's the variety of moths, or where you live, or some difference in the bay leaves. They don't work for me, so I'm going to go try the minty gum. At least the pantry will smell nice!

Cleaning is definitely the key, and sealing everything. Canning jars are better than popcorn tins, tightly-sealed tins are better than plastic containers, and plastic bags are strictly temporary, they will chew through them. The Pantry Moth traps do some good. I've caught a lot when I had a heavy infestation, and surely that reduced the next generation some, but they're not going to get every last one, so don't expect them to. If you've got larvae in furniture and crevices of your cabinets, maybe an insecticide fogger will take care of them; it's an extreme measure, but probably better than moving!
---
Can pantry moths get into the cupboard shelving material itself?
By Jeff from Sacramento, CA
AnswerWas this interesting? Yes No
Ad
---
---
Most Recent Answer
By Lianne 1 02/28/20110 people found this helpful
I have adjustable shelves in my pantry and found out that the moths are nesting in the small holes running up the sides of the cabinet. I used tweezers to pull out the webbing from each hole and am going to use a q-tip to coat each hole with peppermint oil. I'm not sure if it will work yet but I wanted to let everyone know about their hiding spot since I have been fighting them for so long and never thought about those little holes in the cabinet.
---
We are trying to stay clothes/pantry moth-free since an infestation in September of last year. We are really scared of finding holes in our clothes again. Is it true that spray starch attracts and nourishes larvae? Can we use spray sizing on our clothes instead? Any cleaning secrets that moth-infestation survivors have to share?
I had a pantry moth infestation. I threw 3 trash cans full out because of them. I put basil leaves in the panty after washing everything down. I put basil leaves throughout the pantry, but 2 days later I had 3 moths that I killed with a fly squatter. I bought traps from Home Depot and haven't seen any in the traps, but neither have I seen any moths. Coming to my front door I saw 2 moths flying around. I tried waving them away, but how can I keep them from coming in when I open the door?
By Dotty
AnswerWas this interesting? Yes No
---
Most Recent Answer
By Krickette 1 12/27/20140 people found this helpful
A friend of mine uses this and says it kills them off. She also uses Bay leaves in every crack and crevice, even behind her stove. (Get them at the health food store) She also puts peppermint oil on cotton balls and leaves them in the corners of her cabinets and pantry and under her house too. (Spider and mice also hate peppermint) She also has Zero problems with roaches.

Anti-bug Cleaner
1/2 cup Vinegar
1/2 cup Water
15 drops Eucalyptus essential oil
5 drops Peppermint essential oil
10 drops Lavender essential oil
8 oz Spray Bottle
Pour the vinegar and essential oils into the spray bottle.
Fill the rest of the bottle with water. You may need slightly less than 1/2 cup.
Shake vigorously before each use.
---
What can be done about little moths that seem to be taking over our house, kitchen and upstairs too! I think they started in the bird seed or pasta.
By Rob R
AnswerWas this interesting? Yes No
---
Most Recent Answer
By Eva 2 17 04/01/20140 people found this helpful
Oh man, those things are pesky! I don't know any other way to get rid of them except to cut off their source of food. Put all pasta, flour, cereal & anything that is in an open package in airtight plastic or glass containers. Check everything for little cobwebs & worms before you put it in your pantry. Throw away anything that has these in them because you'll just re contaminate anything else if you don't. Clean your cabinet with good old soapy water, rinse & let it dry before putting your stuff back in. It's a pain in the tail when you get those things! I don't bring any birdseed in the house anymore I opened a bag & those things flew out!
---
After having seen these pesky moths around my kitchen area I finally decided to clear out the cabinets to check and see where they are coming from and sure enough, I discovered that my kitchen cabinets were infested with moths and worms mostly in the back in the corners where you normally can't see easily and in most of my opened and unopened bags and boxes.
I cleaned all shelves down with bleach and of course discarded and threw in outside garbage the contents of the cabinets. Now they have nothing to feed on, so why am I still seeing some later on that same day that I just did a thorough extermination of these annoying pests? Should I stop seeing these pests immediately or does it usually take a few days to stop seeing them completely or could I have possibly missed something or maybe they are harboring somewhere else in my home?
By F.E.
AnswerWas this interesting? Yes No
---
Most Recent Answer
By susan 8 1,368 06/13/20120 people found this helpful
If you are still seeing them, they are still laying eggs and you will have more. They can have nested underneath the rims of still unopened jars. I even found some nesting in a book of matches, underneath canned goods, between nesting bowls, in cracks of woodwork around doors, in my living room drapery folds, behind picture frames, in my dog treats, in my cat's litter, between magazine pages, and more places than I care to remember.

Like other moths, they are extremely resilient. Getting rid of the food is just the first step in a long battle, one I never hope to fight again. I went through cupboards sometimes 3-4x/day and kept finding them--I'm not sure if I missed them or if they re-migrated there. They seemed to get smarter about their hiding places too. I found that they flew around very early in the morning and late at night, which were prime times to kill them. I hunted them for months, and when I thought I finally got them all, a few weeks later, the ones I missed were flying around.

Now, absolutely no food comes into my house before going through it and placing it in a sealed, thick plastic bag. The funny thing is, I was always a very clean, thorough housekeeper. If it can come down on me with that vengeance, anyone can have problems. I think it all started when I brought home infested cat litter. Good luck.
---
Archives
Thrifty Fun has been around so long that many of our pages have been reset several times. Archives are older versions of the page and the comments that were provided then.
How on earth do I rid my cupboards of Kitchen moth, I live in a rather humid climate and in summer we have NO AC and so flies, moths and critters find their way in my house as well as others. I do not like using harsh chemicals like Raid and those aresol things as they are highly toxic, are there home tips for this?
Does anyone have a tried and true, natural form of pest control for pantry moths (other than pheromone traps and storing everything below 50 degrees)?
By Bprince from California
Feedback:
RE: Kitchen Moths (Pantry Moths)
I bought a trap from www.stirtsystems.com. It does not use toxic chemicals, but uses bio-pesticides instead. It works well in capturing pests and is good for the environment. Best of luck! (04/06/2009)

By dunno
RE: Kitchen Moths (Pantry Moths)
These things are nasty aren't they? Unfortunately they lay eggs that turn into yucky little worms in things like flour, cereals, anything they can get into. I don't use chemicals, but either refrigerate my boxed items, or enclose almost everything in containers with tight fitting lids, or use good quality zip lock bags to put all my baking products in. It's a lot of work but that's the only way I have gotten rid of these nasty buggers without using chemicals, which I won't do. Good luck to you. (04/07/2009)

By kghornsten
RE: Kitchen Moths (Pantry Moths)
I had a mess with those nasty things. They came in stuff that was not even opened. I put LOTS of bay leaves all over and in everything after scrubbing the cupboards out with very hot water and bleach. I have opened factory sealed packages that had them in the food. Anyway, the bay leaves and bleach water did it for me. (04/08/2009)

By joycehorner
RE: Kitchen Moths (Pantry Moths)
We just purchased Hot Shot Fogger (it's new) and followed the directions, and it really worked! There were dead moths all over the two areas they had taken over (not our kitchen, they went for clothing). It works to keep on killing for weeks, and penetrates into cracks and crevices where the larva etc. are maturing. It suggested leaving the room closed up for at least 2 hours; we did the garage overnight, and one bedroom for 6 hours. Good luck. I found it in Wal-Mart (blue box, and has 3 containers inside). About $9.00. (06/26/2009)

By newenglander
RE: Kitchen Moths (Pantry Moths)
Our pantry moths were getting pretty bad. So I cleaned out the cabinets where we store food. I went through all the open containers and found the telltale webbing and dead moths in some baking chocolate, tapioca flour, powdered sugar and mung beans. (Quite an adventurous palate those buggers have!) I threw all the infested stuff away, and cleaned the cabinets with hot water and dish soap. My husband brought home some pheromone-baited moth traps (pantry pests by Safer brand) which he found in the super market. Since those are non-toxic, I put the traps out - but so far so good: no moths. (06/29/2009)

By oohyou
I am having a problem with pantry moths. I looked for traps for them at the store, but couldn't find them. Is there anyone who has fought this battle and won?
I've been getting moths in my pantry, best way to get rid of them is? I know I have to remove everything and wipe down cabinet and foodies, and store food back in plastic or glass.