It's been a week since I first noticed a really tiny (1-2mm) orange/skin color bug on me. Since then it's been crazy. They always are at me when I'm outside (not inside). It's really hard to see it them. It looks like it can jump, but also fly.
Two weeks ago I rescued 2 lost kittens and took them home, so I thought I have fleas. I have no signs of fleas although I'm still concerned. Please help.
This bug can jump (that is why I am confused), fly, and move really fast. I haven't seen any on\in my hair (I check every day), only on my body when I'm outside (not inside). It seems like it does like sun. I actually have a picture of it. My husband put one that we found in his car under the microscope.
The bites look like really tiny red dots! Sometimes you have to look for it to see it. I haven't kept those kittens. I found them one day and the very next day I found people who adopted them. I have been in contact with them only for one day. My problem did start like 4 days after they were gone.
By Stefania
June 24, 2011
0

found this helpful
You might check to see what mites look like. I rescured a kitten several years ago and took it to the vet to be checked, and he found ear mites, and said most feral cats have them. I didn't see them, so I don't know what they look like.
June 25, 2011
0

found this helpful
I have had the same problem and I don't own any animals. You can't feel this insect biting but after they bite, I get a huge red circle about the size of a quarter around the bite. It is not a mosquito bite. I have had them, this is different. It takes so long for the itch to go away. I think I itched with this last batch of bites for 5 days. They are horrible. I put ammonia on them and that seemed to help since that is what is in those sticks you apply to your skin.
June 25, 2011
0

found this helpful
When they bite you, do you react like Elaine says she does, don't feel it until the next day & then it gets big & red & very itchy?Lasts for days or weeks before it goes away? If so, sounds like you both have chiggers. Do a search for 'chiggers' on the Thrifty Fun website.
July 29, 2013
0

found this helpful
They are called th rips or no see ums because you really don't see them until they bite you and sometimes you can spot them then. They blend in with my tan skin because of their orangish color.
Go to walmart and get a bug spray I believe its Eco safe bug spray it dreams of peppermint oil but it seems to help. Spray your porches or wear spend most of your time outside but you won't be able to completely rid yourself of them completely. There is a pestiside but I'm not sure the name of it and you can't buy it in a store just on line or have an exterminator come out. Good luck
May 29, 2017
0

found this helpful
I have these tiny, tiny little orange bugs, and you don't notice them until they bite you! They can jump, and fly, and I'm about 95% sure they Aren't those mites mentioned before. I get them on me whenever I go outside. They only seem to bother Me, no one else. I read your article, and I'm going to try that. If anyone has any other suggestions, I'd greatly appreciate it.
June 24, 2011
1

found this helpful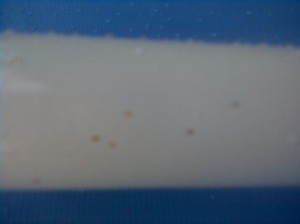 While watching my son in the pool, these tiny orange biting bugs were all over my white tank top and then I noticed they were all over the white poles around the pool! When I looked on my skin for what was biting me, I couldn't see them, that's how tiny they are! I looked up the "no see ums" and the thrips, and it doesn't look anything like them, they are much smaller, almost microscopic! How can I get rid of them? Please help me.
By Libby
June 25, 2011
2

found this helpful
They have a name but it is hard to pronounce, Ceratopogonidae and they are a pest that is in large numbers because of all the wet weather. They are some small but they bite and we feel it! http://www.accu g-tiny-bitin.asp
I am going to try the new Cutter Eucalyptus Repellent. Here is their link for more products they have.
http://www.cutt trepellents.com/
Skin so Soft from Avon may repel them too, I guess you put it on your skin when you go outside.
Here is an article discussing which vitamins and other ways to repel no seems. Also to note that B6 sometimes causes reactions of behavior in special needs kids, just a note from my experience, but B12 is great. Also sugar in the blood attracts mosquitoes, sad but true, if you are going outside, don't make yourself sweeter then you have to be around bugs.
http://www.eart insect_bite.html
Good luck, and I know how you feel!
Robyn
June 2, 2014
0

found this helpful
I hate these bugs, in Memphis they were orange, here in Kansas I see more black ones, could not be in the pool at all today from being attacked from them the baby had so many on his cloth floatie, I got some pictures of them when we got out, this is zoomed in alot.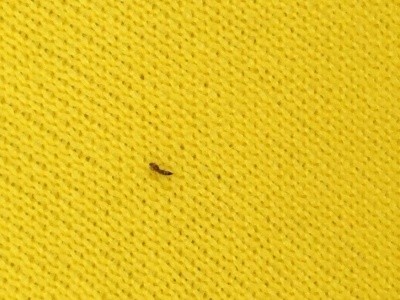 June 20, 2014
0

found this helpful
Does anyone know what these are? They are about the size of half a gnat and bite like crazy but don't leave a mark. No one else in my family gets bit by them. I have tried bug spray and skin so soft nothing helps.
Normally the kids I and I are outside from morning till night but I have no interest in going outside now these things are driving me crazy.
They are not in the house but I noticed them on my porch window so I used a piece of tape to get a picture.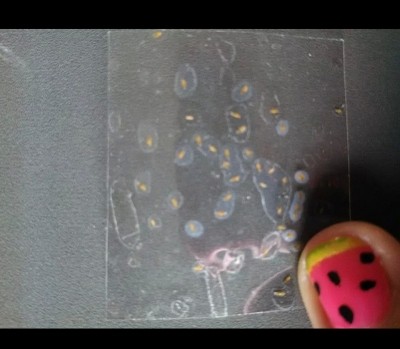 June 8, 2011
0

found this helpful
I was taking kids that I work with out on the playground in the morning before it got too hot out and I looked down at my white shirt and all over it were these tiny almost microscopic bugs that seemed worm like. They were most definitely orange in color and it freaks me out; what are they?
By K.M.
June 9, 2011
0

found this helpful
There are red bugs called Clover mites. They are of the arachnid family. They will die eventually after coming in the house of dehydration. They do not bite but they come in the by the thousands. I would vacuum them and spray them with alcohol/water and see how well that works. I am wondering if this is the bug you are talking about.
June 9, 2011
0

found this helpful
I googled robyns' suggestion. Here is the link and the photo. Close? Hope that helped, and thanks robyn.
http://www.goog ;oq=clover+mites
June 4, 2016
0

found this helpful
They hurt, huh?! Growing up in OK, I've always heard them referred to as "noseeum's", but after quite a bit of research, I believe they are a actually a type of "Thrip" rather than ceratopogonidae.
April 28, 2017
0

found this helpful
They're the same I believe..
http://m.accuwe tiny-bitin/51324
Or so it says in that page. Either way. Hope it helps.
I've just dealt with these things twice in my life. Didn't recall they even existed until I re-found them, flying outside a friend's house this year, biting.
June 5, 2017
0

found this helpful
I have them all on my shirt two different times this year an yes they do bite an leave tiny tiny tiny red dots all over your body
June 5, 2017
0

found this helpful
I have them all on my shirt two different times this year an yes they do bite an leave tiny tiny tiny red dots all over your body