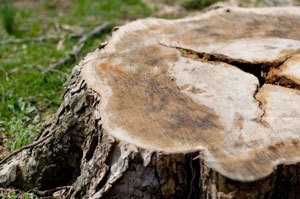 Advice for removing stumps inexpensively from the ThriftyFun community.
Bleach
Drill holes in the stumps, then pour bleach in the holes. In time, maybe 6 months to 1 year, the stumps will be really dried out and easy to break up and remove.
By Daved
Burn It Out
My husband uses lighter fluid, and charcoal to burn the stump out of the ground. It will smoulder when in the ground. I guess that's why you use charcoal.
By Amanda
I've just recently finished removing eighteen stumps by burning with very good results. I used the hole drilling and potassium nitrate (saltpeter) method. Mix 400 to 500 grams of SP in about 3 to 4 liters of very hot water. Fill the holes in the stump repeatedly until the solution is all used up. This should be left a month or two to dry. The stump should be covered to keep rain out during this period, but air should be able to circulate around the top of the stump. The SP doesn't seem to encourage stump rot, its purpose is to assist the burning. Fill the holes with kerosene or diesel a couple of times and let it soak in for a week or so. You may have to pour a little more kerosene on it to light it but I found it usually lit by laying a bit of burning paper on top of the stump. It will burn with very little flame or smoke. It will burn right down into the roots. A little bit of dirt to fill the hole and grass grows readily on the site.
By Richard
Use A Circular Saw
I use a circular saw set at 15 degrees and keep crisscrossing the stump at the blade depth of three inches and the stump just falls apart in small wood squares. Cover with heavy 6 mil plastic and re-cover with earth.
By James
By guest (Guest Post)
Flag
September 30, 2008
0

found this helpful
Bleach is not toxic.
Clorox bleach will turn into ordinary table salt when it comes in contact with the ground it is made from sea water and will DO NO HARM to the ground or critters.
I have taken many stumps out as a kid growing up on 27 acre home in VA. I used to use red devil lye after I drilled 1/2 holes. I cant find red devil lye anymore so now I use the cheapest oven cleaner spray I can find. Oven cleaner is base as opposed to an acid like bleach. Most wood is already acidic and if you correct the PH level nature will digest the wood a lot faster. Covering the stump with clear plastic and lots of watering will help reduce the rot time.
September 3, 2012
0

found this helpful
Here is a green method to get rid of stumps : Not earlier that mid August dig holes every 10 centimeters in the stump and drop a clove of garlic in each hole. Peel off the dry parts of the cloves the way you would to plant them in your garden. Cover the holes with soil. When garlic is germinating it produces a substance lethal for the roots. Starting from mid august the sap of a tree moves down carrying to the roots the substance produced by the germinating cloves of garlic.
Read More Comments...