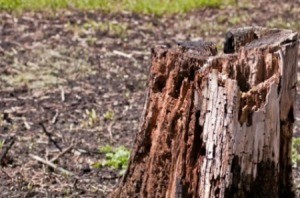 You have the tree cut down, now comes the harder part, getting rid of the tree stump. This is a guide about getting rid of a tree stump.
Ad
---
Solutions: Getting Rid of a Tree Stump
Read and rate the best solutions below by giving them a "thumbs up".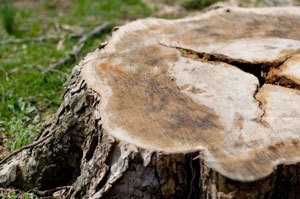 Advice for removing stumps inexpensively from the ThriftyFun community.
Bleach
Drill holes in the stumps, then pour bleach in the holes. In time, maybe 6 months to 1 year, the stumps will be really dried out and easy to break up and remove.
By Daved
Burn It Out
My husband uses lighter fluid, and charcoal to burn the stump out of the ground. It will smoulder when in the ground. I guess that's why you use charcoal.
By Amanda
I've just recently finished removing eighteen stumps by burning with very good results. I used the hole drilling and potassium nitrate (saltpeter) method. Mix 400 to 500 grams of SP in about 3 to 4 liters of very hot water. Fill the holes in the stump repeatedly until the solution is all used up. This should be left a month or two to dry. The stump should be covered to keep rain out during this period, but air should be able to circulate around the top of the stump. The SP doesn't seem to encourage stump rot, its purpose is to assist the burning. Fill the holes with kerosene or diesel a couple of times and let it soak in for a week or so. You may have to pour a little more kerosene on it to light it but I found it usually lit by laying a bit of burning paper on top of the stump. It will burn with very little flame or smoke. It will burn right down into the roots. A little bit of dirt to fill the hole and grass grows readily on the site.
By Richard
Use A Circular Saw
I use a circular saw set at 15 degrees and keep crisscrossing the stump at the blade depth of three inches and the stump just falls apart in small wood squares. Cover with heavy 6 mil plastic and re-cover with earth.
By James
Give a "thumbs up" to the solution that worked the best! Do you have a better solution? Click here to share it!
Questions
Here are questions related to Getting Rid of a Tree Stump.
Is it OK to plant a new tree in the same hole where a stump was removed, using Epsom salts? I have a dwarf RI red maple, and want to plant it where I am removing a white pine stump. Will I need to add anything to the soil, or in the hole, before replanting?

By ChrisS [1]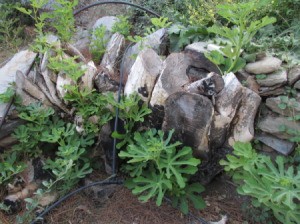 We had a wild fig tree which produced a lot of problems. It kept growing and destroying all nearby plants and its figs (not edible) made the area dirty and mice kept coming. We cut it down in winter and burned part of it near the cut down trunk. But it continues producing branches. All summer I cut them down, but new ones grow. Can I use a herbicide with the new plants around it?
By Athina K.
How do I make and use homemade tree stump rot solution?
By Charlie