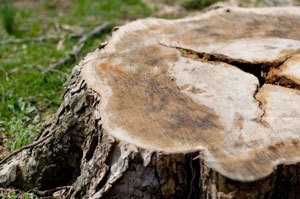 Advice for removing stumps inexpensively from the ThriftyFun community.
Bleach
Drill holes in the stumps, then pour bleach in the holes. In time, maybe 6 months to 1 year, the stumps will be really dried out and easy to break up and remove.
By Daved
Burn It Out
My husband uses lighter fluid, and charcoal to burn the stump out of the ground. It will smoulder when in the ground. I guess that's why you use charcoal.
By Amanda
I've just recently finished removing eighteen stumps by burning with very good results. I used the hole drilling and potassium nitrate (saltpeter) method. Mix 400 to 500 grams of SP in about 3 to 4 liters of very hot water. Fill the holes in the stump repeatedly until the solution is all used up. This should be left a month or two to dry. The stump should be covered to keep rain out during this period, but air should be able to circulate around the top of the stump. The SP doesn't seem to encourage stump rot, its purpose is to assist the burning. Fill the holes with kerosene or diesel a couple of times and let it soak in for a week or so. You may have to pour a little more kerosene on it to light it but I found it usually lit by laying a bit of burning paper on top of the stump. It will burn with very little flame or smoke. It will burn right down into the roots. A little bit of dirt to fill the hole and grass grows readily on the site.
By Richard
Use A Circular Saw
I use a circular saw set at 15 degrees and keep crisscrossing the stump at the blade depth of three inches and the stump just falls apart in small wood squares. Cover with heavy 6 mil plastic and re-cover with earth.
By James
July 20, 2007
0

found this helpful
I wouldn't put bleach on it. Bleach is toxic to most critters, including people and plants. We had a small stump in our front yard a while back. My husband drilled a few holes in it and poured in some table salt and then wateredthe salt down really well. Within a week or so the stump died and he was able to just reach in and yank it out. He filled the hole with some dirt and that was the end of it.
October 13, 2007
0

found this helpful
To remove stumps, I collect a LARGE pile of pine needles and pile it around and on the stump and light it. After the initial pile is burnt, I'll add alot more. This forms an insulating blanket of ashes (about 3-6 inches deep) over and around the stump. This holds in the heat causing near complete burning of the stump which can be easily removed with a shovel or just breaking it apart.
January 4, 2008
0

found this helpful
Let it rot on it's own time. I put several bags of new topsoil on top of the stump. Then, I put small removable shrubs and add some ivy, periwinkle, then a large container filled with colorful annuals. Around the stump, I'll edge it with rocks to make it appear as an island of color. As the tree stump rots, I just keep making this faux "garden" smaller. Before you know it, nature has done it's job and the island is then ready for planting grass. We started doing this after several stumps were removed and that area then kept sinking further down making it necessary to add more soil annually. My island trick does require a few years, but, it's far less hassle and the neighborhood has started to do this same thing in their yards.
September 30, 2008
0

found this helpful
Bleach is not toxic.
Clorox bleach will turn into ordinary table salt when it comes in contact with the ground it is made from sea water and will DO NO HARM to the ground or critters.
I have taken many stumps out as a kid growing up on 27 acre home in VA. I used to use red devil lye after I drilled 1/2 holes. I cant find red devil lye anymore so now I use the cheapest oven cleaner spray I can find. Oven cleaner is base as opposed to an acid like bleach. Most wood is already acidic and if you correct the PH level nature will digest the wood a lot faster. Covering the stump with clear plastic and lots of watering will help reduce the rot time.
September 3, 2012
0

found this helpful