An essential tool for many crafting projects is the glue gun. This is a guide about using a hot glue gun.
To avoid getting hot glue on your fingers while using a glue gun, put a Bandaid on each of your finger tips before using the hot glue gun.
It really helps!

By Stephanie
Can anyone tell me how not to burn myself when using the glue gun? I always stick my finger in to the glue to press down. Thank you!

Marilyn from P. Huron, MI
Most Recent Answer
May 17, 2015
You could use a crochet hook to smooth small areas and such.
By Erin813 25 67
Is your hot glue heated, working one minute, but then not coming out, "stuck" in the glue gun? Rotate the glue stick from the solid, sticking-out end a couple times for the hot glue gun to continue working again.
I was making some hair bows today and discovered this was an easier way to get my hot glue gun to work after using it for about 10-15 minutes. Without much success, I first pushed the solid end and squeezed the hot glue gun "trigger" at the same time, but rotating the solid glue stick part proved much easier. The turning of the stick was easier to coordinate since I twisted it, then it was ready to use/squeeze.
I didn't have to do two things at once with the hot glue gun. And I was better able to control the amount of scalding hot glue, which was needed for little dabs and lines of hot glue during my hair-bow-making of lining clips and assembling ribbon into bows.
I've also found that using a Popsicle stick as a sort-of putty knife to apply hot glue can help control the amount of hot glue desired for your use. A toothpick would probably work greatly, too. I hope this helps you and saves you from some hot glue gun burns and frustration.
"The Lord bless you and keep you" Numbers 6:24 NIV
By Erin813 from Seffner, FL
By Patty Harris 1 2
Get tired of the stringies when using your glue gun? I keep my glue sticks in a plastic shoe box in the freezer. This really reduces the stringies when working on a project.
By auntiepattycakes from Lowell, OR
By Monica 296 58
To remove hot glue cleanly from surfaces: Wait until glue has dried, then get a Q-tip and apply alcohol around the edges of the hot glue. It works quickly and easily.
By duckie-do from Cortez, CO
By Marjorie 3 2
When working with my hot glue gun, having to lay it down between steps, but needing to leave it on, I rest it facing into a cake pan, with the glue spout inside the pan, the handle on the outside. This keeps the glue from dripping on anything that may catch fire or be damaged. Most times, when working with hot glue, you have to work fast. Also an easy clean up as once the glue dries you, just peel it off.

By Misty from Hermanville, MS
By Barbara 10 22
When working with small projects and a glue gun, I usually keep a jar of water and some Q-tips on my table. When I need to cool the glue down fast, I just dab the glue with the wet Q-tip. It makes it cool and harden really fast. Makes the job go faster and you don't burn your fingers while it cools.

By Barbara from Rothbury, MI
Hot glue gun burns can be serious burns and extremely painful. Do not be hasty and try to pull the glue off as it will take skin with it! I protect myself each time I use a glue gun by placing a bowl big enough to fit my hand with cold water and ice cubes.
If you need to use hot glue for crafts then cut chunks of glue sticks into an old pan and warm on the stove, then dunk things that need to be glued into the glue. Use the pan over and over after glue cools and just reheat. You could also use a mini crock pot. Just be careful not to get burned.

By Melanie
When you're finished using your hot glue gun and there is still glue in the glue stick, what do I do once the gun has cooled down? How do I take this glue stick out and can it be used again if there is some glue left? Does it need throwing away? Thanks.
By Sue
Most Recent Answer
February 17, 2015
Just leave it in. The next time you heat the gun the glue will melt and you can use it. This won't hurt the glue or the gun.
By lalala... 732 97
Do you use a glue gun when you craft? If you are looking for a way to catch all of the excess glue that oozes from your glue gun, why not use a pretty plate from Goodwill! There are tons of beautiful plates just looking to be put to use at your local thrifty store. When the plate gets too much glue built up, simply use a razor blade to scrap it off. Happy crafting!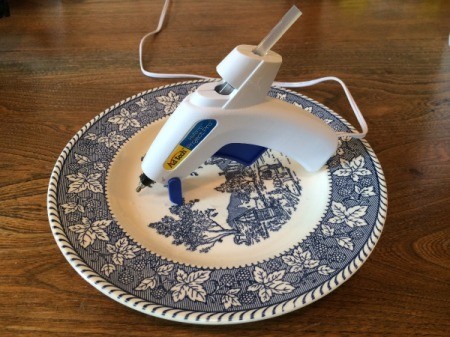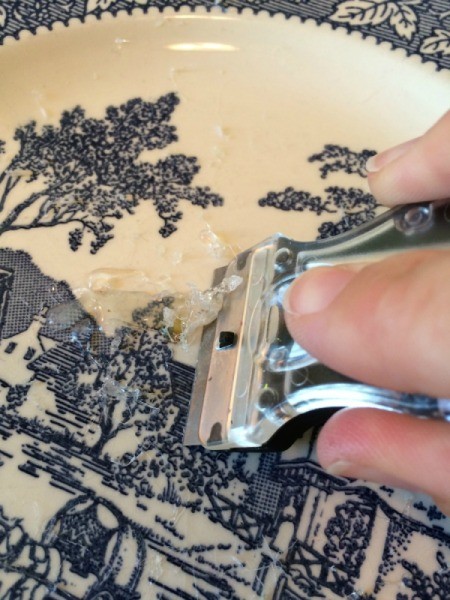 To get rid of those glue strings when you use a hot glue gun when making a wreath or other craft use a hair dryer on high heat for a few seconds by blowing over the project to make them disappear!

By Patricia