Using a Hot Glue Gun
Solutions
Share on ThriftyFunThis guide contains the following solutions. Have something to add? Please share your solution!
If you make a lot of crafts like I do, then you most likely own a hot-glue gun. If so, you are surely familiar with the nasty burns that inevitably come with using one! Hot glue is very painful and continues to burn your skin for several minutes after contact. To minimize the damage, I always keep a bowl of ice-water within easy reach on my work surface. The instant the glue hits my skin, I plunge my finger into the ice water. This stops the burn from causing more damage by curing the glue and instantly cooling the wound. The glue peels off easily and prevents the burn from becoming worse. I never use a hot glue gun without that bowl of ice-water; try it next time you craft- you'll be so glad you did!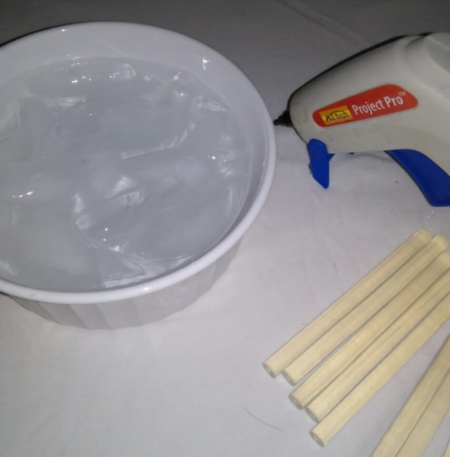 October 16, 2016
2

found this helpful
I use a glue gun a lot in various crafts. I simply don disposable gloves when I am using the gun. The gloves keep the hot glue off my skin - the gloves don't melt, if you are wondering! I keep a folded wet paper towel on a small plastic plate or lid and use it if the heat gets thru the gloves. A bowl of ice water will work, but I am a clutz and it would probably get knocked over!
You can do so many things with a glue gun and it is very easy to paint and decorate with it.
January 3, 2016
1

found this helpful
To avoid getting hot glue on your fingers while using a glue gun, put a Bandaid on each of your finger tips before using the hot glue gun.
It really helps!

By Stephanie
May 15, 2005
0

found this helpful
Keep a small bowl of ice water nearby to plunge fingers in. Cools off the glue and the burn in a snap.
Read More Comments
Do you use a glue gun when you craft? If you are looking for a way to catch all of the excess glue that oozes from your glue gun, why not use a pretty plate from Goodwill! There are tons of beautiful plates just looking to be put to use at your local thrifty store. When the plate gets too much glue built up, simply use a razor blade to scrap it off. Happy crafting!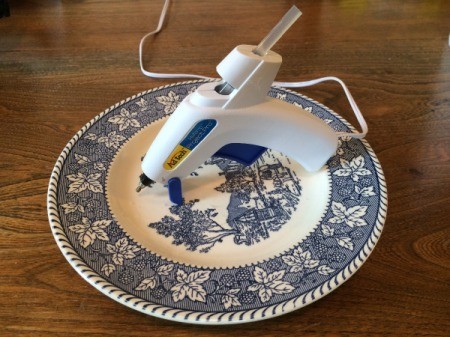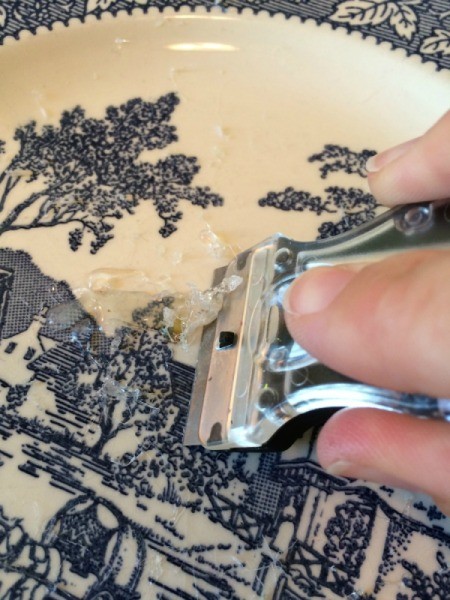 March 21, 2016
0

found this helpful
Cover your plate with aluminum foil. That plate is too pretty to get hot glue on it and then scrape it off with a razor blade! That plate would be beautiful hung on the wall with a plate hanger.
Get tired of the stringies when using your glue gun? I keep my glue sticks in a plastic shoe box in the freezer. This really reduces the stringies when working on a project.
Read More...
To remove hot glue cleanly from surfaces: Wait until glue has dried, then get a Q-tip and apply alcohol around the edges of the hot glue. It works quickly and easily.
Read More...
When working with small projects and a glue gun, I usually keep a jar of water and some Q-tips on my table. When I need to cool the glue down fast, I just dab the glue with the wet Q-tip.
Read More...
December 14, 2004
1

found this helpful
If you need to use hot glue for crafts then cut chunks of glue sticks into an old pan and warm on the stove, then dunk things that need to be glued into the glue. Use the pan over and over after glue cools and just reheat.
Read More...
When working with my hot glue gun, having to lay it down between steps, but needing to leave it on, I rest it facing into a cake pan, with the glue spout inside the pan, the handle on the outside.
Read More...
September 14, 2005
1

found this helpful
To get rid of those glue strings when you use a hot glue gun when making a wreath or other craft use a hair dryer on high heat for a few seconds by blowing over the project to make them disappear!
Read More...
September 30, 2012
0

found this helpful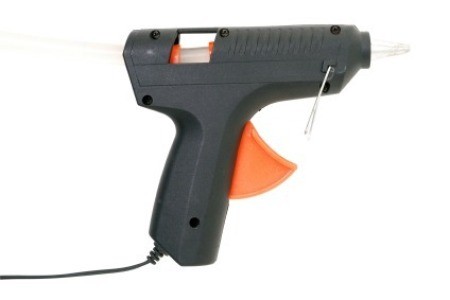 This is a guide about cleaning a glue gun. It is very frustrating to have your glue gun become clogged right in the middle of a project.
Read More...
Questions
Ask a QuestionHere are the questions asked by community members. Read on to see the answers provided by the ThriftyFun community or ask a new question.
Can anyone tell me how not to burn myself when using the glue gun? I always stick my finger in to the glue to press down. Thank you!

Marilyn from P. Huron, MI
February 17, 2008
0

found this helpful
Use the new cooler type of hot glue gun. OR an even better idea for you might be to use that X-2000 type of glue in a tube (sold in craft stores)... It's not as quick drying as hot glue, but BOY-OH-BOY will it stick to ANYTHING & EVERYTHING! Great stuff!
These hot glue guns can be VERY dangerous, I can't tell you how many times I've given myself severe burns with blisters on my hands by trying to hurry to quickly when making Christmas Wreaths!
Slow down, Use care & keep kids away!
February 18, 2008
0

found this helpful
I want to thank everyone who sent a answer! I am going to try and glue tonight and I think I will try a little of everine"s answers! Marilyn
February 21, 2008
0

found this helpful
I use either or an ice pick or a dentist type tool. You can cut off the end to not make it so sharp and then grind it down to make it blunt or you can leave as is. This has always worked really great from me.
Read More Answers
February 17, 2015
0

found this helpful
When you're finished using your hot glue gun and there is still glue in the glue stick, what do I do once the gun has cooled down? How do I take this glue stick out and can it be used again if there is some glue left? Does it need throwing away? Thanks.
By Sue
February 17, 2015
0

found this helpful
Just leave it in. The next time you heat the gun the glue will melt and you can use it. This won't hurt the glue or the gun.
Related Content