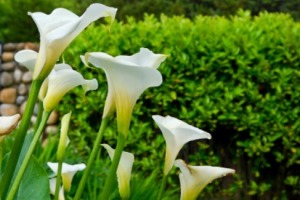 These perennial bulbs require some special care to produce exquisite late spring flowers. This guide is about growing calla lilies.
Solutions
Read and rate the best solutions below by giving them a "thumbs up".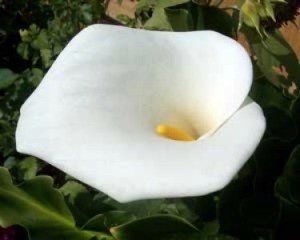 Botanical Name:
Zamtedescjoa
Life Cycle:
perennial bulb
Planting Time:
spring to early summer; plant tubers in fall if using as houseplants
Height:
18" to 24"
Exposure:
full sun to light shade
Soil:
rich, moist, well-drained soil; tolerates areas too moist for other bulbs
Hardiness:
hardy to frost-free
zones
; bulbs can be dug up and stored over winter in cooler
zones
Bloom Time:
late spring
Flower:
variety of colors
Foliage:
green
Propagation:
Seeds, division in early spring, basil cuttings in summer.
Suggested Use:
beds, borders, bouquets and flower arrangements
Growing Hints:
Calla Lilies need to be planted deeply for their size. Plant them at a depth of 4 inches, spacing each bulb 12 inches apart. In cooler
zones
, start bulbs indoors in late winter and transplant them in the spring when danger of frost has passed. Apply a bulb fertilizer monthly during the active growing season. Calla Lillies can also be grown as house plants if placed in a sunny window. Most Calla Lilies need a rest period after flowering, so gradually withhold water until the leaves die back and let plants rest for 2 to 3 months before resuming watering to encourage new growth.
Interesting Facts:
Calla Lilies are often used in wedding bouquets because their meaning signifies magnificence and beauty.
By Ellen Brown
Share Your Feedback: Once you try any of the above solutions, be sure to come back and give a "thumbs up" to the one that worked the best for you. Do you have a better solution? Click "Share a Solution" above!
Questions
Here are questions related to Growing Calla Lilies.
Do calla lily bulbs need to be dug up in the winter?
Hardiness Zone: 7b
By Chelle from Savannah, TN
By
---
Most Recent Answer

By Millsapdebbie@yahoo.com11/16/2010
They make it through Dallas Ft. Worth in Texas.
We recently got a calla lily and it has small droplets on the end of it's leaves. What are they?
By Stan D.
By
---
Most Recent Answer
By MrsShupe07/10/2012
In your Calla Lily water is absorbed through the roots and travels up through the plant. Most of the water taken up like this is 'lost' to evaporation. What water is left behind for the plant to use is for tissue growth, etc. The evaporation action works like a pumping station which pulls water (and fertilizer and anything else dissolved in the water) up through the plant. This is how plant tissues function. When a plant grows in very wet conditions, or is watered generously, it absorbs moisture and builds up pressure inside the cell walls. Holes in the leaves are forced open and water may drip giving the appearance that the lily is 'crying'.

Why do the flowers droop over? Do they need to be cut?

By DO
By
I have calla lilies growing outside; what makes the leaves turn yellow?
Hardiness Zone: 8a
By Myra from Birmingham, AL
By
I would like information on growing a calla lily from a seed pod.
Hardiness Zone: 5a
By Margie from South Bend, IN
By
We have a lot of calla lilies, but few actually flower. What's up with that!
By Doyle
By
Where I am going to try to plant my calla lily is facing west and gets afternoon sun, but gets morning shade. Is that alright for them?
Hardiness Zone: 9a
By Nancy from Citrus Heights, CA
By
---
Most Recent Answer

By perfume and powder04/01/2011
That should be fine. Callas are the only lilies that will grow in shade.
Photos
Here is another one of my Nana's lilies (we both enjoy lilies). This is a calla lily she just tried her hand at planting this year and they seem to be responding well. These too are in full sun, all day, and the soil is very sandy as well. She surround many of her plants with pine straw and it doesn't seem to harm them in any way.
By HICKCHIC3 from North Augusta, SC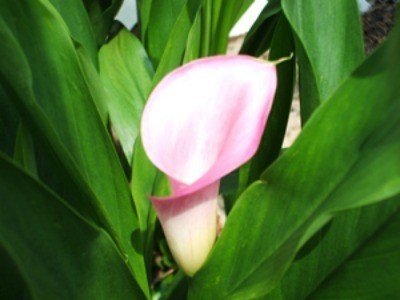 By
The Calla Lilies are in full bloom. Mock Orange and white rugosas are perfuming the yard. After a rain it is particularly fragrant around here. These Calla Lilies seem to thrive in moist, rich soil and full sun. They almost look like a sculpture, inspiration for a glass blower.
Dineen from the Pacific Northwest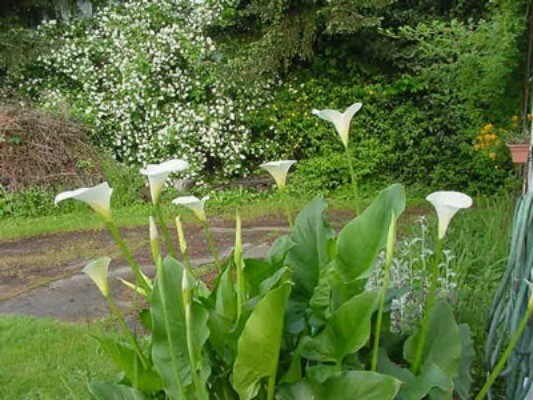 By
Archives
Thrifty Fun has been around so long that many of our pages have been reset several times. Archives are older versions of the page and the feedback that was provided then.
My father bought me a potted Calla Lilly plant. It had holes in all it's leaves, even the new ones just coming out. Since then, at the base of the stems just above the bulbs/dirt they turn to mush and fall off.
I water it the way I was told to water it and keep it warm and make sure it gets the right amount of sun, but still it seems to be dying. Is there something to do to save it? It is a wedding gift from my dad and I would sure like for it not to die.
Hardiness Zone: 5a
By gecko_20002000 from Howell, MI
***
Calla Lilies
*** These are my calla lilies! This was taken three years ago. I used the picture to make my wedding invitations. I did them in black and white on brown paper, it looked antique. The callas are beautiful every year!
By Karen from Bolivar, TN
---
RE: Garden: Calla Lilies
That was a wonderful idea and the callas are beautiful. I have some calla lilies also but they don't grow very well here in NC. It is a little bit too warm for them. But I keep trying! (06/06/2009)
By ncgardener
I bought a Calla Lily plant a few weeks ago. It's getting yellow and drying up on me. I've kept it indoors, and have been watering it maybe every other day. Should I cut off the stems and leaves now and let the plant regrow on its own? Or should I replant the bulbs with new soil and fertilizer?
Hardiness Zone: 9a
By scissors from San Jose, CA
I have some calla lilies that have some kind of pod inside the flower. I was wondering I can plant those and get more flowers from them? I am new to this and have no idea what to do and my flowers are all full of pods. Please help. I want to grow more especially since those were the ones we used at our daughter's wedding. Any suggestions will be welcome. Thank you.
Maria