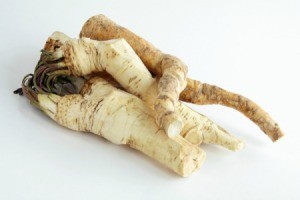 Horseradish is one of those foods you either love or hate. If you are among those would crave this spicy condiment you might consider growing your own in the garden. This is a guide about growing horseradish.
Ad
---
Solutions: Growing Horseradish
Read and rate the best solutions below by giving them a "thumbs up".
If you like strong flavors, horseradish is one of the healthiest and most versatile perennial herbs to grow. The roots are easy to grow and prepare, and when harvested fresh from the garden, pack a much larger punch than the varieties found in grocery stores.
Tips for Growing
Horseradish is a perennial member of the mustard family, cultivated for its fleshy, pungent white roots. It prefers to grow in full sun to partial shade and will tolerate almost any soil. Seldom grown from seed, root cuttings are set in the ground in early spring (March or April) and ready for harvest by fall.
Horseradish plants love to wander and once established can quickly become a nuisance. This can be avoided by growing the roots in bottomless 5 gallon containers sunk into the ground.
Prepare the soil 12 inches deep before planting.
Set root pieces in the ground at a 45 degree angle, with the tops about 2 inches below the surface.
Space individual cuttings 12-18 inches apart so they have plenty of room to widen as they grow.
Spikes of tiny, white flowers appear on horseradish plants in late spring to early summer. Remove these to keep the plant's energy focused on leaf and root production.
Although the plants will keep coming back year after year, the roots tend to become woody with age. Roots that are 1 to 2 years old usually have the best flavor.
Roots are not the only edible part of the horseradish plant. Tender, young leaves can add a delicious zing to garden salads.
Tips for Harvesting
Horseradish can be harvested in the spring or fall. Many gardeners claim that harvesting roots in the fall after a couple of good frosts really enhances the flavor. When the tops of the plants die back in late fall, it's a sign that the roots are ready for harvesting.
Make sure you wear gloves when handling the roots. They contain oils (much like hot peppers) that can irritate your skin.
Use a trowel or shovel to dig the roots clear. Break or cut off as much of the root as you need and replace the soil.
With a layer of mulch for protection, you can leave the roots in the ground and continue to harvest them over winter.
Protect harvested roots from light to prevent them from turning green, and allow them to dry for a few days before storing them.
Store your unwashed roots in a cool, dry basement, or in the vegetable drawer in your refrigerator. Roots will keep for approximately 3 months at 32 to 38 degrees before turning bitter.
How to Prepare the Roots
Making prepared horseradish consists of 5 basic steps:
Wash and peel the roots.
Chop the roots into small pieces.
Add the pieces to a blender, along with a few ice cubes and a small amount of cold water (just enough to cover the blades).
Puree roots to desired consistency.
When the roots reach the desired consistency, add 2 or 3 tablespoons of distilled white vinegar and 1/2 teaspoon of salt for each cup of grated horseradish (see below for timing).
Adding Vinegar: Timing is Everything
Horseradish root does not give off a strong taste and aroma until it is grated or ground. Only after the tissues come into contact with oxygen are the volatile compounds, which develop the flavor, released.
Adding distilled vinegar to the freshly grated root stops the chemical process and allows you to control the "heat" of the final product. For milder horseradish, add vinegar to the root as you puree them. For a stronger flavor, puree the root first and wait a few minutes before adding vinegar.
Additional preparation tips:
To make a creamy horseradish, mix in mayonnaise after adding the vinegar. You may also want to experiment by adding in cream, sugar, and other spices to taste.
Add color to your prepared horseradish by adding in some beets as you puree raw roots.
As an alternative to white vinegar, try using rice wine vinegar or mixing in some lemon juice and salt to taste.
When preparing fresh horseradish root, make sure you are in a well-ventilated area. The strong aroma produced can easily irritate your eyes and sinuses.
Store horseradish in the refrigerator in tightly covered glass jars. Prepared horseradish will keep in the refrigerator for several months. When it starts to darken and lose its flavor, it's time for a new batch.
By Ellen Brown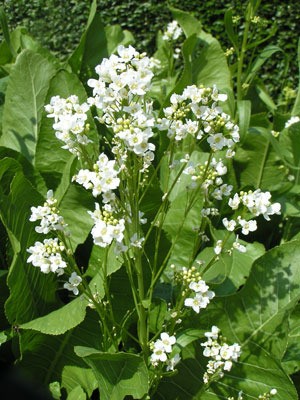 Botanical Name:
Cochlearia armoracia/Armoracia rusticana
Common names:
Horseradish, Mountain Radish
Description:
Horseradishes are perennial herbs with large, fleshy roots and course, rough-textured leaves. They are cultivated for their pungent, aromatic roots, which are used primarily as a food condiment.
Life Cycle:
hardy perennial
Exposure:
full sun or partial shade
Cultivation:
Horseradish is considered invasive. It will spread quickly throughout the garden if not carefully controlled. Plant 1 or 2 plants as soon as the soil is workable in the spring. To start horseradish, plant a 6 to 8 inch piece of root that has been severed from a mature plants. If you purchase the piece, the "root" end of the piece (the end you'll plant) will be the tapered end. Work the soil to a depth of at least 8 inches and prepare a hole for the root that is 4 to 6 inches deep. Cover the bottom two inches of the hole with compost and place the root in the hole at an angle so the new roots will grow out from the sides of the piece and not straight down the hole and end up tangled. The top of the root should be 2 inches below the soil.
Propagation:
roots cuttings, seed
Parts Used:
root
Harvesting and Storage:
Harvest roots when they reach the desired size. Clean roots under running water to prevent your eyes from watering, and store roots in tightly sealed jars filled with vinegar or oil until use.
Medicinal Uses:
used in the treatment of respiratory problems
Culinary Uses
Mix small amounts of Horseradish with creams, yogurt, mayonnaise, soft cheeses or salad dressings to make sauces to accompany meat, fish, and potatoes.
Other Uses:
skin care
By Ellen Brown
Give a "thumbs up" to the solution that worked the best! Do you have a better solution? Click here to share it!
Questions
Here are questions related to Growing Horseradish.
What makes my horseradish bitter sometimes?

Pete from LaPorte, CO
AnswerWas this interesting? Yes No
Ad
---
---
Most Recent Answer
I dig mine only after the first frost. I`ve never had bitter horseradish.
---
I was told that for really "hot" horseradish, you should harvest in either spring or fall. I can't remember which one. Maybe it really doesn't matter?
Hardiness Zone: 5b
By Jane from Spartansburg, PA
AnswerWas this interesting? Yes No
Ad
---
---
Most Recent Answer
By PENNY K 14 564 02/23/2010 Flag
Why don't you do both; if it's not hot enough the first time [that would be upcoming spring, right?] offer it to friends and family who like milder horseradish.

Being fresh, I am going to guess it will be plenty hot, regardless.