I have searched the internet and called my mother who is an expert in house plants and can not find the name of this plant. Please could you help me. I thought it was a rubber plant, but my mother-in-law says it is not. Thank you in advance for your help!
Lori from Harrison, South Dakota
By guest (Guest Post)
Flag
June 12, 2008
0

found this helpful
The photo is of a Rubber Plant - Ficus elastica
June 14, 2008
0

found this helpful
It could also be a orange tree. When I was very small, I planted seeds from an orange that I was eating in one of my mother's house plants, and one of the trees lived for almost 20 years (until my Dad accidently left it outside and it got frostbiten). It looked exactly like this. It never flowered. Upon a bit of research, we were told that there had to be both a male and a female tree in order for them to produce fruit.
By guest (Guest Post)
Flag
June 15, 2008
0

found this helpful
Looks like an umbrella tree to me as well. My mom got one as a present over a decade ago, and the stupid thing won't die. She kept this plant in a windowless office for 3 years on a book shelf, no it's over 7 feet tall. She never fertilizes it, often forgets to water it, and it's attacked by cats constantly. It got so big this year she can't get it out her door to the patio.
You'll see that rubber plant leaves turn up a bit, while umbrella trees fan out and droop slightly. The umbrella tree's trunk will get more tree like, having bark and being very light tan.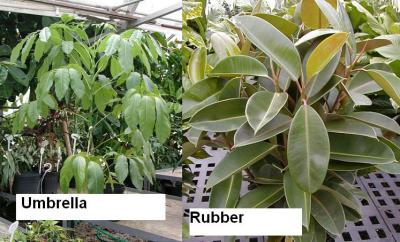 April 7, 2010
0

found this helpful
It's definitely a rubber tree plant. And one suggestion on it's care. Once the last frost is over put it outside for the summer. Then bring it back in before the first frost of the season. You'll be amazed at the difference it makes! It'll fill out and the leaves won't fall off nearly as badly. It'll be beautiful before the first season is over.
Read More Answers...
I have always loved rubber tree plants. I bought over the years I can't even count how many, and it never failed, they all died. They would start dropping leaves like mad till they were nothing but a spindly stick. I researched and did everything to the letter according to every set of directions I could find. Nothing worked. I tried putting it in every spot I could find in the house, watering more, watering less, feeding more/less, everything. Still they all died.
About 4 years ago, I decided to try again and bought a small one about maybe 18 inches tall. It had lots of beautiful leaves and even a bunch of leaf buds on it. I got it home and sure enough, within a week, the leaves were dropping like flies.
I mentioned it to my niece and she told me to start putting it outside in the spring after the last frost, and leaving it out there till just before the first frost in the fall. I did that and now that same plant is almost 5 feet tall and full and beautiful!
It was amazing! I didn't do anything else different to it. For that matter I even forget to water it out there a lot of times! But it is so pretty now, and stays pretty through the winter when I bring it in.
Source: Thank you, Robin!
By Cricket from Parkton, NC