My peace lily seems to have healthy leaves, no browning or wilting, but they are all bent. This plant was a gift and they have always been this way.
The plant is in an east facing window with early morning bright light and then filtered light all day. What causes this and can I fix it?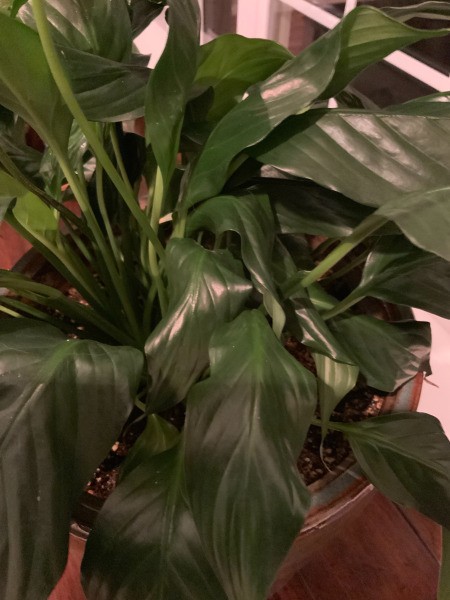 VeronicaHB
Bronze Post Medal for All Time! 107 Posts
August 10, 2019
0

found this helpful
The leaves of a peace lily can droop because its in need of water or because it has been overwatered. This plant is rather finicky about moisture, lighting and temperature. You can find some possible reasons for droopy leaves and suggestions for helping your plant at
smartgardenguide.com/.../

Pghgirl40
Bronze Feedback Medal for All Time! 196 Feedbacks
August 10, 2019
0

found this helpful
You may need to up the watering schedule if it is always like that. Mine gets that way when it is thirsty. These like water.
They also like strong afternoon sun, so you could try it in a different window if it is not getting enough light.
I have had one for going on 15 years and it is still going strong!

August 12, 2019
0

found this helpful
Peace lilies are nice and once you get yours situated in the right place along with a good watering schedule, you will enjoy yours.
This is not a plant for direct sun, which burns its foliage. Peace lily flourishes in moderate light, and it even tolerates areas of low light. When peace lily receives too much light, its transpiration rate is higher, which means that it loses water more quickly and it may become droopy.
Sometimes it is difficult to know when to water and when to wait a while.
I have used a meter for checking moisture and ph in potted house plants for many years and I love it.
If you do not have one you might want to give one a try. They can be purchased at most garden centers - Walmart, Lowe's, Home Depot, Target, online - not very expensive and last forever.
Here is a link that has information on how to check water/moisture in house plants:
www.gardeningknowhow.com/.../testing-moisture-in-plants.htm
Care information: