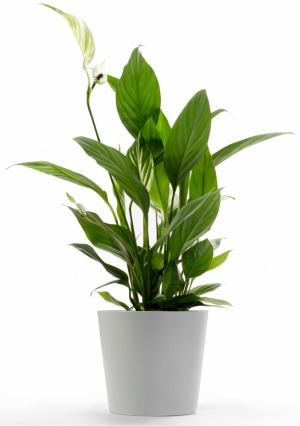 Need info on how to get my peace lily to bloom. mariew

Answers

Linda L.
Bronze Tip Medal for All Time! 64 Tips
January 7, 2005
0

found this helpful
Do not overwater, and peace lilies like low light. A hi nitogen fertilizer at half strength will encourage blooms.

January 8, 2005
0

found this helpful
I let mine show the first signs of "drooping" then I water and it blooms all year. I feed every three months so so.
Jennifer
By Dana (Guest Post)
March 13, 2005
0

found this helpful
My Peace Lily hasn't bloomed. In looking into this, I recently learned that some peace lilies are selected more for their foliage, so if yours doesn't bloom, it may be a foliage variety. I also learned that in too little light they will bloom much less, so although they can tolerate low light conditions, they prefer (indirect) light.
By starkizer (Guest Post)
July 18, 2006
0

found this helpful
I have heard it said that the reason they call them "Peace Lilys" is because they only bloom in peacefull areas.
By Michael (Guest Post)
July 3, 2007
0

found this helpful
To get my peace lily to bloom, I used to water it like It should and I put the Miracle-Gro plant spikes into it. It bloomed a lot! And maybe that it does need to be in a peaceful location to bloom. But now it seems like I can't get it to bloom like it used to. And it is in the same location it has been in for 5 years.
This peace lily is very very very humongous too. So big it takes two men to pick it up! But it is in the right conditions! Included an image of my Peace lily just to show how big it is! How can i get it to bloom ?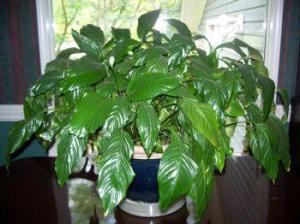 By Michael (Guest Post)
July 3, 2007
0

found this helpful
Here's another picture of my peace lily! It has one bloom on it!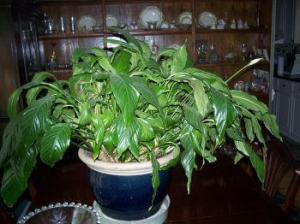 By peggy (Guest Post)
January 4, 2008
0

found this helpful
Our library's 2 beautiful big peace lillies were ove rwatered & then put outside for a few minutes when they over flooded in the library. the temp was about 16 degrees.
They are now 2 big droopy messes. We brought them to a warm room to dry out. If they don't come back should we cut down the leaves? Help
By peggy (Guest Post)
January 4, 2008
0

found this helpful
We have 2 soggy peace lilies that were put outside to drain for just minutes on a very cold night. They are both totally drooped. Is there a chance to save them?
By Jojo (Guest Post)
January 30, 2008
0

found this helpful
I would agree with Jennifer, I let my peace lily show the first signs of drooping and then water it. I bought it as quite a small plant and it is now thriving 3 years on!
By Ashley (Guest Post)
May 8, 2008
0

found this helpful
Everyone that mentions about not overwatering the plant is WRONG. Peace Lilies are actually WATER plants. They can thrive in soil with regular watering OR they can thrive in water. I have two... one is in dirt and I water it weekly and the other I bought, cleaned the dirt carefully off of the roots and it sits in a vase that only has water and decorative clear stones in it.
So the amount of water has nothing to do with the lily blooming or not.
By jordan (Guest Post)
May 17, 2008
0

found this helpful
I went on holiday for a couple of weeks and when I returned home I discovered that my Peace Lily was really drooped and the soil was really dry then I realised I couldn't remember the last time I watered it so I watered it and about 5 hours later it was back to its old self but a couple of days later I discovered a bloom bare in it hadn't bloomed in months and it hasn't had another bloom since and I hope I haven't damaged it
Read More

Answers
Question:
I have two peace lilies that were given to me by a relative. One has struggled from the beginning. It wouldn't get any taller, only got new growth and bushed out. I transplanted it about 3 months ago and it started growing well. It is 3 times larger than before. My problem is that it is pale looking. Its leaves aren't as dark as the other one I have and it still hasn't bloomed. I have tried plant food. Neither one of them are in direct sunlight. They both get about 5 hours of sun in the afternoon. What else can I do?
Hardiness Zone: 8b
Krys from Milton, Florida
Answer:
Krys,
The pale color of your peace lily may be a symptom of one the following:
Exposure to high temperatures (over 95°F) for a prolonged period
Over watering (soil should be kept evenly moist)
Soil kept too dry between watering
A mineral deficiency caused by a build up of fertilizers salts. (Magnesium-Mg, Iron-Fe, Sulfur, or Manganese-Mn) Use a 3:1:2 fertilizer.
Too much light. Afternoon sun (even when not direct) may be too bright. Try areas having 75%-80% shade in Florida.
Even with a healthy plant, transplanting can cause a temporary lack of flowers while the plant focuses its energy on growing new roots. Plants younger than a year old also usually lack flowers.
Answers
By (Guest Post)
October 11, 2005
0

found this helpful
This is really strange for a peace lilly.From the sounds of things, I do everything wrong with mine and they bloom like crazy. I have them in an east window, lots of morning sun, I usually forget to water them until they droop and only fertilize them (with whatever I grab first) when I think of it (maybe once a year). Sometimes when we ignore plants, they do much better.
I work at an assisted living facility and the residents will get Christmas cactus at holiday time. They never get watered unless I decided to water them, they are always left in a drafty window-year round (sometimes they look like they should be thrown out) but they bloom beautifully every year!
Answer

this Question