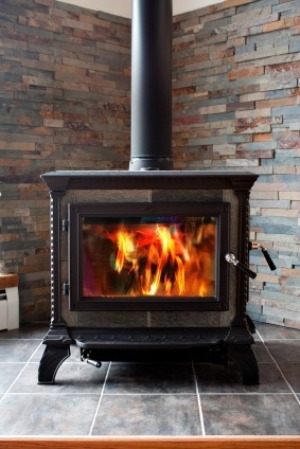 Money can be saved when heating with firewood or pellets, but there is maintenance to keep your your stove and chimney efficient, safe and clean. This guide is about heating with wood.
Ad
---
Solutions: Heating with Wood
Read and rate the best solutions below by giving them a "thumbs up".
Use the heat from your wood-burning fireplace insert to do so much more than heat the house! The top of my insert forms a 12 x 30 inch shelf. We keep a big pot full of water and a full tea kettle on it at all times. Put a metal trivet under them and the water stays piping hot. Remove the trivet ahead of time if you know you'll need boiling water for pasta, or just transfer the hot water into a pot on the stove for a huge head start.

Make tea any time without turning on the stove. Use the hot water for dishwashing, handwashing or even taking a sponge bath to reduce water use. All of these uses eliminate the need to run gallons of cold water down the drain waiting for hot water to reach your tap from the water heater. Reheat soup. Heat canned foods in a pot (don't heat them in the cans, even if you've pierced the rim to let steam escape they will bubble over and make a mess!). "Flame dispersers" used for propane cooking achieve a simmer. "Roast" vegetables in a covered casserole dish or dutch oven. It takes longer than an oven (2-3 hours), but uses no extra gas or electricity. Experiment, have fun!

Source: "Original" idea (if any such thing exists!)

By Denise-Christine from Eugene, OR
If this winter, you are going to be using a wood burning stove or a free standing fireplace to heat all or part of your home, try this tip.

Place a box fan or small fan behind your wood burning stove or beside your fireplace to circulate all that warm air. You might be surpised at how much more square footage you can keep toasty warm.

By Debra in Colorado
Give a "thumbs up" to the solution that worked the best! Do you have a better solution? Click here to share it!
Questions
Here are questions related to Heating with Wood.
I need a wood stove recommendation. It's time for our old Avalon wood stove to go. I've read the manufacturer web sites for Avalon, Vermont Castings, Lopi, BlazeKing, Country, and of course they make their brand sound like the best on the market. My house is all on one level, about 2000 square feet, and a wood stove is my sole source of heat. I want it to have a long enough burn time that I can load it at night and still have embers in the morning to get it going again. What brand/model wood heating stove do you have and would you recommend it for what I need?

Jackie from Rochester, WA
AnswerWas this interesting? Yes No
Ad
---
---
Most Recent Answer
By Marty (Guest Post) 01/07/20090 people found this helpful
I have a Vermont Casting and would NOT recommend buying one. They have a cast iron hood that covers the converter and it gets bent out of shape just burning the stove. I have talked to others and they have the same problem. I have narrowed my search down to two, Blaze King and Energy king. I hop this helps.
---
Can or has anyone burned wood pellets in a hi-efficiency wood fireplace. Are they OK to use in a fireplace, metal, 0 clearance, Napoleon nz-26 unit?
By jto from Saskatoon, Saskatchewan
AnswerWas this interesting? Yes No
Ad
---
---
Most Recent Answer
By capt.tagon 1 11/05/20110 people found this helpful
Non-pellet ie Wood Burning air tight stoves.

Yes, and it works quite well. I'm burning multi fuel (wood + pellets). Using square unistrut, I created three parallel andirons to lay across the bottom of the wood stove. One bolt of wood (quarter or half round) goes against the back of the stove against the fire brick.

I make a open ended basket out of expanded mesh (16" long, 10" deep folded up 4 rows in back, three rows in front) with a liner of 1/4" mesh hardware cloth.

Wood splints crosslaid between the andirons with a couple of pitch sticks are the fire starter, set the flat bottom of the basket across the andirons with the back 1-1 1/2" away from the bolt, grab your butane torch and fire off the splints.

As with all wood burning appliances, experiment to make sure you don't over fire (put a stack thermostat on the side of the stove to monitor). Use your handy gardening scoop trowel to refill the basket, the log in the back easily ignites the next batch of pellets. What falls through burns to ash.
---
I have a wood burning store, but I want to burn pellets in it. Do the trays that you can buy to convert the burner work?
By Julie
Archives
Thrifty Fun has been around so long that many of our pages have been reset several times. Archives are older versions of the page and the comments that were provided then.
Has anyone tried burning wood pellets in a regular wood burning stove or fireplace?