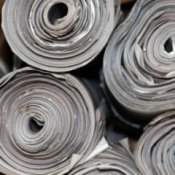 If you have a wood burning stove and receive the daily newspaper you can make your own newspaper logs. Lay newspapers flat and roll it into 3 inch diameter logs then wrap metal wire around the finished log.
The tighter you can roll the paper the longer the "logs" will burn.
Read More

Comments
Newspaper "logs" work great in the fireplace. Instead of buying expensive starter logs for the fireplace, roll and tie with string or twine newspapers. To start the fire, place several newspaper logs on the grate, then smaller kindling scraps, then the real wood pieces.
Read More...

I have been looking for a way to convert junk mail, paper, cardboard, etc. into fuel for my open fire. Having discovered the "paper log / brick makers" on ebay and through other searches and finding them too expensive for my meager income, I wonder if there is an effective way to do this by hand.
The beastie I refer to compresses presoaked waste to squeeze out moisture and turn the paper into a "log" which apparently will burn for up to an hour. If there is a simple way to make a device and I mean simple as this girlie is not much good at DIY (lack of tools and skill). I would love to hear it as I have so far not found any info on the 'net.
Answers
By (Guest Post)
February 23, 2006
0

found this helpful
I take my junk mail/catologs/etc and roll it into a very tight roll and stick it in an empty toilet paper or paper towel roll to hold it in place.

February 23, 2006
0

found this helpful
This what I read in a Household Hints column many years ago. Make a very tight roll of paper, junk mail, etc. Tie with twine or if you have a cat or dog and use the small tins of food, cut both ends off the tin and put your paper roll in the tin.
If at all possible, it's good if you can soak the rolls in water and then let them bake dry in the sun.
By Laurie Laurie (Guest Post)
February 24, 2006
0

found this helpful
I have a camping book that has the neatest way of making your own fuel.
They took corragated cardboard, rolled it tightly and poured parafin wax in it. Lit it and used this to bbq!
I would use the hint above and put my paper and junkmail in the paper tube, pour the wax in the tube tie a string around it and light the string.
By Georgia peach [USA] (Guest Post)
February 27, 2006
0

found this helpful
katrina
I use to make my own logs and it was real easy.take your paper and run it under warm water,lay it flat on the cabinet or table,use the next piece to absorb as much water as you can get out of the first one,sort of like paper mache,roll the log as tight as you can get it.hang it on your clothesline and let it dry. it will burn just like wood.once in a while I'd throw a piece of old candle into the middle for the rainey days when it was hard to get the real wood going.I only made my logs from 1 to 2 inches thick as a fir starter but some of them would be at least 4 inches thick.it takes awhile for them to dry out .
October 16, 2015
0

found this helpful
Really want to make " starter" size newspaper logs, worry about the wax in my livingroom wood fireplace

November 22, 2018
0

found this helpful
That's the way we did it in Girl scouts.
Answer

this Question
Does any one know how to make color fireplace logs or rocks?

Jjwiskus from Omaha, NE

Answers
By Science (Guest Post)
January 3, 2006
0

found this helpful
Hmm. I seem to remember phosphorous is blue. Check your chemistry book I think. This could be dangerous. Not sure. All of this falls in the category of making your own explosives at home.
Answer

this Question