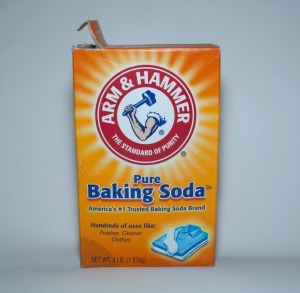 Freshening your carpet between cleanings is easy to do with products you probably have around your home. This page contains homemade carpet freshener recipes.
Ad
---
Solutions: Homemade Carpet Freshener Recipes
Read and rate the best solutions below by giving them a "thumbs up".
When your carpets needs refreshing, mix half baking soda and half dry laundry detergent. Sprinkle it all over, let it sit, and vacuum.
By Tammie from Auburn, GA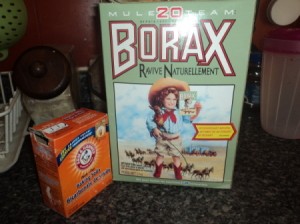 Using 1/2 cup of borax, half cup of baking soda, and 20 to 25 drops of essential oil or ground spice cinnamon is good. Mix all together and put into an old container that has holes for sprinkling, like a mozzarella container. Sprinkle on rug, leave for 20 minutes and vacuum.
By coville123 from Brockville, Ontario
Give a "thumbs up" to the solution that worked the best! Do you have a better solution? Click here to share it!
Questions
Here are questions related to Homemade Carpet Freshener Recipes.
So what should one use for carpet freshener? If we shouldn't use the baking soda and soap, can we use corn starch instead of the laundry soap?
By LF
Archives
Thrifty Fun has been around so long that many of our pages have been reset several times. Archives are older versions of the page and the feedback that was provided then.
I need to know how if there is a way to make homemade carpet freshener. Does anyone have ideas?
Soulegal
---
Homemade Carpet Freshener
Baking soda works well for homemade carpet fresh. Just add a sprinkle of cinnamon or any spice for a fresh smell. By Allie (04/13/2005)
By ThriftyFun
RE: Homemade Carpet Fresheners
Baby powder will make it smell nice too. (08/16/2005)
By BrookesMommy
RE: Homemade Carpet Fresheners
We buy it at Dollar Tree for $1.00 per can (if that helps). (09/23/2005)
By cookwie
RE: Homemade Carpet Fresheners
We use this little packet of scented granules that we bought at Wal-Mart. They had vanilla or cherry scents available They only cost about $.97, and they are shelved by the vacuum bags and filters. You sprinkle the granules on your carpet, then vacuum them as usual. The scent permeates from the vacuum each time you use it due to the granules in teh bag being warmed and jumbled around it in. So no more stinky old vacuum scent filling the air. (10/02/2005)
By TA2ED1
RE: Homemade Carpet Fresheners
These will clog up your vacuum fast, so be sure to clean it once a month! I used to use pet fresh by A and H, then had a lot of accidents when my older son was potty training. We had residue in our vacuum like crazy, to the point that you could smell it when the vacuum was turned on, and we had stopped using it (and changed the bag!) (03/30/2006)
By camo_angels
RE: Homemade Carpet Fresheners
Equal parts borax and baking soda
Spices such as cinnamon or essential oils
Mix liquid ingredients into dry ingredients slowly and give them time to dry, mixing often to ensure drying. The borax will also help keep away bugs such as ticks and fleas. No essential oils - you can use cinnamon, nutmeg, etc from your spice cabinet as well. Be sure to check and make sure any added ingredients are safe for animals and children. Combine different scents to make your own combinations and be aware they can clog your vacuum, especially if humidity is high and you have a bagless vac. Good luck! (08/27/2008)
By Sharon