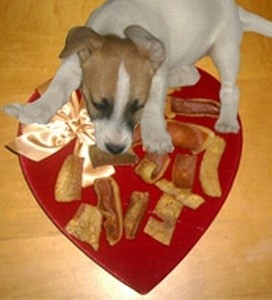 Here is a recipe to make your own dog chews.
Ingredients
pig ears
1 cup olive oil or vegetable oil
instant bouillon granules
salt (optional)
Directions
Pig ears are often available at Asian, Mexican, or local butcher markets. Clean them under running tap water, scrubbing well. A little soap wouldn't hurt, but rinse well.
Beware! Ears and skin is very hard to cut up! Using a pair of sharp, sturdy kitchen scissors, or sharp butcher knife, cut the ears into the size you need. As an example: I have a Lab and I cut in half, or for a Jack Russell I cut in 4. It depends on the dog! These are not good for puppies under 8 weeks. They are good for teething pups after 8 weeks!
Dip or brush each piece of ear with oil, then place them on a baking sheet. As a special treat, you can use peanut oil or coconut oil. When all ear pieces are dipped or brushed, sprinkle with bouillon powder.
Optional a "little" bit of salt over the sheet's contents. Be careful not to over salt them!
Bake the pieces in the oven at a low 250 degrees F. for five or six hours. Drain well on paper towels. They will be greasy!
Feed in moderation. Your babies will love you for this!
By Gogalyboo from Auburn Hills, MI
March 27, 2009
0

found this helpful
Fantastic idea! So glad you said where to buy pigs ears, since that was my first question. My two dogs will love this! Thanks!
Read More Comments