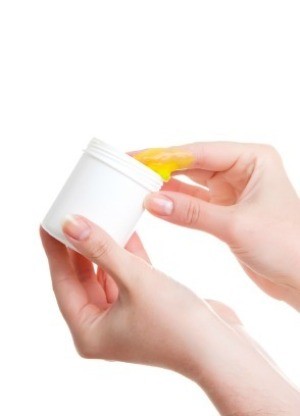 Save money by making your own hair gel. This page contains homemade hair gel recipes.
Ad
---
Solutions: Homemade Hair Gel Recipes
Read and rate the best solutions below by giving them a "thumbs up".
To make a homemade hair gel, dissolve 1 tsp. plain gelatin in warm water. Mix it very well, then keep it in the refrigerator in a small closed container. To use, smear it in your hair. It is pure protein and washes out easily.
By fossil1955 from Cortez, CO
If you are in a bind for hair gel and don't have much cash on you, take a small handful of flax seeds, boil them in water and see a natural gel appear very soon! Simply strain out the seeds when the gel appears and you've got a great, natural hair gel that is cheap as all get out. Because it is natural, it doesn't last very long, but probably adding some vitamin E from a liquid tablet will make it last a whole lot longer.
By thintieguy from Los Angeles, CA
Give a "thumbs up" to the solution that worked the best! Do you have a better solution? Click here to share it!
Questions
Here are questions related to Homemade Hair Gel Recipes.
Do you know of a recipe to make your own homemade wet look gel? The wetter looking the better.
By Tony
AnswerWas this interesting? Yes No
Ad
---
---
Most Recent Answer
What can I use to make hair gel from everyday items?
By Dalton
Archives
Thrifty Fun has been around so long that many of our pages have been reset several times. Archives are older versions of the page and the comments that were provided then.
Does anyone know how to make spray gel? I tried mixing some with water in a spray bottle but it didn't come out right. Or even a recipe for hair gel or root booster. This stuff gets very expensive to buy at the salon.
Thanks
Kathie, Portland, ME
---
RE: Homemade Recipe For Hair Gel Or Root Booster?
Aloe Vera Jelly is a great hair gel. Its not really homemade, but is inexpensive. Very good for the skin and hair. A good moisturizer, all natural. I buy from http://www.aloetherapy.com. and their Aloe plants are grown in Greenhouses. All Natural, no insecticides. (01/10/2005)
By Joy
RE: Homemade Recipe For Hair Gel Or Root Booster?
Back in my high school and college years, when I wore a mohawk or a wild spiky do- I used Elmer's glue or liquid spray starch in order to get a great hold at a tiny fraction of the cost since I needed to use it so frequently. (02/24/2005)
By Suzanne S.
RE: Homemade Recipe For Hair Gel Or Root Booster?
Mix petroleum jelly with aloe vera, dove conditioner, and with any type of moisturizing lotion. (mix well). (02/25/2006)
By Kenyon
RE: Homemade Recipe For Hair Gel Or Root Booster?
When I had a mohawk, I would use a mixture of Elmers' glue and either normal hair gel or liquid hand soap (the mixture makes it a lot easier to wash out) (12/05/2006)
By Joe
homemade hair jell for mohawks over 4 inches
I've tried A LOT of gels and i honestly have to say that corn starch that comes in a box that you can get anywhere and elmer's glue mixed together into a thick paste is the best. (07/10/2007)
By wolf l.
RE: Homemade Recipe For Hair Gel Or Root Booster?
Egg whites, egg whites and elmers glue is better, but egg whites works also. After you blow dry or naturally dry your hair run the egg white through the part you wish would spike, then hold it up for a bit, you can also blow dry it to speed up the process. It makes it stand longer if you lay down and hang your head off the couch or bed so that all your blood rushes to your head and your brain is scrambled. =] (10/30/2007)
By Catherine Johnson.
RE: Homemade Recipe For Hair Gel Or Root Booster?
I'm not really sure how well it works but someone told me that if you boil 2 cups of water and 1/4 cup of sugar it makes a really strong hairspray. (04/17/2010)
By imxaxmuffin