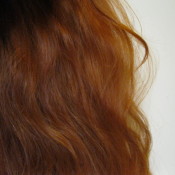 At the beginning of this year, I decided that as much as I liked having dyed red hair, I really didn't like the damage being caused by the over-the-counter hair dye I was buying. The color was great, but losing hair every time I did it, and then dealing with the fade-out was just not worth it. I'd heard a bit about using henna to dye hair and looked into it.
I found a few websites and learned a lot of information about just how damaging commercial hair dye is. When I found the website hennaforhair.com. I decided I'd try their henna. It wasn't cheap the first time because I had to buy 4 packets of henna to dye my hair, which is halfway down my back. I suppose it didn't cost anymore than a salon job though.
I will never go back to commercial hair dyes. My hair is a lovely rich red now. People always tell me it looks natural. It also doesn't fade, so when it's time for a touch-up, I literally only have to retouch my roots, I don't have to re-dye all the rest as I did before.
Hennaforhair.com has other information too on dying your hair brunette, black, or giving it a blondish sheen, all with plants! The henna thickened my hair a bit, which I needed, and it has not been this shiny and lustrous since I was a kid!
Plant dyes are also totally safe for pregnant women, unless of course you are allergic, but allergies to henna are rare. Anyway, worked so very well for me that it would be a crime not to share it!
By Natalie from Washington D.C.