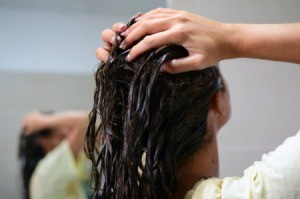 Hello Ladies,

I want to dye my hair. In the past when I dye my hair I get a headache. I am getting older and I want to cover my gray. Please help. I want to know which hair color product that is out there that I can use that is gentle. Also, I get some shedding afterward.
Jacquelyn from Houston, Texas
Answers
By (Guest Post)
June 23, 2006
0

found this helpful
Best Answer
What color? For a range of red to brown colors, try henna. All natural, no chemicals. You have to do a strand test to see what your color will be. I've been henna-ing my hair for about 5 years now and I feel like I have more hair, thicker hair, and it's in better condition than ever before. My hair is originally dark brown and I get a dark cherry color with the henna. Covers grey really well. For more info, try this website: http://www.hennaforhair.com .
By oceanamoonjl@hotmail.com (Guest Post)
August 1, 2006
1

found this helpful
Best Answer
Hi there,
Waterworks haircolor is one I use that doesnt smell at all really. Mixes with water and the peroxide is already blended in w/color powder. I'm VERY chemically sensitive to almost all unnatural scents & chemical stuff and I use it w/no problems!
You have to order it online, Thats only place ive found it. Good prices too! good luck! Jess
By Jaelyn (Guest Post)
June 23, 2006
0

found this helpful
There are also brands in the grocery store that carry hair dyes without ammonia - no smell!

June 26, 2006
0

found this helpful
I colored my hair for years. A few years ago (at age 39), my husband asked me to stop coloring it. The first year or so was hard for me, as I had to wait for the dyed part to grow out (I didn't want a short cut to get rid of it.) It is almost totally white now--I get SO many compliments on it!
I have even had people ask if I color it white!! I vote for letting your hair grow out naturally! I never would have thought mine would have turned out so beautifully!
Read More

Answers