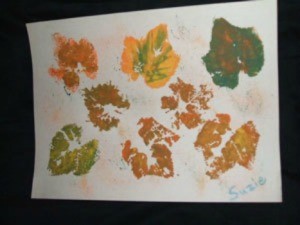 Making your own unique placemats is a great way to use your craft skills. This is a guide about homemade placemat ideas.
Ad
---
Solutions: Homemade Placemat Ideas
Read and rate the best solutions below by giving them a "thumbs up".
I take pictures from trips I have taken, laminate them on placemat size paper. They are always of interest when people come to dinner. I have also done this with various holiday cards, so I have placemats to go with all holidays.
By Bev from Carlsbad, CA
Recycle Christmas cards to make a Christmas placemat!
Approximate Time: 30
Supplies:
Christmas Cards
Scissors
Pen
Laminator
Tape
Instructions:
Cut out the prettiest part of Christmas cards you have received, (pictures and words)! You do not have to cut perfect circles or squares, just cut out whatever you want in any shape.

You also might like to use the scissors with decorative edges.

Or, put the name of the person who gave you the card on the back. (I did this and have a card from a special person who has passed away - I will treasure this forever!).

Arrange pieces in a square or circle and tape the pieces together on the back. Now laminate it yourself to take it to be laminated.
You now have a beautiful Christmas placemat that you can bring out each year and remember who sent you Christmas greetings!
By Tonya from Louisville, TN
Save money by overlapping two square napkins to form a rectangular placemat. Napkins were 25 cents a pack.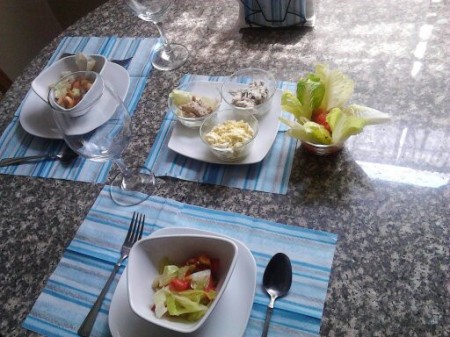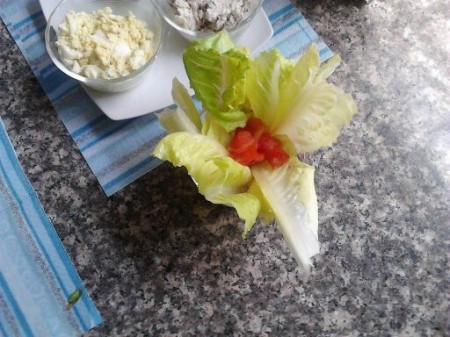 By teenaO [3]
I am going to get some clear contact paper and cover my daughter's pictures that she drew and colored. I am going to use these as placemats. I will border the sides of the paper with ribbon if I find the right color.
I am also going to make a self esteem placemat for my kids. I will have their friends write what they like the most about my child.
This will be a keepsake and they can look at it often.
By Robyn Fed from Hampton, TN
For a western-themed party, cut out the thigh areas of old blue jeans and sew them into placemats. Be sure to keep the pockets intact and sew them on the placemat for the insertion of silverware.

By Bobbie from Imperial, NE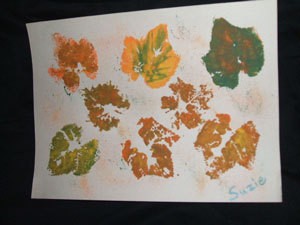 Bring the beauty of fall indoors with these easy to make, leaf-printed placemats. The kids will have a ball making these.
Approximate Time Less than 1 hour
Supplies:
construction paper
acrylic paint
paint brushes
fresh leaves
old toothbrush
Instructions:
Collect some fresh leaves from trees in your yard. They won't crumble as easily as those found on the ground.
Lightly paint the back of a leaf with acrylic paint, then press onto the construction paper.
Add more than one color of paint to each leaf to resemble autumn leaves.
Next, dip the end of an old toothbrush in some acrylic paint. Pull back on the end of the toothbrush with your thumb to spatter the paper with dots of paint. (You will probably want to do this outside or put the placemat inside a box to keep from spattering your clothes or counter top!)
Ask each child to write his/her name on the corner of the placemat.
Once dry, laminate with clear contact paper so they can be used over and over again.

By Mom of 1 from Wilkesboro, NC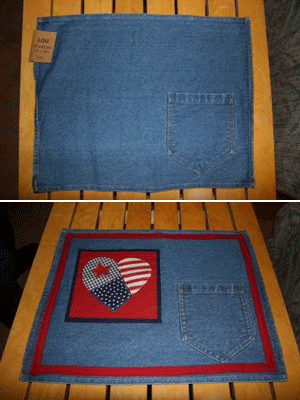 My husband brought home these denim placemats because he liked the pocket for the silverware. I scurried to my "resource" center and got out some material and made 1 inch red bias tape for the edging. Then I found the "heart" material in another "resource" box. The place mats are 15 inches by 19 inches. If your machine (like mine) will never be able to sew a denim pocket on a placemat because of the thickness, you could use a shirt pocket or just make a pocket. A while back one of our "thrifty" group suggested always using cloth napkins. Along the way I have now collected a large, varied assortment of designs. These placemats could be given for gifts at any holiday or a housewarming present. Great for picnics! Enjoy!
Approximate Time: one hour
Supplies:
scrap material
sewing machine
Instructions:
Either buy or cut out material to hem to 15x19 inch. Sew a denim pocket or something just as pretty to the placemat. Start embellishing!
By Tedebear from San Jose, CA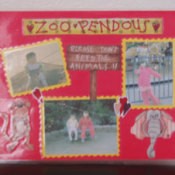 If you have a lot of extra photos and dread putting them all in albums, a photo placemat is a great way to show them off to everyone. You can use your scrapbook skills and supplies to create an entertaining place at the dinner table. The photo fun placemat is a great gift to give to friends. However, I find that young kids really like to see themselves when they eat. I made this one after a trip to the zoo.
Supplies
8 1/2 x 11 scrapbook paper - red
photos
solid color scrapbook paper - yellow
die cuts
scrapbook markers
scissors - regular
scissors - designer edged
sticky adhesive dots
double-sided sticky tape
self-laminating sheets
Instructions:
Take pictures and stick them to yellow scrapbook paper using double-sided sticky tape.
Cut around the pictures using designer-edged scissors, giving the pictures a framed feel.
Put the die-cut with the "title" on the top. In this case the title is "Zoo-pendous." You can use the double sided sticky-tape. Remember, you will want the paper to be horizontal rather than vertical.
Lay out the pictures and stick them to the red paper. Using the double sided sticky tape.
Use the sticky dots for the die cuts to give them a "sticker" back, and place them around the pictures.
When your layout is complete, use the self-laminating sheets to turn your page into a placemat. Take one sheet and place it over the top, then turn the placemat over and stick another laminating sheet to the bottom. If you have a laminating machine, even better, as you can use it to laminate the placemat.
These are also nice for putting up on the fridge, too. Just add magnets to the back of the placemat.
By Kelli Mahoney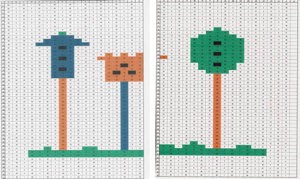 I design and make so many placemats that I have a template on my computer! When I decide on a theme for a new placemat, I play around with it on the computer. When I'm happy with what I've created, I print it out and crochet from the chart. If you haven't crocheted from a chart before, it's really quite easy, *especially when using my template!
Level: Intermediate, only because there are so many color changes.
Beginners: Double crochet is the only stitch used in this pattern. Give changing yarn colors a try!
Supplies:
1 skein background color per placemat
scraps of 3 different colors for the birdhouses and posts
crochet hook size H
Directions:
Chain 51
Reading up and down the chart, double crochet each row as marked on the chart.
*Remember* when doing double crochet, the first two chains of the first row are considered the first dc*.
Download Chart:
Have fun!
By Connie Decker Brown
Give a "thumbs up" to the solution that worked the best! Do you have a better solution? Click here to share it!
Questions
Here are questions related to Homemade Placemat Ideas.
I would like to have placemats made from our school pictures. How or where can I have this done?
By Arlene H.