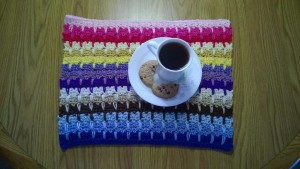 I just learned how to do a chainless foundation and I am hooked, get it?
A friend asked me to make her some bright place mats, my choice for the colors. I thought of how many cool shades there are of each color, so I did a bright, lighter, and lightest. However, she didn't have the perfect shades I wanted. Yours will be much better I am sure and you too can make them any colors you want.
For the chainless foundation, I am going to link you to a tutorial that will show you you. Much easier for me and better for you.
http://www.lionbrand.com/blog/video-how-to-do-a-chain-less-foundation-row/
NOTE: When you begin your chainless base row, don't be surprised if it curves. Mine did but when you begin with the other rows, it will work itself out. I was going to put a slip stitch border on but I had a dying phone and no charger. Go figure. This is a pretty cool stitch. You can make anything from hot pad to afghan. NJOY!