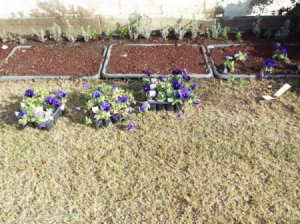 I have a small, recessed foundation wall in one area. It's ugly and I can't seem to get around to painting it. To hide the wall, I planted a row of Euonymus fortunei rootings in front of it, this summer. This stuff can get huge, but can easily be sheared to the 2 feet I need. It will get as thick as any hedge. In 2 years, the wall will be completely hidden with what will look like a dense variegated dwarf boxwood.
While waiting for the Euonymus to grow, I will keep the wall hidden with bedding plants as I have done, before. Earlier, I sank several concrete mixing tubs into the ground. Throughout the summer, I keep vinca in these beds. I have also grown 5 foot zinnias in them.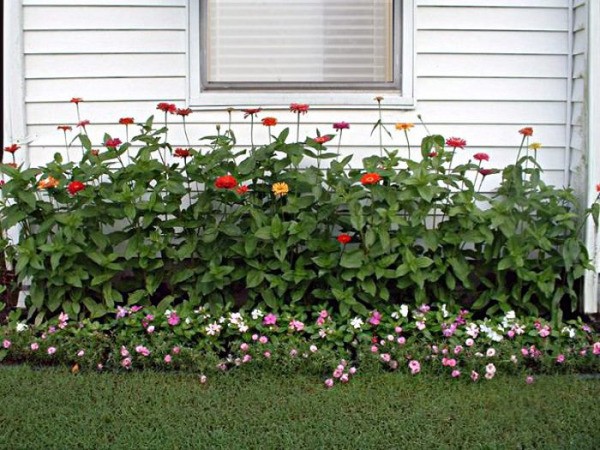 Pictured next are the beds in transition. I just dug all the vinca, reworked, and amended the soil. Now, I am in the process of planting pansies for winter and spring. I got a good mark down deal on pansies 2 months ago, all various shades of purple. Now, I will go shopping for white pansies to mix with the purple.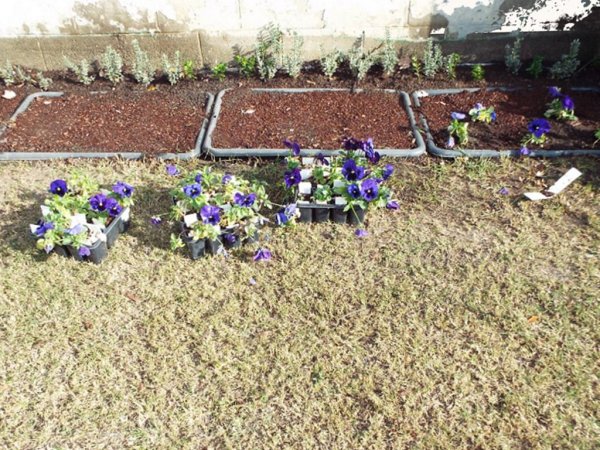 In a few weeks, this ugly sight should look rather nice. The pansies will have grown tall enough to at least partially hide the wall. And that ugly, brown, dormant Bermuda grass will be hidden by a lush, green carpet of winter rye.
Euonymus Fortunei is ideal for hiding masonry foundation walls. Soon, I will write an in depth article about this very versatile plant. Two examples for now: It can climb high into trees just as ivy or it can be kept mowed to a height of 3 inches as a ground cover or substitute for lawn grass. Increasing your stock is very easy. Cuttings will form roots all along the shaft, just as a tomato cutting will.