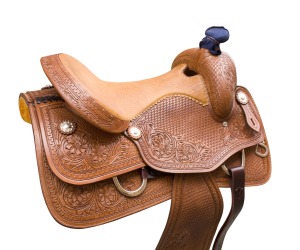 Saddle soap has long been used to clean various types of leather tack and of course saddles. This is a guide about homemade saddle soap.
Ad
---
Solutions: Homemade Saddle Soap
Read and rate the best solutions below by giving them a "thumbs up".
Saddle soap is an effective leather cleaner. Especially for saddles, saddle shoes, and other thick leather. Please read the cautions before using.
Ingredients:
3 1/2 cups water
1/4 cup neatsfoot oil
3/4 cup soap flakes (not detergent)
1/2 cup beeswax or paraffin
Directions:
In a pan bring water to a boil and than lower the heat to a simmer. Slowly stir in soap flakes until the soap is dissolve.
Then place neatsfoot oil and paraffin (or beeswax) in a double boiler, heat until melted. Once melted slowly add to the simmering soap. Stir until the soap becomes thick. Pour into storage containers and let cool before storing.
Using Saddle Soap:
Apply to leather with a damp sponge or cloth and then buff with a dry cloth.
Locating the Ingredients:
The soap flakes that many do-it-yourself recipes call for are no longer sold by Ivory so you will need to grate your own. Just use bars of plain Ivory soap. Neatsfoot is light yellow oil obtained from the feet and shinbones of cattle, used chiefly to dress leather (Source: Bartleby.com). Gun shops and hardware stores are a good place to look for neatsfoot oil. Paraffin is sold at most grocery stores. Beeswax is sold at most craft stores.
Cautions:
This solution may darken some leather and make some leather hard to polish. Anytime you are cleaning leather clothes or an item that is very important to you, make sure to test your cleaning solution on an out of the way place.
Give a "thumbs up" to the solution that worked the best! Do you have a better solution? Click here to share it!
Questions
Here are questions related to Homemade Saddle Soap.
I'm looking for recipes for homemade saddle soap.

Thanks,
Tigger2044 from NE, Conn.
Ad
---
---
Most Recent Answer

By K. Phelps (Guest Post)03/22/2006
HOMEMADE SADDLE SOAP

You can give your leather goods the care they need to stay supple and clean with...

Elsie Spry
Leather aficionados who want to keep their prized boots, bags, shoes, belts, chairs, harnesses, and saddles in top condition need saddle soap. Not only does it clean away dirt and grit that dull leather's luster, but it also supplies the oils and waxes essential for long-lasting suppleness and protection.

To make inexpensive saddle soap at home, you'll need two pots, one of stainless steel or heat-resistant glass... a stainless steel spoon . . . short, wide-mouthed jars or empty commercial saddle soap containers . . . beeswax . . . pure flake lye ... castile soap shavings . . . water... and pure gum turpentine. (Beeswax and pure flake lye can be found at a hardware, candle, or grocery store.)

In the steel or tempered-glass pot, combine 6-1/4 parts beeswax, 10 parts pure flake lye, and 10 parts water. Caution: Pure flake lye can burn and corrode skin, clothes, and furniture, so be careful! Boil this mixture for 5 minutes, stirring constantly with the stainless steel spoon.

Next, in the second pot, melt 2 parts castile soap shavings with 10 pans water, mixing them with the well-rinsed spoon. When the soap liquefies, add it slowly to the lye-and-beeswax mixture, blending evenly until fully combined.

Next, remove the pot from any heat and stir in 15 parts of turpentine. (Watch out: Turpentine is highly flammable.) Pour immediately into containers; cover and keep in a cool, dry place. The soap can be kept indefinitely.

If you prepare the recipe with one part equaling one tablespoon, you'll have enough to fill four 8-ounce jars.

When you use the saddle soap, have two soft flannel cloths on hand. Soak and wring out one until almost dry, dip it into the soap, and rub the leather with a firm circular motion. Rinse that cloth in warm water, wring out, and then use it to remove any excess lather. Use the second dry cloth to polish the leather to a soft luster. . . and say good-bye to ugly-looking leather goods!


What are the ingredients and how are they put together?
By Jerri K.