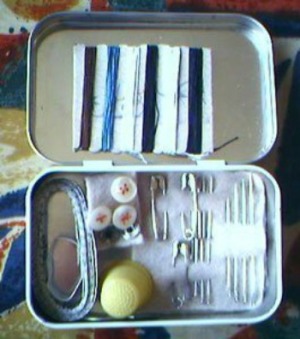 A sewing kit is not only a great gift idea, but also a nice item to have in your purse or desk at work. This is a guide about homemade sewing kits.
Ad
---
Solutions: Homemade Sewing Kits
Read and rate the best solutions below by giving them a "thumbs up".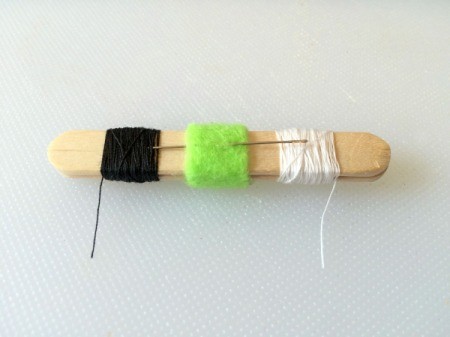 I made this little thread holder to use in my Felt Monster Sewing Kit, however I realized that it would also work really well as a stand alone item. It is small enough to fit in your wallet or almost anywhere. Now it will be easy to sew a loose button back onto your clothing or fix a seam.
Supplies:
mini craft sticks (Woodsies 2 1/2" x 3/8" x 1/12")
hot glue gun
felt
scissors
thread
sewing needle
Ad
---
Steps:
Take two mini craft sticks and apply a small amount of hot glue to the middle of one stick. Then adhere the sticks together. Be sure to press them together firmly so that there isn't much of a gap between them.
Cut a narrow strip of felt long enough to wrap around the middle of the sticks. Apply a small amount of glue and adhere the end of the felt, wrap it around the sticks and glue it in place, trimming off any excess felt.
Slip the end of the thread in between the two sticks, then begin wrapping the thread around. Once you have a good amount of thread on the sticks, cut it loose from the spool. Now slide the loose end in between the sticks to keep it from unraveling.
Repeat on the other end with another color of thread.
The felt strip around the middle is the perfect place to store a spare needle. After inserting the needle through the felt, simply nestle the tip of the needle into the thread to keep it from poking you unexpectedly.
I work for a guy who I know couldn't sew on a button to save his life. I made him a little sewing kit with pre-threaded needles (I threaded them) in black and white, and extra shirt buttons. I then taught him to sew a button, and he now has everything he needs at his fingertips.

By Linda
One way to reuse prescription bottles is as a portable sewing kit. Put a spool of thread into the bottle, pierce a small hole in the lid and run the thread end out the lid. Put several needles and pins, however many you might need, inside.

This way I can take sewing projects with me and finish them while I am waiting for appointments, etc. When I have a number of items to mend or hem, I either stack different bobbins in the bottle in different colors or use gray thread, which blends with almost any color.

By Lynn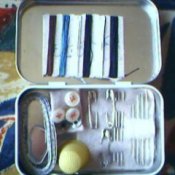 A sewing kit is a great gift for anyone leaving home.
Materials:
tin (an Altoids tin is perfect)
felt
cardboard
tape measure
buttons, hooks and eyes, and snaps
black, white, and dark blue thread
straight pins, needles, and safety pins
thimble
needle threader
Directions
Cut notches in the edges of a small piece of card and wind thread around it, sticking the ends down with scotch tape.
Cut out two squares of felt.
Loosely sew the buttons, hooks and eyes, and snaps to one square, knotting them each individually.
Push the pins and needles through the other square. Place everything inside the tin. Et voila!
By Beth from England
Give a "thumbs up" to the solution that worked the best! Do you have a better solution? Click here to share it!