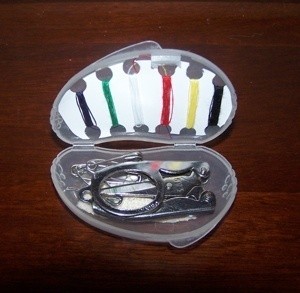 Have you ever lost a button when away from home? Well, I have several times and have needed an emergency sewing kit. I have been trying to think of a way to make one to go into my purse that didn't take a lot of room.
I now have the solution. I took a plastic case that measures 2-1/2 inches by 1-1/2 inches (the longest and widest points) which use to hold ear plugs for my husband. The ear plugs are gone and I confiscated the plastic case. I then cut a piece of cardstock the shape of the top and nipped out several semicircles with my hole punch. I put different colors of thread all along the card and secured it on the back.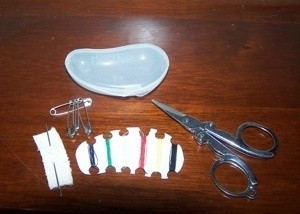 I found some collapsible scissors I have had for a long time (but still available at Walmart, I think.) I put several small safety pins together and then put a needle on a remnant of material. See the before picture. As you can see in the after picture, everything fits nicely in the case and it snaps shut and does not take up much space in my purse. Having the scissors in the kit makes it really complete.
You could vary the colors in your kit. I just used basic colors to get me by in an emergency until I can get home and find thread that matches the outfit. Look at containers before you toss them. Then put your thinking caps on. You might surprise yourself when you come up and create something new.
By GeorgiaBulldogsFan from Jesup, GA
Read More

Comments