Making a Felt Monster Sewing Kit

lalala...
Gold Post Medal for All Time! 899 Posts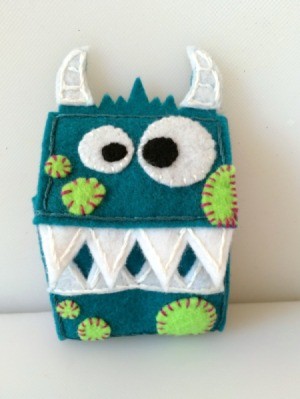 This adorable little sewing kit is perfect for your purse or to give as a gift for someone learning to sew.

Supplies:
felt
embroidery floss
sewing needle
scissors
template
Steps:
Cut out eyes and pupils from scraps of felt. Sew them onto the face using coordinating embroidery floss.

Cut out horns from white felt and sew to the head using white embroidery floss. You can add lines to the horns if you want.

Cut out tongue #1 from dark pink felt, tongue #2 from light pink felt, and the mouth from black felt.

Sew the mouth to tongue #1 using black embroidery floss. Then sew tongue #2 on with light pink embroidery floss. Add the line down the middle of tongue #2.

Cut out spots from scraps of felt and sew them to the face using embroidery floss.

Cut out two (2) teeth #1 pieces from white felt. Sew them together with white embroidery floss.

Now attach the head to the body, sandwiching the teeth in between. Use blue embroidery floss and a backstitch to sew them together. If your stitches don't make it all the way through the 4 layers, you can add additional stitching on the back of the body piece, to more securely attach it to the teeth.

Cut out more spots and sew them to the back of the body.

Cut out one (1) teeth #2 from white felt and sew it to the body (opposite end from head) using white embroidery floss. Fold the monster, the way it will close, to find the proper placement for the teeth.

Attach the mouth and tongue to the body, using a barrel stitch along the sides.

NOTE: I chose to leave the top and bottom open, however you can make it an actual pocket by sewing one end shut. I skipped that to avoid unwanted stitches showing on the back of the monster.

If you want an extra pocket you can cut an additional piece of felt to attach under the tongue. It is also a great way to cover up the stitches that show there. Use blue embroidery floss and a backstitch to attach the pocket along the sides and one end.

You can add taste buds with French knots.

Attach a hook and eye to hold the sewing kit shut.

The tongue is a pin cushion for sewing needles and pins. While the mouth "pocket" is a great place to store a small pair of scissors. I found a neat pair of folding scissors at the craft store that fit perfectly. :)

Make a couple of these tiny thread holders to put into the pocket of the monster. Now you will have thread handy to fix a loose button, etc. Click here for instructions to make the Tiny Sewing Kit.

I hope you enjoy your sewing kit as much as I do!
Published by ThriftyFun.
© 1997-2022 by Cumuli, Inc. All Rights Reserved.
https://www.thriftyfun.com/Making-a-Felt-Monster-Sewing-Kit.html