Making your own outdoor chalk isn't hard, and can save you money. This guide is about homemade sidewalk chalk.
Ad
---
Solutions: Homemade Sidewalk Chalk
Read and rate the best solutions below by giving them a "thumbs up".
Make homemade liquid sidewalk chalk for your little ones to paint with outside.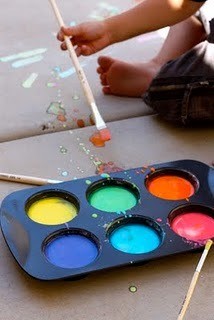 Approximate Time: 5 minutes
Supplies:
1 cup cornstarch
1 cup water
food coloring
old muffin tin
Instructions:
Mix together the cornstarch and water in a bowl.
Next divide it among the muffin tin holders.
Now add your food coloring to each one and stir. This is also an opportunity to teach your child how by mixing colors together you can make new colors. Combine red and yellow to make orange, blue and red to make purple, and blue and yellow to make green.
Grab a paintbrush and let your little ones paint away.
Sidewalk chalk is sometimes expensive and not always easy to find. Mix 1 cup Plaster of Paris with 3\4 cup water and powder tempera paint of your color choice. Pour into an egg carton container, and let harden for 24 hours. Pop the molds out and enjoy. The shape of the sidewalk chalk is easy for smaller hands to use.
You can only purchase the 3 primary colors of tempera paint (red, yellow, and blue) and mix the powders together with the plaster and water to create so many beautiful colors. It makes a great science experiment too for the young ones!
By Marci from West Monroe, LA
It is summertime! This will keep the kids happy for awhile. You will need food coloring, warm water, spray bottle and flour. I get the spray bottles from the dollar store.
In each spray bottle, put in a tablespoon of flour, around 5 or 6 drops of food coloring. Use more for darker color, it is up to you. Fill the bottle halfway with warm water. Shake the bottle until it is all mixed up. Give them to your kids and tell them to decorate the sidewalk!
Source: From my day care file, years ago!
Make your own sidewalk chalk.
What you need:
approximately five empty egg shells
1 teaspoon flour
1 teaspoon very hot water
food coloring (for colored chalk)
Directions:
Wash and dry the egg shells.
Crush the egg shell into a bowl and grind it until it is a powder. Make sure all the pieces are ground. Take out any big pieces before going on to the next step.
Mix the flour and hot water in another bowl.
Then add 1 tablespoon egg shell powder and mix into a thick paste.
Add your favorite color food coloring. Just add a drop or two for colored chalk. If you want white chalk do not add anything.
Shape the paste into chalk sticks or press into soap molds for fun shapes. If making chalk sticks roll the sticks up tightly in a paper towel.
Let your chalk dry for 3 days.
Source: I found this on a thrifty site, but I can't tell you the name (I visit so many!)
Give a "thumbs up" to the solution that worked the best! Do you have a better solution? Click here to share it!
Questions
Here are questions related to Homemade Sidewalk Chalk.
How do you make chalk?
By Michelle
Ad
---
---
Most Recent Answer

By KL [3]04/15/2010
Here is one from right here at Thrifty Fun: http://www.thriftyfun.com/tf494134.tip.html
'Plaster of Paris' is available at craft stores, hardware stores, Kmart etc.
Does the liquid sidewalk chalk stain concrete? I wanted to make it for my son and let him paint the driveway.
By Corrie
Ad
---
---
Most Recent Answer

By Joan B. [2]10/26/2011
I have never seen any stained sidewalks from the purchased sidewalk chalk, but I don't know about the home made sidewalk chalk.
Could you use food coloring, for the colors or do you have to use the paint?
By Katie
Archives
Thrifty Fun has been around so long that many of our pages have been reset several times. Archives are older versions of the page and the feedback that was provided then.
***
*** Sidewalk chalk art can be a lot of fun for kids and the chalk is easy to make yourself using Plaster of Paris.
Ingredients:
1 cup Plaster of Paris
1/2 cup of water
powdered tempera paint
Something to use as a mold *
Directions:
Mix the water, Plaster of Paris and powdered tempera paint. The more tempera paint you add, the deeper the color of the chalk will be. Then pour the mixture into you mold.
* Mold Ideas
Toilet Paper Roll: A toilet paper roll works as a mold. Just seal one end with duct tape and pour the mixture into the mold and let it dry. When I use toilet paper rolls I like to let it dry for over 24 hours. You can line the toilet paper roll with wax paper so that the chalk will easily slide out.
Egg Cartons: Egg cartons are nice because you can do numerous different colors in one mold.
Dixie Cups: 5 ounce dixie cups also work well.
Film Cannisters: Just line with wax paper and the chalk will slide right now.
Note: Be sure to follow all safety precautions on the Plaster of Paris box. And, this makes a mess!
---
RE: Homemade Sidewalk Chalk
Another easy chalk mold is old ice cube trays. That way all the pieces are uniformly shaped. (08/06/2004)
By Cheryl from Missouri
RE: Homemade Sidewalk Chalk
you say 1/2 water meaning a cup please ,let me know this sounds great for my classroom thank you patty
Editor's Note:
yes, it is 1/2 cup water. I changed the recipe. (06/20/2006)
RE: Homemade Sidewalk Chalk
Where do you get the paint powder? (06/27/2007)
By Peg
RE: Homemade Sidewalk Chalk
I'll bet ice cube trays would work well, but the pieces wouldn't be very big. They'd be easy to pop out I would think! (07/03/2008)
By Pam
RE: Homemade Sidewalk Chalk
I use the bigger dixie cups. It makes it easy because you can just tear the cup away when the chalk has hardened. An added bonus is that the chalk is slightly tapered so it won't roll all the way down the sidewalk. Instead, it just rolls in a circle. (04/25/2009)
By loved1
RE: Homemade Sidewalk Chalk
Why would regular food dye not work? It is intense enough in colors, you can make your combination. I have a 5 gal bucket left of Pop that I bought a big sack of. Will give it a try with food coloring.
Another thought, gently tap, tap, tap the poured molds to get the air bubbles out of. Do not hasten the drying process mechanically (like with hair dryer, microwave, etc). WHY do I say that? With my big projects I have done that, fine. With small ones it does not work. (07/07/2010)