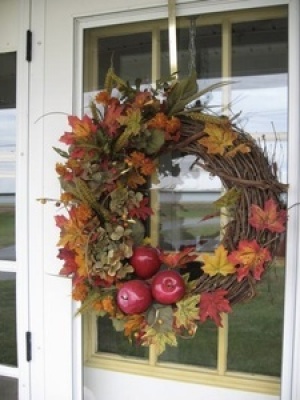 It is fun and satisfying to make your own holiday decorations. This is a guide about homemade Thanksgiving decorations.
Ad
---
This colorful oak leaf and acorn fall wall hanging is made from felt. It makes a nice wall hanging or door decoration for the holidays. This is a great Thanksgiving decoration. View the full project here: Autumn Felt Wall or Door Hanging
Solutions: Homemade Thanksgiving Decorations
Read and rate the best solutions below by giving them a "thumbs up".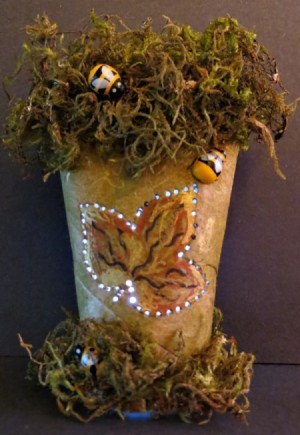 This Thanksgiving make some thrifty decorations that will wow your guests without breaking the bank in the process. Turn empty toilet paper rolls into beautiful fall lanterns. Add them to your window sill or fireplace shelf, and add a unique atmosphere to your party.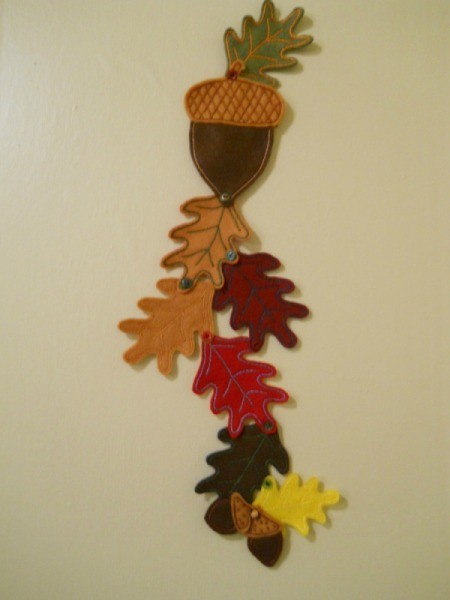 This colorful felt acorn and oak leaf decoration makes a nice wall hanging or door decoration for the holidays.
Supplies:
felt in various colors ($.30 per square)
embroidery floss in your choice of colore
needle
pins
scissors
beads and buttons
paper templates
tracing paper
scrap cardboard, such as old file folders, etc.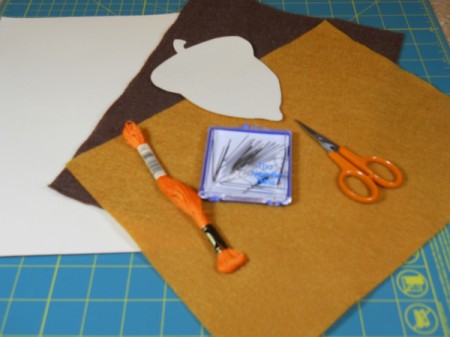 Ad
---
Steps:
Create your templates. I traced some applique patterns and hand drew others. I transferred the tracings onto manila file folder paper or scrap cardboard.
Select the color felt for the acorn cap and nut and trace around your template onto the felt.
Cut out felt pieces.
Place two nut pieces together and backstitch with embroidery floss to join.
Fit cap pieces over nut section. It helps to pin the pieces in place to maintain alignment of the two parts, especially where the cap attaches to the bottom. Here you will again use floss to backstitch an outline around the cap and through the nut across the bottom. I also created a crosshatched pattern on the cap for added detail.
Next trace and cut out your leaf pattern pieces. Follow the same assembly steps as you did for the acorn. Pin and work an backstitch to outline the leaf shape. I then added veins, again using a backstitch.
I added two smaller acorns to the final project at this point. You can see them near the bottom. Play with your leaves and acorns and finalize your arrangement.
Once you are pleased with the final arrangement, you will need to attach the acorns and leaves to each other. I used colored beads and buttons and stitched through the pieces to create a somewhat asymmetrical hanging.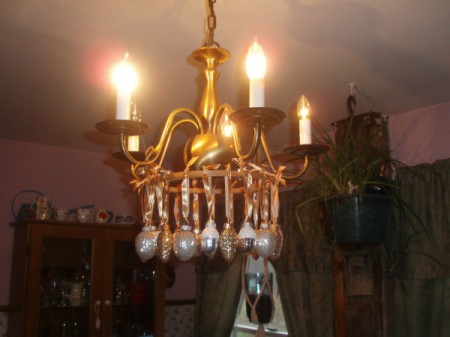 I love to decorate our home in rich tones, after a playful Halloween decoration came down I found these pretty glass Christmas tree ornaments at a flea market last year. (Tip- they were labeled from the Christmas Tree Shop as glass ball ornaments and were priced 20 for $2.99. So even if you must go to buy them, they are really pretty and look more expensive then they really are!)
They seemed perfect to use for my dining room for the Thanksgiving table since they were in gold tones and were in the designs I use every fall- pine cones and nut designs.
They are already pre-strung on nice thin gold ribbon so I just looped them onto a hoop and tied it to my existing chandelier.
You could even string less on the hoop and keep some to tie around your dinner napkins or add to a centerpiece.
I think they look pretty!
What do you think?

By Donna [304]
Using simple materials, one can make a mural decoration that will be suitable for Thanksgiving.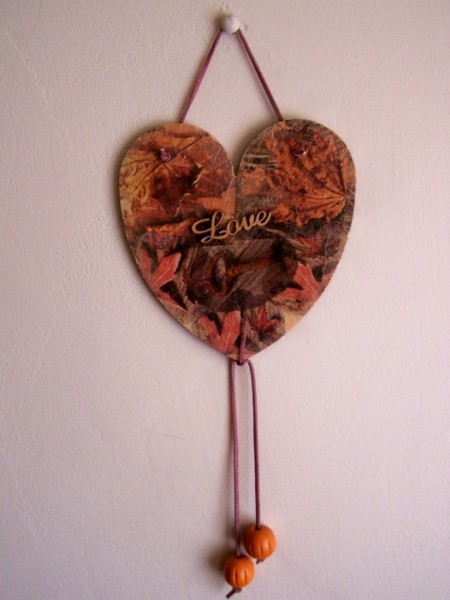 Approximate Time: 90 minutes
Supplies:
a wooden heart, cut from 1/8 inch masonite
napkins with suitable pictures printed on them
I used napkins with fall colors, and with pictures of fall leaves and rusty keys.
a small wooden word, available from scrapbook stockists
I used the words Love, Faith, and Hope, each one on a separate heart.
acrylic paint in the following two colors: flesh and pale gold
white water-based primer
Modge Podge
water-based varnish
40 inches of brown leather thong
two wooden orange beads to be strung onto the thong
a 10/32 inch paint brush
a thin paintbrush
hairdryer
a pair of standard scissors
a few sheets of old newspapers to protect the working area
fine sanding paper
a dry cloth to dust the heart
strong bonding glue
HB pencil
electrical hand drill
Instructions:
Sandpaper the heart, back and front, thoroughly and dust well with a dry cloth.
With a slightly wet 10/32 inch brush, paint a thin layer of the white water-based primer over the front of the heart. Keep the edges and the back of the heart clean. Dry the heart thoroughly with the hairdryer, but do not use the highest heat setting on the hairdryer.
Next, using the same brush, paint a thin layer of flesh-colored acrylics over the front of the heart, again keeping the edges and back clean.
Dry the heart thoroughly with the hairdryer.
Cut out the different sections from the napkins and decide how they will be arranged on the heart.
Remove the bottom layers from all the napkin cutouts.
Put the first cutout in place and with the 10/32 inch brush, paint a substantial amount of Modge Podge over the top of the cutout, so that it will stick to the heart. As the napkin can stretch or tear easily, it is best to start painting from the middle of the cutout towards the sides, working in small triangles. The Modge Podge must only be applied to the top, and must not run underneath the cutout.
Turn the heart around and cut off any pieces of napkin that may protrude beyond the edges of the heart. Turn it around again and check that the napkin cutout is glued thoroughly to the heart, before using the hairdryer to dry the cutout.
Repeat steps 7-8 with all the other cutouts, until the design has been completed.
With the 10/32 inch brush, paint a thin layer of Modge Podge over the whole front of the heart, again keeping the edges and back clean. The Modge Podge will protect the napkin cutouts and give the product a smoother finish. When applying the first layer of Modge Podge, be careful not to lift the cutouts at the edges when brushing over them with the paint brush.
Dry the heart with the hairdryer.
Repeat steps 10-11, you need to apply at least 4 coats of Modge Podge, but remember that with every layer, the direction in which the Modge Podge is applied, must be changed from horizontal to vertical to horizontal, etc. Also, remember that after every layer of Modge Podge, the heart must first be dried thoroughly with the hairdryer.
Using the thin paint brush, highlight the edges with the pale gold acrylic paint.
Dry the heart with the hairdryer.
Use the drill to make three small holes in the heart, two at the top and one at the bottom. When drilling, start drilling from the front to the back, i.e. from the side that has been covered with the napkin cutouts, through to the back.
Wet a piece of fine sanding paper and lightly sand away any rough edges around the holes on the front of the heart.
Turn the heart around, and with a dry piece of fine sanding paper, lightly sand away any rough edges around the holes.
Dust the heart again with a dry cloth.
With the 10/32 inch brush, add a layer of water-based varnish to the front and edges of the heart. Dry thoroughly with the hairdryer.
Turn the heart around, and add a layer of water-based varnish to the back of the heart. Dry thoroughly with the hairdryer again.
With the fine paint brush, add a touch of pale gold to the wooden word and dry it thoroughly with the hairdryer.
Use the strong bonding glue to affix the word to the wooden heart.
Thread a piece of the leather thong through the holes at the top and make a knot at each end.
Thread a second piece of the leather thong through the hole at the bottom, and make half-a-knot to keep the thong in place. Add a drop of the strong bonding glue to the half-a-knot so that it won't come undone. Add a bead to each end of the thong and make a knot at each end to keep the beads in place (see numbers 5-8 in combined photo).
Tips:
When doing napkin decoupage, do not use dark acrylic paint as the base color, as this will show through the napkin.
To clean, wipe off gently with a damp cloth and do not use strong detergents.
When doing decoupage, never use the highest heat setting on the hairdryer.
It may be easier to use your finger instead of a brush when applying Modge Podge.
By BessieBessie from Pretoria, Gauteng
I like to take my children walking in our neighborhood. On our walks we find beautiful leaves and seed pods that have fallen from the trees. We collect them and take them home to use them as our Thanksgiving decorations. Bare twigs and seed pods are added in our fall bouquets or as part of our Thanksgiving centerpiece. We also tape large brightly colored leaves all over on our walls, which simulates the outdoor fall season. I also draw large leaves on water color paper and have had my children paint and decorate them for use as name place cards for our Thanksgiving dinner.

By Shannon from Los Angeles, CA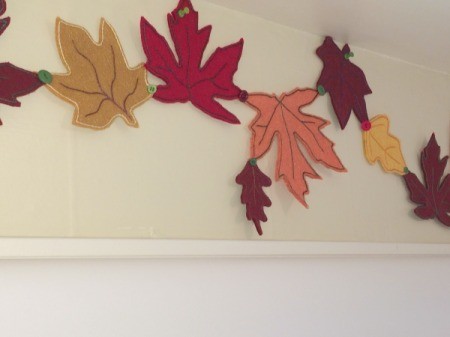 Last fall I made a felt wall swag using oak leaf and acorn elements. I wanted to make a larger garland this year. Originally I was considering something that would hang in the dining room window. Unhappy with the initial results, I decided to follow a process similar to that used for the oak leaf project. This is the final result.
See oak leaf project here: Autumn Felt Wall or Door Hanging
Supplies:
felt squares in various fall colors
manila folder and other scrap paper templates
scissors
tape
embroidery floss
buttons
needle and thread
pins, optional
pen or Sharpie, optional
push pins or thumb tacks
Ad
---
Steps:
Make leaf templates. I had several left from previous projects. The large maple leaf was made by tracing around a large maple tree leaf that I found on a walk.
You can try tracing your pattern onto the felt, but I found that even Sharpie does not work that well for this task. So I placed small rolls of tape on the back side of the template and stuck it onto the felt.
Cut out your leaf shapes. Make two for each leaf.
Place the two pieces together and using an embroidery backstitch, outline the leaf shape and add veins. You can pin the two pieces together or simply hold them together as you sew, readjusting if there is any noticeable slippage.
Make as many sizes and shapes as you like to create a garland long enough to fill the space you have chosen to display your handiwork.
Next I laid the leaves out on the table and arranged them to my liking.
Overlapping the pieces slightly I sewed them together using sewing thread and a small button.
Finally, I pinned them to the dining room wall using push pins. You could use thumb tacks or whatever method you like to hang your garland.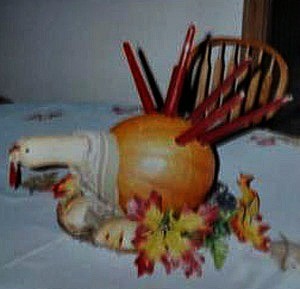 A turkey that lights up for great conversations and giggles.
Approximate Time: 25 - 30 minutes
Supplies:
medium size pumpkin without a stem
large serving platter
large kitchen knife
large butternut squash
wooden skewers, halved
craft knife
2 dried black eyed peas or other dried beans, or two wiggly eyes
metal tipped vegetable peeler
6 or more dripless or drip resistant taper candles
tooth picks
sun dried tomato or peel and eat licorice
glue gun
Instructions:
Prop the pumpkin on an angle on the platter so the top points up at a 45-degree slant if it doesn't balance easily. Use a knife to cut a slice from underneath to create a flat base.
Cut off the top 5 inches of butternut squash to use as the turkey head and attach to the top of the pumpkin with skewer halves.
Glue eyes on or use tip of the peeler to dig out to small slits for eyes to push beans in each slit.
Cut sides from bottom of squash in, then use a craft knife to cut a 'v' shape into each piece for turkey toes. Place them next to pumpkin on platter.
Mark candle holes toward the back pf pumpkin at least an inch apart. Don't place them to far down the back. The candles should stick out at a slight angle no more then 45 degrees or they will drip too much all over.
Use a craft knife or peeler to cut the holes making sure they are slightly smaller then the candles for a snug fit.
For the turkey wattle, bend a piece of sun-dried tomato or licorice over the top of the beak, if necessary secure with a tooth pick. Now, you have a turkey who will get lot of of giggles.
Have a happy Thanksgiving!
By Sillepeanut from Whitehall, MI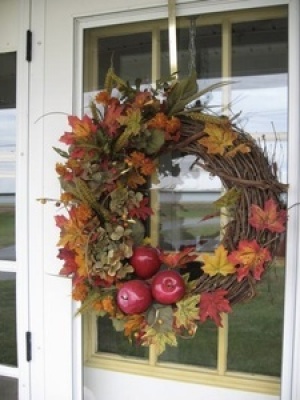 Welcome your guests to a Thanksgiving meal with a homemade wreath for the season. You can make your own and then you can reuse it year after year.
Supplies:
grapevine wreath or wire frame and grape vine to make your own
artificial decorations such as fall leaves, wheat, apples, etc.
hot glue gun
wire cutters
picks
Instructions:
Hang your grape vine wreath up somewhere you can easily work with it.
Pick out the artificial items to use in the wreath. I used mostly apples, fall leaves, dried wheat, and dried hydrangeas, but the options are endless. Other ideas to use are pomegranates, oranges, pears, artichokes, or whatever your heart desires!
Using wire cutters, separate your artificial leaves into smaller workable pieces. To prepare something like apples, you will need to put some hot glue on the end of a pick and stick it into the apple. The other end of the pick can then be inserted into the wreath. These larger items, however, should be left until just about last to add.
Begin filling in your wreath by placing hot glue on the end of the artificial pieces, and then inserting them into the wreath. You can choose to do one side, all over, 3/4 of the wreath... just be creative.
Occasionally you need to step back to inspect your work to make sure it is taking the shape you desire.
Attach larger items such as apples last so they do not get lost.
Hang the wreath on the door for your special Thanksgiving guests to see and make sure you tell everyone that you made it! At the end of the season, store in a wreath box or a plastic bag until next year.
By Jayme from Harrisonburg, VA
Make a turkey head out of paper and affix to toothpicks. (if you want it more fancy, make it out of felt and stuff with batting)

Decorate it anyway you want, ribbons, googly eyes, a pilgrim hat, feather headdress, you choose.

Push toothpicks into bottom of pineapple

Tada! a turkey!

By Okwes from Wilmington, DE
Tie a length of nice holiday ribbon to apple stems and suspend them from the ceiling or in an archway or doorway from thumbtacks. Make sure though, that they hang higher than the tallest person's head, who lives with you or visits, so they don't get bumped!

By melody_yesterday from Sedalia. MO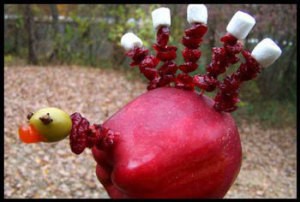 These are really cute turkeys made out of apples that kids can make for school or just eat as a snack. They also make adorable Holiday Table decorations. They can be made with either Fruit Loops or raisins. Variations: head can be a cut out that is glued on or a large marshmallow with raisin eyes and a candy corn stuck into it for a beak.
Ingredients:
1 apple
1/4 cup Fruit Loops cereal or raisins (if using Fruit Loops you will need a few raisins for the neck)
6-7 mini marshmallows
7-11 toothpicks
1 green olive
2 cloves
Directions:
To make the feathers: Take raisins or Fruit Loops and slide onto toothpicks about 3/4 the way down. Place a mini-marshmallow on the end. You will need 6 or 7 "feathers" depending on the size of your apple. Stick the "feathers" into the back of the apple.
To make the head: Slide raisins down toothpick and top with a green olive (head). Use cloves for eyes. If your olive has a pimiento you can pull it out the back of the olive and let it hang so that it looks like a turkey wattle.
Insert three toothpicks under the turkey so it can stand freely.
By Cheryl Lore from Asheville, NC
A simple decoration for Thanksgiving is cloves stuck in an orange. I did this last year with my children and they loved it. Whole cloves have a pointy end that can easily stick into the orange. Let the kids come up with their own designs. It has a wonderful scent also!

By Jennifer
Give a "thumbs up" to the solution that worked the best! Do you have a better solution? Click here to share it!
Questions
Here are questions related to Homemade Thanksgiving Decorations.
I want to start planning for next year and decorations for thanksgiving are few and far between. Actually Christmas just seems to jump right in there without any ideas for thanksgiving. I crochet and am thinking about starting to create some designs just for thanksgiving. I'll try to convert any suggestions you give me to crochet patterns as well as using your original ideas, too.
By JazzyMe from Los Angeles, CA
AnswerWas this interesting? Yes No
---
Best Answer