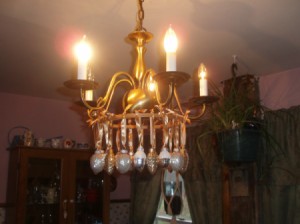 I love to decorate our home in rich tones, after a playful Halloween decoration came down I found these pretty glass Christmas tree ornaments at a flea market last year. (Tip- they were labeled from the Christmas Tree Shop as glass ball ornaments and were priced 20 for $2.99. So even if you must go to buy them, they are really pretty and look more expensive then they really are!)
They seemed perfect to use for my dining room for the Thanksgiving table since they were in gold tones and were in the designs I use every fall- pine cones and nut designs.
They are already pre-strung on nice thin gold ribbon so I just looped them onto a hoop and tied it to my existing chandelier.
You could even string less on the hoop and keep some to tie around your dinner napkins or add to a centerpiece.
I think they look pretty!
What do you think?