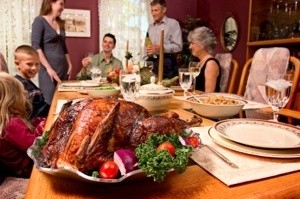 For centuries, peoples of all religions and countries have said their own special prayers for the blessing of their food, before a meal to give thanks for the food and other good things in their lives and on their tables. With the United States daily becoming an international community, people from many other countries will be celebrating maybe their first Thanksgiving with us.
So in the spirit of international thankfulness for the food and things we do have in this country, I offer you a small sampling of graces said around the world. I have included many wonderful Christian graces so if you are looking for one that you said as a child or heard at some ones home, I hope you will find it here.
When entertaining, unless your religion has a specific guideline, you can be creative in deciding how grace will be said.
One person (host, guest, or clergy) can say grace aloud for the group.
The group can say grace together. You might prepare copies of the prayer for each table in advance.
The children can say grace for the group.
Everyone can hold hands seated or standing around the table.
Each person can be given the opportunity to give thanks for something special.
Christian
In a few moments of silence, let each of us be mindful of all we have for which to give thanks: friends, food, hopes, health and happy memories (a moment of silence observed)
So in giving thanks, we are blessed, Amen.
Bless us,
O Lord, and these Thy gifts,
which we are about to receive from Thy bounty,
through Christ our Lord. Amen."
Be present at our table, Lord;
Be here and everywhere adored.
These mercies bless, and grant that we
May feast in fellowship with thee. Amen
God is great, and God is good,
And we thank him for our food;
By his hand we all are fed,
Amen
Give us, Lord, our daily bread.
For health and strength and daily food,
We praise thy name, O Lord.
God, we thank you for this food.
For rest and home and all things good.
For wind and rain and sun above.
But most of all for those we love.
Give us grateful hearts, our Father,
for all your mercies,
and make us mindful of the needs of others;
through Christ our Lord.
Dear Lord, thank you for this gift of food
You've placed upon our table.
And help us all to do your work
In any way we're able.
Lord, make us truly grateful for the blessings of this day.
We thank you, Father, for this food
And pray you'll bless it to our good;
Help us live your name to praise
In all we do through all our days.
This food, which you have already blessed in the giving,
so further bless in our partaking.
We thank thee, God, for milk and bread
And all our daily food;
These gifts remind us day by day,
Our Father, thou art good.
Almighty God, you open your hand, and we are fed.
Be at this table, we pray, and bless our family.
We thank thee, Lord, for happy hearts,
For rain and sunny weather.
We thank thee, Lord, for this food,
And that today we are together.
Praised be thou, O Lord our God, King of the universe,
who causes the earth to yield food for all.
Heavenly Father, great and good,
We thank thee for this daily food.
Bless us even as we pray;
Guide and keep us through this day.
Lord God, we thank you for all the good things you provide,
and we pray for the time when people everywhere
shall have the abundance they need.
Bless these thy gifts, most gracious God,
From whom all goodness springs;
Make clean our hearts and feed our souls
With good and joyful things.
God to enfold me,
God to surround me,
God in my speaking,
God in my thinking,
God in my sleeping,
God in my waking,
God in my watching,
God in my hoping,
God in my life,
God in my lips,
God in my soul,
God in my heart.
God in my sufficing,
God in my slumber,
God in my mine ever-lasting soul,
God in mine serenity. Amen
---
Jewish
Praised are You, Lord our God, King of the universe,
for all the nourishment and produce of the field,
for the lovely and spacious land which You gave to our fathers
as a heritage to eat of its fruit and enjoy its good gifts.
Have mercy, Lord our God, on Your people Israel, on Your altar and Your shrine.
Speedily rebuild the holy city of Jerusalem.
Bring us there and gladden us with the restoration of our land.
May we eat of its fruit and enjoy its good gifts.
May we bless you for it in holiness and purity.
Blessed art Thou, O Lord our G-d,
King of the Universe,
Who creates many living
beings and the things they
need. For all that Thou hast
created to sustain
the life of every living
being, blessed be Thou,
the Life of the universe.
---
Nahuatl (Pre-Hispanic)
I am come too, here I am standing;
now I am going to forge songs,
make a stem flowering with songs,
oh my friend!
God has sent me as a messenger.
I am transformed into a poem.
---
Ashanti (West African)
Earth, when I am about to die, I lean upon you.
Earth, while I am alive, I depend upon you.
---
China
O God,I am as one hungry for rice,
parched as one thirsty for tea.
Fill so my empty heart.
Amen.
---
Native American
Creator, Earth Mother,
we thank you for our lives and
this beautiful day. Thank You for the bright sun
and the rain we received last night.
Thank You for this circle of friends
and the opportunity to be together.
We want to thank You especially at this time
for the giveaway of their lives made by the
chickens, beets, carrots, grains and lettuce.
We thank them for giving of their lives
so we may continue our lives through this
great blessing. Please help us honor them
through how we live our lives.
---
Buddhist
(serving the food)
In this food I see clearly
the presence of the entire universe
supporting my existence.
(looking at the plate of food)
All living beings are struggling
for life. May they all have enough food
to eat today.
(just before eating)
The plate is filled with food.
I am aware that each morsel
is the fruit
of much hard work
by those who produced it.
(beginning to eat)
With the first taste, I promise
to practice loving kindness.
With the second, I promise
to relieve the suffering of others.
With the third,
I promise to see others' joy as my own.
With the fourth,
I promise to learn the way of nonattachment and equanimity.
(after the meal)
The plate is empty.
My hunger is satisfied. I vow to live for the benefit
of all living beings.
---
Hindu
Affirmation to my Body
I recognize you are the temple
in which my spirit and creative energy
dwell.
I have created you from my need
to have my spirit manifested on earth
so that I may have this time to learn
and grow.
I offer you this food so that you may continue
to sustain my creative energy, my spirit,
my soul.
I offer this food to you with love,
and a sincere desire for you to remain free
from disease and
disharmony.
I accept you as my own creation.
I need you.
I love you.
Make us worthy, Lord,
To serve our fellow-men.
Throughout the world who live and die
In poverty or hunger.
Give them through our hands
This day their daily bread
And by our understanding love
Give peace and joy.
( Mother Teresa Of Calcutta)
---
Islamic
In the name of
the compassionate
and beneficent God
---
African American
Great God accept our gratitude,
For the great gifts on us bestowed--
For rainment, shelter and for food.
Great God, our gratitude we bring,
Accept our humble offering,
For all the gifts on us bestowed,
Thy name be evermore adored.
(Josephine Delphine Henderson Heard)
---
Now I give you a prayer from me to you
May He Who is the Father in Heaven of the Christians, Holy One of the Jews, Allah of the Muhammadans, Buddha of the Buddhists, Tao of the Chinese, Ahura Mazda of the Zoroastrians and Brahman of the Hindus lead us from the unreal to the Real, from darkness to light, from disease and death to immortality. May the All-Loving Being manifest Himself unto us, and grant us abiding understanding and all-consuming divine love. Peace, Peace. Peace be unto all.
Editor's Note: Happy Thanksgiving to all! May it find you in health, peace and prosperity. Share your own traditional blessing or Thanksgiving traditions here.
November 8, 2006
0

found this helpful
Looking for ideas to start a tradition with my sister in law and her daughter (4 years old) while cooking Thanksgiving Dinner. Thank you for any suggestions/ideas!
Lori from Atlanta, NY
Thanksgiving Menus
In my family, we always had the kids make Thanksgiving Menus while the adults cooked. We have several years of colorings, drawings, "Melt In Your Mouth Mashed Potato" type food headings. It's a blast to look over.
By Carla
Get Them Involved
I have 2 girls, and one always likes to set a beautiful table with place cards and the other one loves to cook with me. If you make stuffing from scratch, a 4 year old can help break up the bread for the stuffing while you cook the other stuff to go into it and help mix it all up. If it is package stuffing, they can help mix it all up too. Just make sure their hands are clean! Kids can help with just about anything with guidance. Pick something they like to prepare and have them work together to make it. Special memories are created this way.
By Starlight
Baking Cookies
My mom, now gone, started a little tradition when my kids were 3 and 4 years old of making cookies together. They love to pat and roll them out with a rolling pin. Then decorate them with sparkles, etc. I've got some wonderful pictures too. My 3 year old then, with a big grin patting her cookies down. She's now 18 and in college. Wonderful memories. Also, any simple dish they can help with is so much fun, and keep the camera handy. When the kids got to be around 8 or 10, they dressed up as Pilgrims and Indians for Thanksgiving dinner. More pictures. Let your kids help with decorating the table, if they're artistic, they can make some pretty name tags. Always involve your children, you'll be so glad you did. An aging momma.
By glinda
Craft Ideas
Make placemats and/or centerpieces.
By cookwie
Special Treats That Kids Can Make
One of the things I did with my boys when they were young and we were having special meals was to find cookie cutters related to the holiday or theme and have them cut bread slices out with it. Then they would spread on either spreadable cheese (which I warmed a bit to make it smoother) or softened butter that was whipped with chive, garlic, vegetable dip mix or other dried herbs or spices and then I would refrigerate them until just before dinner and broil them or a minute so the boys had something they made for the feast. Another thing that we did was make the peanut butter pinecones (spread with peanutbutter and roll in bird seed or sunflower seeds) and popcorn strings to hang outside for a thanksgiving feast for the birds. They enjoyed this a whole lot because we would just sit together and talk about favorite family times or what we think the Macy's day Parade balloons will look like and things like that. Then they would watch the birds come and eat and try to see how many different kinds came to the yard.
By Renee Klevenhagen
Thanksgiving Tablecloth
Before we served, a sharpie was passed around for each to write (on the special thanksgiving tablecloth) three things that we were thankful for. One heartfelt, one small and easily taken for granted, and one silly/funny. If a child can not write, a parent can print for them. As a result, our 'special' cloth became more and more precious through the years. My Grandchildren have continued the tradition, their little printed scrawl often next to their Daddy's entry when he was the same age as them. If my house was on fire, I'd try to rescue that cloth rather than my jewelry.
By Doggy
Decorate Thanksgiving Cookies
I like the idea of using my old Tupperware cookie cutters (turkey, gingerbread people, etc.) to make sugar cookies ahead of time, then mix up frosting in differnt colors and provide the children with paintbrushes and aprons to "paint" the icing on in their own creative way. Or you could make Christmas ornaments together on Thanksgiving. At my mother's house, we always put the tree up on Thanksgiving after dinner. Hope this helps!
By Tanya
Answers
November 19, 2017
0

found this helpful
I used to read a story to my class from Highlights called "The Biscuit Tradition". The family feeds leftover biscuits to the birds sharing their food with them. A very sweet tradition (and a simple one) to start.
Answer

this Question

...