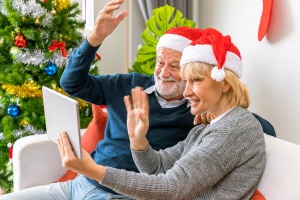 When my son moved across the country, traveling back home each holiday became too expensive so we devised one solution that especially got us through his first Thanksgiving away. We set up our laptop on the table while we all ate our meal together on Skype with him and his significant other.
It relieved a little of the pain of separation economically and we still saw each other at the Thanksgiving table. It really helped!
As a bonus tip, my sweet niece is now going through this separation pain with her daughter who's away at college.Her mom requested all her friends on Facebook send her daughter a Christmas card for her first holiday that she'll be away from home.
I love this idea too. Her mom requested this first for her birthday and it really helped with the homesickness to get multiple cards and letters from loving friend and family! Some even included old photos of them with her. Very memorable for her and them!
We don't send cards or snail mail as much anymore but it's a great way to feel a special connection to our loved ones far away!
Happy Holidays everyone!