Many of us have a sewing drawer or box filled with bobbins happily unwinding and creating a tangled mess. This is a guide about keeping bobbins from unwinding.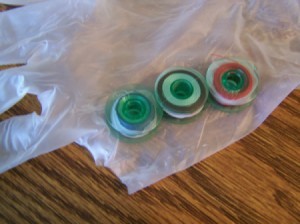 On my sewing machine, there is a storage box where I keep extra bobbins. Until recently, they have been a mess at times. Yesterday, I happened to have a pair of clear latex gloves laying next to the machine. It occured to me that the little finger of the glove was about the size of the bobbins. I cut a slice the width of the bobbin and slipped it over the rim. It worked super to hold the wild thread ends from playing hide and seek in my storage box.
If you wrap several bobbins of the same color, you could slip them into the extra fingers and use a paper clip to hold them in. Where the glove and the bobbins are clear, I can see what color the thread is. The ring of glove is not so tight I can't get it off easily, like the rubber band I had tried before. For bobbins with less thread on them, you could wrap the ring a couple of times.
I use the thumb and first fingertips from the gloves for pulling my needles through fabric when quilting or sewing thick fabrics. Now have a use for the little finger as well. Whenever we go to the doctor's office, we pick up a pair or two. The nurses are glad to give them to me. In the long run, we sure pay for them.
By Ann from Loup City, NE