My cat used to get up on my kitchen countertops (always looking for food) until my mother told me to point a spray bottle with water in it at him. At first I had to actually spray him several times. Now, all I have to do is hold up the spray bottle for him to see and he jumps down as fast as he can!

For those of you who let your cats hang out where you prepare your food, you should rethink this because I recently found out my cat had a tapeworm. Tapeworms attach themselves to the pet's stomach lining and reproduce by sections breaking off. You will find these tiny sections under the cats tail. They look like tiny pieces of dried rice. It makes me sick to think my cat may have been up on my countertop when he had a tapeworm! Pets catch tapeworms from fleas so it's a good idea to make sure you use Advantage or another good flea preventive. It's fairly easy to keep your cat off the kitchen countertop (at least while you're at home!) Just show them the spray bottle and they'll jump down as fast as they can!
By CDR
July 17, 2013
0

found this helpful
You might try putting a small amount of water in an aluminum pie plate, sorta hanging off the edge of the counter so that when the cat tries to jump on the counter they flip the pie plate and get doused with water and the falling aluminum pie plate makes a noise when hitting the floor. Might scare them off jumping up on the counter.
Read More Comments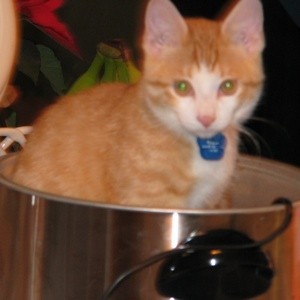 We have two 4 month old kittens that are constantly on the kitchen counter and table. They eat any food sitting out, hang out in the sink, sit in the empty crock pot, you name it. We call them the obnoxious kittens for a reason! They even jump up and try to sneak food off our plates while we're eating dinner.
We've been moving them to the floor, squirting them with a water bottle, or making loud noises when we catch them. This used to send them running, but now they no longer care and seem to enjoy their little squirt bottle baths. We rarely leave food or dirty dishes on the counter, so they're not after that. They get plenty of good quality dry food and a little wet food on top every day.
Does anyone have any other suggestions for keeping cats off the counter? I think it's gross and we have a glass top stove and I worry about them burning their feet if they walk across it while it's still hot.
By Stephanie from Hillsboro, OR
February 11, 2011
0

found this helpful
Best Answer
I have a friend who always kept a spray bottle of water with her and when her cats got someplace they weren't supposed to be she would squirt them with water. I don't know if it ever broke the cats of being where they weren't supposed to be, but when they got squirted they sure left in a hurry. This is one of the reasons that I don't like cats.
February 11, 2011
0

found this helpful
Best Answer
Stick double-sided tape all along the edge of the counter. Cats hate sticky tape on their paws! You may have to leave tape on the surfaces for a week or so, until they stop jumping up!
February 15, 2011
0

found this helpful
Best Answer
You could try a penny can-put a few pennies in an open soda can. Throw it in their direction when they aim for the counter, but don't hit them. It makes a big noise, and scares them. Or set it so it will fall if they jump on the counters. You can also try a "scat mat" sold at pet stores. It gives the animal a zap if they jump on it. Good luck!
February 15, 2011
0

found this helpful
Best Answer
Cats don't like aluminum foil either. Try taping some to the counters where they usually jump and they should get the heck out of there in a hurry, and hopefully, never go back. Worth a try ...
February 15, 2011
0

found this helpful
Best Answer
Also, be tenacious. Just keep pushing them down, with some force, chanting in a gruff voice "Get down, get down, down, down," and eventually they might get the point. It works with mine. As soon as I see them someplace they shouldn't be I just start the chanting and they know what I'm talking about. Clap your hands as well. These sound so simple, but patience and tenacity usually pay off.
Read More Answers
When I get up in the morning there's always at least one cat on the counter, often two. I have to scrub the counter before I can start my day. Any suggestion on how to keep cat off the counters at night? During the day I just move them off the counter.
By Judith Mc-H from Emden, IL
September 1, 2011
0

found this helpful
Best Answer
Grab your baking trays and lay them on the counter. Fill with a 1/4 inch of water. Place them in different places every night. If you have a lot of counter space and not enough baking trays, lay foil along the edge of the counters. When the cats jump up, they can't get a foothold.
March 11, 2013
0

found this helpful
Best Answer
I don't know who posted it, but I agree with Deeli. Don't use mouse traps! Mouse traps are one of the cruelest things ever invented, right along with wild animal traps. The reasons they are cruel are too many to list.
My cat gets up on my counters too. That's just something you have to learn to live with if you have cats. I keep water bottles handy (filled with water, not any chemical or anything else) and squirt him when I catch him up there.
Other than that I keep anything tempting for him off the counters and put away in containers that the scent can't escape from.
In the mornings and before I prepare to use a counter, I simply wipe it down with a Lysol wipe. Takes only a few seconds and doesn't cost that much. If you don't want to but the Lysol wipes then use a rag wth dishwater on it.
But, cats like to jump up and explore anythng higher than they are on the floor so just accept that and move on. Anyone who would even consider using a mouse trap has no business having any pets.
September 1, 2011
0

found this helpful
Wow, you all have some great ideas! Thanks for the help!
September 1, 2011
0

found this helpful
Please do not use the mousetraps! I don't care if they are dangling along the edge because there is still a chance the cat's paw can be trapped in it if it is able to jump over the traps and into the inside portion of the counter and then turn around and step on to one. Not all cats need to hit the edge first to get up there. I had a cat once who could jump and land square center on the top of the refrigerator and those are much higher than a countertop!
Suntydt and aloham58 definitely have great safe ideas!
September 8, 2016
0

found this helpful
I balanced cookie sheets on the edge of the counter tops; took using 5 cookie sheets in my kitchen. My cat didn't even bother to attempt jumping up there last night, but this was my first night trying this. I'll leave them up there when I'm not cooking or using the kitchen.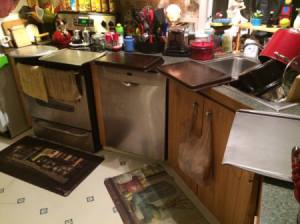 Read More Answers
September 3, 2011
0

found this helpful
Can I use peppermint oil in a spray bottle with water to spray on my daughter's cat to deter him from getting on my counters?
By Nancy
September 7, 2011
0

found this helpful
Best Answer
Never, ever use pepper of any kind on or around cats or other animals. I used to work in a vet's office. Cats get the pepper in their eyes and it burns. We had a cat in our office that actually scratched it's eye out trying to get rid of the burning pain! We had to surgically remove what was left of the shredded eye. Poor kitty! Use a spray bottle with plain water in it. Don't yell or say anything to the cat. Just spray it when it jumps up on the counter. It will associate the counter with getting sprayed. Don't put anything in the water as the cat may get it in their eyes.
December 11, 2012
0

found this helpful
Best Answer
Buy a bottle of bitter apple spray in the pet department. I get mine at Petsmart but I understand Wallmart carries it also. It is recommended for dogs to prevent scratching, but it is nothing in it to harm cats and they hate it. Spray it where you do not want them to be and they will stay away. My daughter had a problem with her cat chewing on her electrical cords and also getting on counter tops. She sprayed them and it cured her cat from both problems. Hope this will help your problem.
September 6, 2011
0

found this helpful
You are much better off spraying the counter tops with hot pepper spray. The spray gets on their feet and they lick their feet. And/ or when their noses touch the counter top and they lick thier nose. They do not like this. Once or twice on the counter is usually all it takes. The spray on the counter, along with a firm NO! is good.
Easy to make up a batch using sprayer, water and cayenne pepper
Spraying animals with water is not really a good way to treat them. Makes them a bit people shy.
August 5, 2000
0

found this helpful
Any idea how to keep my kitten off of the kitchen counter? She runs when you see her. When I catch her I do spank her. Any other suggestions would be greatly appreciated.

Becky
June 22, 2004
0

found this helpful
Best Answer
Cats can be discouraged from surfing the kitchen counters by using double sided tape applied in strips along the counter top. Hardware stores and home centers carry plastic carpet runners with "teeth" on the back. Buy a piece long enough to cover the counter top placing it "teeth" side up. The tape and the runner work because cats don't like the feel on their feet. Empty soda cans, with or without coins inside, deter cats by making a racket when they fall. During Halloween, look for motion activated toys that scream or flash lights. Some you can even record your own voice. Use any of these or a combination for a week or so, depending on how long your cat has had the habit. In the future, you may have to use one again for a day or two as a reminder. Hitting a cat only teaches fear and squirting only works when you are there.
February 26, 2001
0

found this helpful
Hitting will Not help.Squirt her with water.
This also works when animals are fighting.We call it Dampening their enthusiasm.Of course don't spray near anything electrical or when they might fall off a roof.
August 5, 2004
0

found this helpful
Cats do NOT like anything on their paws. We had the same problem with our country cat. We used double-sided tape taped to poster board & laid it out on the counters or wherever we found her fur. After about 10-14 days she finally realized that the places with the tape were out of bounds, so she stayed on the floor.
January 15, 2015
0

found this helpful
How do I train a 4 month old Siamese/Tabby mix not to get on tables, kitchen counters, etc. She carries things in her mouth also and it is difficult to find what she has taken. I really feel like sending her back to the cat rescue because I am getting tired of the way she acts.
I have had 5 Tabbies in my life (rescued 2 sisters at approx 5 wks), but have never run up against a kitten like this one. I am getting sick of the whole situation. I have a Doxie and they play together and seem to get along fairly well, but she is more aggressive than my female Doxie. I need help before I give up on her! I know she is still a kitten, but how do I scold without hurting her or her feelings for me?
By Barbara
January 15, 2015
0

found this helpful
I answered your other post, too. But just in case you missed it:
Try clicker-training your cat.
Here is a basic article: http://www.cats raining-for-cats
I have two kittens. Can anyone tell me how I can train them to keep them from climbing on the kitchen table, counters, and stove? I really need help as there are two of them and I have never had two cats at one time. I found it easy to train one. I think they are "partners in crime" together. They copy each other.
By Joyce from Mississauga, Ontario
August 10, 2010
0

found this helpful
Get a can, put a few coins in it, and either place a lid on it or tape over the top. When you see them getting up, toss it in their direction - careful not to hit them - you want to startle them with the noise, not hit them with the can.
If they are jumping up when you are not around, you can rig the edge of the counter with a long strip of cloth or paper with light items on it that will fall down if the paper/cloth falls. If they jump up they will hopefully knock the paper/cloth off and get the startle from the sound of things falling.
August 10, 2010
0

found this helpful
When you catch them on the table squirt them with water from a toy squir gun from across the room will do the trick.
June 1, 2016
0

found this helpful
I would pick my cat up several times a day and spray him with water on the counter top. Quickly, he associated the counter with the spraying. No more counter hopping.