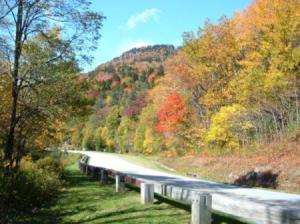 Living in the central part of North Carolina, it's a 3-4 hour drive to the mountains or to the beach. My husband and I can have a great time traveling to the coast or to the mountains for a day trip.
This colorful fall shot was taken on the Blue Ridge Parkway. Looking at the top of the mountain, above the little red tree, you can see a gap. Crossing the gap is the Grandfather Mountain mile high swinging bridge. I can see the bridge in my large photo, but am not sure if it will show up on Thriftyfun. Years ago, when we went up on Grandfather Mountain, I did not have enough nerve to cross that bridge. This is something that I want to do. I will put it on my bucket list.
By Betty from NC
Ad
---
Feedback Forum
Feedback about this article is posted here. Want to contribute? Click above to post feedback.

By Litter Gitter [117]10/22/2012
Click on the picture to enlarge it and you can see the bridge.

09/24/2012
Beautiful!

By CDC [53]09/19/2012
Thank you so much for sharing this wonderful picture. Beautiful!

By Sheila [62]09/19/2012
A beautiful picture Betty. I am from Canada and visited North Carolina a couple of years ago. We camped there, and we still talk about it today. A lovely state, definitely one to visit again.
Post Feedback
Add your voice to the conversation. Click here to share feedback.