Making Carmel Covered Apples
Solutions
Share a solution for this guide today!
Questions
Here are questions related to
Making Carmel Covered Apples
.
Cracks in Chocolate Covering on Caramel Apples
I make a lot of caramel apples dipped in chocolate. My problem is that the chocolate will crack and sometimes the cracks are quite large. After I put the caramel on, I put in the frig to harden, then dip in chocolate. Then I put back in the frig to set the chocolate.
Can any one tell me how to stop the cracking? What am I doing wrong? I use Peter's brand of caramel and candy melts (wafers) for the chocolate.
By Terry from MI
---
Most Recent Answer

By choplickers
10/04/2010
Thank yous for the feedback. I will use these suggestions.

Terry in MI
Making Caramel Apples
I am going to make caramel apples for the first time so I would like some tips on what to do. Any shortcuts that you learned from making the apples or tips for cleaning up?
By Robb
---
Most Recent Answer

By Sharon Rose
11/18/2009
HI Robb. As Mel mentioned about the dipped apples sticking to the paper, Parchment paper works without the grease. I just made 24 caramel apples for a fall themed baby shower which turned out so cute. I made some with ground walnuts and drizzles of dark and milk chocolate. Then some with just the drizzles of chocolate. One tip would be if applying walnuts, apply them as soon as you are done dipping so the nuts will stick. Also just after dipping, use a rubber spatcula to scrap off the excess on the bottom of the apple so it doesn't puddle when you place it on the parchment. I used the microwave directions and had a great out come. I would dip two apples and then I would zap it again, then dip the last few. Soaking the bowl in hot water for easy clean up! Have Fun!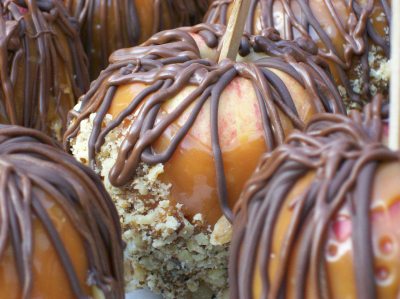 Related Guides
Related Posts