Make your own miniature doll characters to put in any doll house, book shelf, or just as a gift to someone special!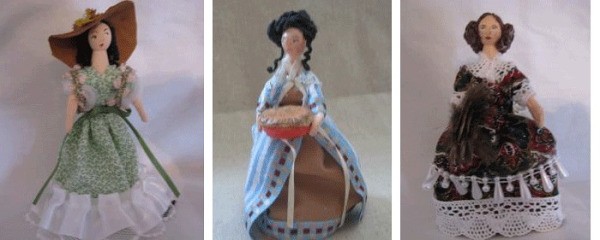 Approximate Time: a few hours
Supplies
clothespin
fabric
thin bendable wire
air-dry clay
fabric glue
acrylic paint
yarn
fine point paint brush
cotton yarn
Instructions
Take your clothespin and drill a small hole below the "head" approximately where the shoulder should be.
Thread the wire through the hole until you get the length you want for the arms, then clip with wire cutters.
Take a small bit of clay and mold around each "arm" and let dry.
Paint flesh colored paint on head and arms, and paint face on with small paint brush. ( You could also use a fine point Sharpie pen if you don't feel comfortable with a paint brush.)
Cut out small pieces of fabric and glue onto doll according to the type of outfit you want the doll to have.
Add any lace trims or embellishments you want .
You can now add the kind of hair you want for your doll braiding the yarn, or gluing it on the head and twisting it in a bun etc. (or, you can use the air dry clay to shape a hairstyle, glue it on the head, then paint the hairdo the color you want.
If you want your doll to stand, you can use a small ball of clay, stick the feet in to it, then press and glue it on a small flat disk.
By Debbie from Fisher, IL
April 10, 2008
0

found this helpful
This is a wonderful idea! Boy, if you don't win for this entry something is wrong. Cute idea!!
April 10, 2008
0

found this helpful
Let me say in again, this is an adorable idea!! How cute!!
April 10, 2008
0

found this helpful
OMG!!!!!!!!!!!!!!! Those are soooooooo beautilful!!!!!!! thanks sooooooooo much! You deserve much more than 25 dollars! You could seriously sell those! And I have so many mini dollhouse furniture - Ive got to try to do that! Thank you again! That is just crazy KOOL!
April 10, 2008
0

found this helpful
These are lovely.
April 11, 2008
0

found this helpful
I made dolls like these many years ago. They were beautiful. But a little simpler. I used pipe cleaners for arms (no holes to drill,just wraparound, I think. And I just painted on a little hair ('m not good at making hair) and made pretty bonnets or hats to put over head. It was great fun and everyone loved them. I had them on display for a long time. Thanks for the reminder.
By guest (Guest Post)
April 11, 2008
0

found this helpful
Dear Debbie-These are so pretty! I didn't know what they were made from when I first saw them. I don't think I've ever seen such lovely clothespin dolls. What an inspiration! Thanks for sharing.
May 4, 2011
0

found this helpful
Debbie, I can't believe I missed this.How creative.You did a great job.
Thanks for the idea.
January 27, 2017
0

found this helpful
Would you please give me directions (pattern) on the dress of the first doll? I love the Williamsburg look. Thank-you am looking forward to hearing from you