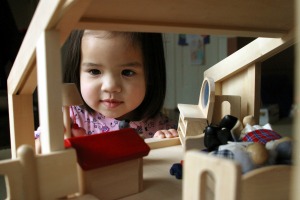 Hours of fun can be had with a miniature house for dolls. This guide is about making dollhouses.
Ad
---
Questions
Here are questions related to Making Dollhouses.
I have made a doll's house out of small cardboard boxes (not shoe boxes, but a little bit bigger). I have done each room separately so I have 4 separate boxes. Would anyone know what would be a good covering for this when joined together to make it more sturdy? I want to use something other than wood. Many thanks.
Helen
By h.arnott from U.K
AnswerWas this interesting? Yes No
Ad
---
---
Best Answers
By Gailya Illsley [7] 12/13/20090 people found this helpful
I would use foam core board. Then you can use contact paper to decorate the outside if you so choose.
---
By Mary Lou [14] 12/14/20090 people found this helpful
Many dollar stores have inexpensive peel and stick tiles. How about those in different patterns for roof and sides, doors and window frames could be yet another pattern.
---
By susan winship [4] 12/14/20090 people found this helpful
Corrugated cardboard can be really strong depending on what it is made to hold. Go to your home appliance store (washers, stoves) or stores that carry heavy goods and see if you can get discarded cardboard. Hold the individual boxes together with a strong glue and then wrap with the strong cardboard. A hardware store could tell you the right kind of glue or strapping to hod the dollhouse together. Good luck. Send ThriftyFun a picture when it is finished if you can.
---
I'm looking for plan or patterns for dollhouses for my 3 year old. I want to make a dollhouse myself for my daughter - a challenge for me. And hopefully fun for her. I'd be grateful for any help anyone can give. Thanks,

Donna in New Zealand
AnswerWas this interesting? Yes No
Ad
---
---
Most Recent Answer
By (Guest Post) 01/30/20070 people found this helpful
Houseworks has a good book by Garth Close. It has three styles Victorian, Colonial, and Georgian all using the same back just the fronts are different and the instructions are easy to follow. I got mine from www.Miniatures.com
---
I've just discovered those wonderful printables for dollhouses. I would like to know what adhesives and sealers to use with the paper flooring.

Pat from Cumberland, MD
AnswerWas this interesting? Yes No
---
Most Recent Answer
By sandy (Guest Post) 05/18/20060 people found this helpful
http://www.printmini.com

it is called jims printable minis.

at least that is the one i use. or will be using.
---
How can I make a homemade dollhouse window box for flowers?
By Janice from Wheaton, MD
AnswerWas this interesting? Yes No
---
Most Recent Answer
By kathleen williams [76] 03/22/20100 people found this helpful
Materials to make a simple wooden storage or window display box in dolls house scale.

.To Make The Dollhouse Storage Box You Will Need:

Stripwood I used 1/2 inch by 1/16 inch basswood. Use harder woods if you can find them (jelutong, limewood, mahogany). The planter shown used 3 pieces cut 2 inches long for the sides and base, and two pieces cut 5/8 inch for the ends. If you want to store particular items in your box, make sure the box is wide enough and long enough on the inside to take them, you may need to use wider stock if you need a wider box.
Wood Glue You can use PVA (white glue) if you don't have wood glue, but wood glue will form a stronger, more watertight bond.
Craft Knife You need one with a fine tip for the cutout hearts.
Craft Saw or you can use a Stripwood Cutter

Miniature Drill The size of the drill bit will determine the size of the lobes of your hearts and the curve of the handle on the end of the box. Use one that is close to the size of the end of your round file.
Miniature FilesYou will need a straight sided flat file, a round or oval file, and a tapered flat file (a pointed metal nail file can be substituted for the flat file and the tapered file if necessary)

Sandpaper Use a fine grit, 220 or finer.
Glue Spreader or flat toothpick.
Wood Finish or Paint If you want to finish the wood for your box. Good luck.
Solutions: Making Dollhouses
Do you have knowledge about this guide topic? Feel free to share a solution!