"Look and Find" bottles are great entertainment for long car rides! They are simple to make and you can make them small or large depending on your needs. The concept is simple, fill a bottle with rice and place a bunch of small objects into the bottle too.
Provide the child with a key of what to find in the bottle. The one I made is rainbow themed so in addition to the rainbow rice, I included objects that were all of the colors of the rainbow. I also chose to make a key using photos so that it can be used by both a younger or older child.
Approximate Time: 20 minutes
Supplies:
clean plastic bottle (with lid)
uncooked rice
small objects
glue
camera (optional)
Instructions:
Collect various objects of all shapes and colors that are small enough to fit into the bottle. Fill a clean plastic bottle about 1/2 full of rice.
If you would like to make a photo key for your bottle, arrange the objects on the table and take a photo of them. I chose to sort them by color and take a photo of each color group. Then place the objects into the bottle.
Add more rice leaving about 1-2 inches of unfilled space in the bottle. For smaller children I recommend gluing the lid onto the bottle so that you don't end up with rice everywhere. For older children you could leave in unglued and have the option to change out the contents.
Once the lid is on, rotate the bottle and disperse the objects throughout the rice. You can laminate the key if you would like and attach it to the bottle with a piece of string.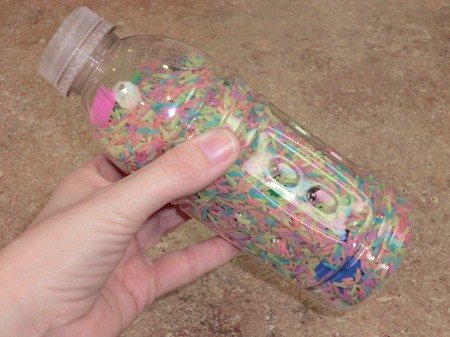 Note: You can add an extra challenge by including a few very tiny items which require more effort to find! :) Have fun!
Click here for Rainbow Play Rice instructions!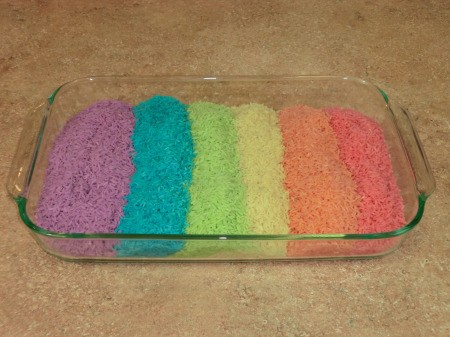 By lalala... from Port Orchard, WA
Read More Comments