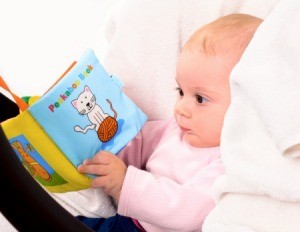 I am looking for Quiet Book patterns, the kind that would have activities, like buttons, zippers, etc.

Answers

February 9, 2007
1

found this helpful
Best Answer
Sheri, I made one for my girl from light weight
denium. I cut the material large enough for several
pages. Zigzaged around them and sewed together
like a book. Next, I drew a tennis shoe looking
down from it. I put eyelets in it and shoe lace to
learn to lace and tie. I cut different shapes from
denium and put snaps on them. I drew the shapes
on a page so she could match the shape and also
learn to snap. I drew crayons on a page in black
permanent marker then colored them in with basic
colors and printed the names under each one: red,
green, blue etc. I put numbers 1-10 on one page
and A B Cs on another. I sewed a zipper on a
page to learn to zip. I can't remember whatelse
I did. It's been 27 years ago. I think my grandkids
have used it too. Have fun! Joyce

February 11, 2007
2

found this helpful
Best Answer
Try making a cover with a very simple block method - then for the inside ---- use actual clothing scraps! Cut up that old pair of jeans and use the zipper instead of having to actually sew a zipper on it. Old buttondown shirts can be used from anywhere there are buttons! For lacing? Well, tie the spine of the book together using a lacing method, securing it halfway up so it won't fall apart, but leave part of it open for your child to lace together. You could even incorporate different types of things for the senses! Fuzzy fabric, smell-good sachts, sandpaper! Use your imagination and go wild!
(You can also use fabric glue instead of sewing! Several glues are very durable and child-safe.)

February 9, 2007
0

found this helpful
Oh wow I had one of those! My mom made it. It was denim fabric outside and white fabric inside and said "My Quiet Book." I remember a pink dress with yellow buttons inside. I know there was other stuff but I don't remember what. Sorry I don't know of a pattern I totally forgot about that book I had. Thanks for bringing up a nice memory for me.
By brenda (Guest Post)
February 11, 2007
0

found this helpful
I have made three of them for my gr children this year for Christmas, would love to share them with you, but not sure how. Brenda

February 12, 2007
0

found this helpful
I have a book called "A-B-C 1-2-3 Craft Book" by Noel Fiarotta & Phyllis Fiarotta. It has ideas for every letter of the alphabet and the numbers 1 - 9 for quiet book pages.
My mom made the ABC book for my kids. They enjoyed it!
By LOuise DesRoches (Guest Post)
September 17, 2007
0

found this helpful
I'd like to see more pictures or more explanations of some of the activities that other people used in their Quiet Books.
We live on a farm, so I took pictures of all our farm equipment (I had to use extra colored pictures to get enough equipment for 2 pages each of all the letters of the alphabet) to make a colored laminated scrapbook for each of our children's families. This was one way for our young grandchildren to learn more about the farm. When they come to visit, the know about the equipment we talk about. It helps them develop vocabulary that is dear to our hearts.
By amber (Guest Post)
December 27, 2007
0

found this helpful
Some one gave my son a home made quiet book for his 3rd birtday. It has a tag on it from Dry Creek Design - it has lots of pages and everything is attached so it can't be lost.
By Shelley (Guest Post)
August 25, 2008
0

found this helpful
I have some great Quiet Books, Quiet Book Kits, and Quiet Book Patterns for sale in my shop. You can check them out at www.shelleywallace.etsy.com. Thanks!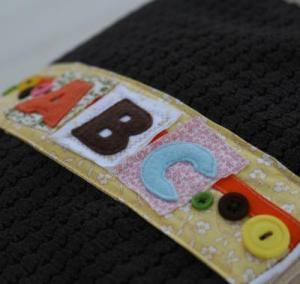 By Anna (Guest Post)
February 26, 2009
0

found this helpful
I have a blog that I started last year that gives instructions and pictures on how to make your own quiet book: www.quietbook.blogspot.com.
Check it out!

June 26, 2009
0

found this helpful
Checkout www.campingmyway.com ... There is a page on there for Quiet Book Patterns. It's really cute!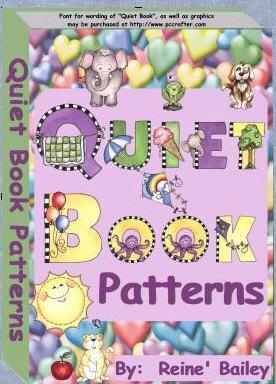 April 25, 2019
0

found this helpful
ThriftyFun is powered by your wisdom!

September 6, 2020
0

found this helpful
Sheri, not sure if u are still looking. Craftgossip.com has some great links and ideas. I am in no way associated w them, just think it is a nice resource. Kitty
Answer

this Question