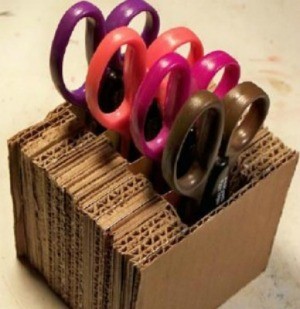 Paper crafters in particular may have a large number and variety of scissors that they use in their craft. Finding a good way to store them and sewing scissors can be easy. This is a guide about making a holder for scissors.
Ad
---
Solutions: Making a Holder for Scissors
Read and rate the best solutions below by giving them a "thumbs up".
I wanted a way to organize and store the specialty scissors used for trimming paper for scrap booking and other projects. I came up with the idea presented here.
Approximate Time: 1 to 2 hours
Supplies:
recyclable corrugated cardboard
cutting tools (craft knife, box cutter)
band saw
glue
cardstock
decorative elements
Instructions:
First, cut corrugated cardboard into 4x4 inch squares.
Use band saw if available, if not, use craft/box knife.
Cut as many pieces as you need. My project required 3 pieces for each scissor, plus 2 end pieces.
Glue pieces together with white glue. I added 4x4in. pieces of cardstock between every third piece as separators.
Place end pieces on cube, then add weight to the cube and let dry for a few hours.
Decorate the cube if desired, use colored paper, cloth, collage pictures from magazines, etc.
By Creativeman from Chatsworth CA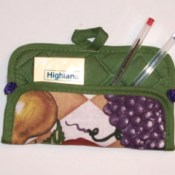 I purchased a set of pot holders from the Dollar Tree. You simply get out the hot glue gun (high temp is best for this one). Fold one up 1/3 the way and glue the sides. Some of my glue oozed out, so I just stuck a purple rose on each end. Put in a post it note pad and small pencil or a couple of pens and you have a nice little note pad holder. You can glue magnets on the back for the fridge like I am going to to.
The next is cute, too. Fold one over at the angle, and glue under the edging. This is perfect for scissors, and I even added straight pins, safety pins, and needles to the front. Again, magnets on the back lets you put them on the fridge or in my case the metal file cabinets that keep my sewing table up.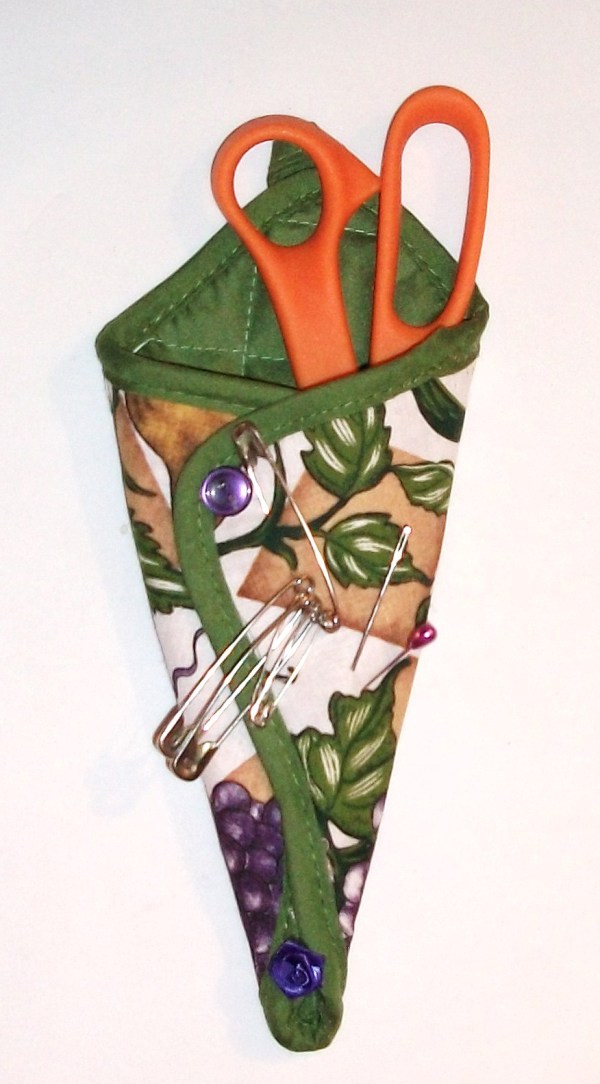 Learning from my mistakes will make your project more fun for gift giving. I will make more of these, but will make them out of two sided holders. The apple doesn't show in each of these and that is a shame. Also, I will make them with the hanger in the middle for the note holder, but with the hanger on the corner for the scissor holders.
This is a 20 minute project at best, so you could be making them all the way to the big day and not miss a beat.
Disclaimer: I said they are .50 each, but that is just for the pot holders. If you add a pen, scissors, and note pad, you are probably looking at 1.50 to 1.75 for each present. That is still pretty "Thrifty and Fun"!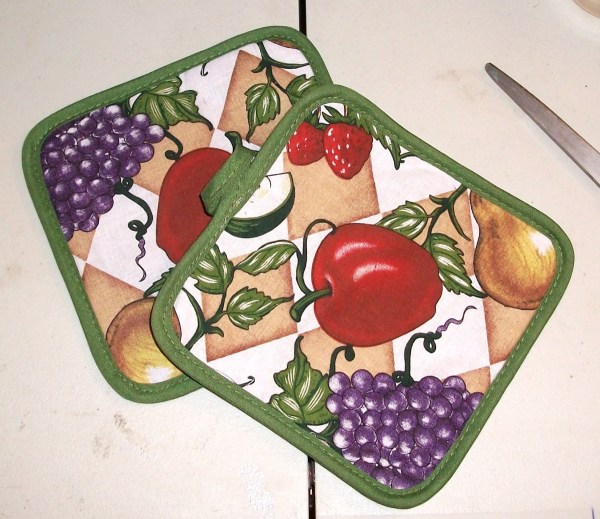 Hope you N-JOY this.
Source: I have seen these at craft shows and in books.
By Sandi from Salem, OR
I will be making kitchen scissor holders to hang on the wall for Christmas this year. You take a potholder, a regular sized one, and fold it to a cone shape like an ice cream cone. Then you sew a button (all the way through, it can't come unbuttoned or it is not safe) at the intersection of the cone at the top. Then you stitch straight across the bottom so the scissors won't poke out or fall out the bottom of the holder. (about an inch up from the bottom). The loop should be at the top of the cone, for hanging.
I have one and I keep it in a mug and put the kitchen scissors in it. I like to reinforce the loop for hanging on the potholder because scissors might be heavy. I think you could embellish it more, but I like the colorful button and it is so simple.
By Robyn Fed from Hampton TN
Give a "thumbs up" to the solution that worked the best! Do you have a better solution? Click here to share it!