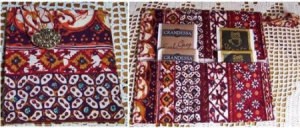 Holds 2 tea bags per pocket or 1 tea bag + sugar packet. Yet small enough to fit into your purse.
About a year ago tea bag wallets were the big craze on eBay. I studied the photos on eBay and being the frugal person that I am wanted to find a free sewing pattern. So I searched the internet and couldn't find a sewing pattern and ended up making my own pattern out of interfacing and used a Sharpie permanent marker to mark the stitching lines.
These are so easy to make. The wallet has 4 pockets and will hold a total of 8 tea bags. Open it measures about 7 1/2 inches long by 6 1/2 wide and closed about 3 1/2 inches all the way around.
The sewing pattern measures 8 inches wide by 14 inches long and then I cut an extra piece for making the loop out of interfacing. You can make the loop as long or as short as you want it, just so it's long enough to loop around the button that is sewn on the front when finished. I used one piece of printed fabric for the outside and one piece of muslin for the lining.
Take the printed fabric and the muslin, place right sides together and stitch a 1/4 inch seam on all 3 sides, making sure to square off corners. Leave bottom open for turning. Then turn fabric right side out and press seams with a hot iron. Turn up bottom edge and stitch seam closed.
Now you have the printed fabric on the top and muslin on the bottom. With muslin side facing you, fold up 3 1/4 inch on each side to make pockets. Place straight pins along the outer edge, pin fabric making sure edges are even. Stitch 1/4 inch all around tea bag wallet, making sure that you stitch in loop for button placement. Now fold fabric in half to find the center, and stitch a straight seam making 4 pockets. Close wallet and decide on button placement, open a pocket and hand sew on button, making sure to not stitch the pocket closed.
I also use my wallet to carry a tube of lip balm and a pack of gum in my purse.
By MCW from NY
January 14, 2008
0

found this helpful
Looks really fine!
By guest (Guest Post)
Flag
January 14, 2008
0

found this helpful
I love your idea. It is very original. I've never heard of tea wallets before. Now make one for all your friends and family. Ha! Ha! Have Fun Sewing!!
January 15, 2008
0

found this helpful
Thank You for your post! I use the backside of Christmas wrapping paper to make my patterns with. Then, I write the size on my patterns, then number them, then fold them up & store the pieces together in an envelope. Also, for a much less expensive alternative to buying interfacing, I use "LANDSCAPE FABRIC"... it's made to withstand the weather, so it holds up fine in the wash!
TIN FOIL TO MAKE YOUR OWN PATTERNS:
* A friend of mine has a friend who does "Knock offs" - Dresses that look just like those worn at the Oscars made by designers. The trick is Aluminum Foil!.... Yes! .. Plain old tin-foil!... I tried it & it works great! On a flat surface (like your kitchen table) You simply take a piece of the foil then lay it over the part of the dress you want to copy, then take a soft cloth & rub it gently against the fabric until you see where the seams are. Then cut out the piece of foil, then trace the foil on to a piece of paper (the foil delicate). Do this to each section of the dress & in no time you'll have all the pattern pieces to make any garment!... As far as the sewing directions? Well, you'll just have to figure THAT out for yourselves!
By guest (Guest Post)
Flag
January 16, 2008
0

found this helpful
Neat! I have never seen these, and really cool that you made up your own pattern!
January 23, 2008
0

found this helpful
I'm glad you won. Your craft is delightful. I've bookmarked it, hoping to make some. I have never heard of tea wallets before. I went to e-bay and found lots of them. Yours is really nice. Thanks for sharing your talents with us.
March 18, 2009
0

found this helpful
I think you probably won't get this message but I just wanted to say I've followed your instructions and made about 20 of these for gifts. I've sold several for a few bucks but enjoy giving them away.