Creative mini greenhouses can be made using a variety of common household recyclable materials. This is a guide about mini greenhouses using recycled materials.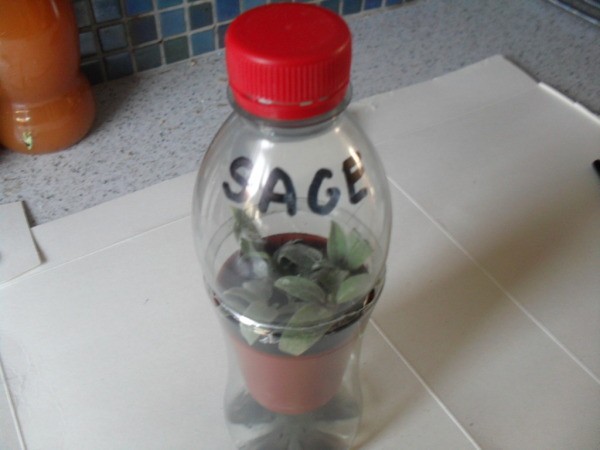 Filter

: All Articles
Sort

: Relevance
I use large, clear, round plastic water jugs from the grocery store as greenhouses. I cut them with a coping saw and leave a small attached area. I put the seeds inside in proper soil and close the top. I leave the lid on the bottle in early spring. I put these in a sunny area during the day and at night they come inside.
Once they can be left outside, I remove the little lid on the top half and they continue to protect the new seedlings. You need to avoid the center of the bottle and you need at least 4 inches of soil so that the plants can survive until they are transplanted. Good for the environment because you can reuse these year after year.
By Barbara W. from Ewing, NJ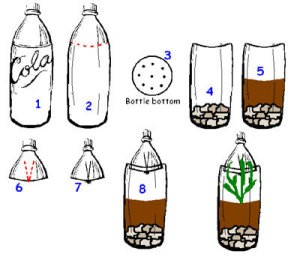 Begin with a plastic cola bottle. Choose a size that will suffice for whatever you're planting.
Remove the label (or paint it, or wrap contact paper around the bottle.)
Poke drainage holes in the bottom of the bottle.
Layer the bottom of the bottle with rocks, pebbles, marbles, packing peanuts, anything that will promote drainage.
Add 3 - 4" of potting soil.
Cut a 'V' shape in the cut side of the top portion of the bottle
Insert your seeds, seedlings or small plants. Gently squeeze the bottom of the top of the bottle so that it will fit inside of the bottom portion of the bottle. (see illustration)
Place on saucer on your window sill and enjoy watching your plants grow, or transplant to your garden when they are big enough.
By Doggy
I'm thinking of trying to make a small indoor greenhouse for next winter. I have an odd-ball idea for one and would like to get some feedback on what people think. I want to take a large plastic storage bin (the bottom part is clear) and turn it upside down, put the seedlings on the inverted top, hook up a plant light in it and put it in a sunny window. The bottom part of the bin would be snapped back in place to keep the humidity in there. Would that work? Does anybody have any thoughts on this?
Hardiness Zone: 8a
By Cricket from Parkton, NC
Answer
Was this helpful?
Helpful?
Yes
I also think you are trying to do too much with the storage bin. The lights and other instructions will be a great thing and should get you through. Good luck
Reply
Was this helpful?
Helpful?
Yes
Read More Answers...
I set out plants I grow from seed and they need protection from wind and pests. I use clear juice jugs with the bottom cut out and no lid as a mini greenhouse for each plant. The plants get off to a great start! This also works to start seeds in the garden.
By denowolfes from Talbott, TN
Comment
Was this helpful?
Helpful?
Yes
Save the little plastic containers with attached lids that some fruits come in and you sometimes get for take out food and use them to start your garden plants. They work like mini greenhouses.

By demmi

Safeway has muffins in plastic containers that have a space for each muffin. They work well for mini greenhouses, too.

By Susan

I cut the ends of the two litre clear plastic pop bottles and put them over my small transplants in the garden. Make sure to remove the cap as this allows the circulation of air to the plant.
Tomatoes love these!

By Donna
Comment
Was this helpful?
Helpful?
Yes