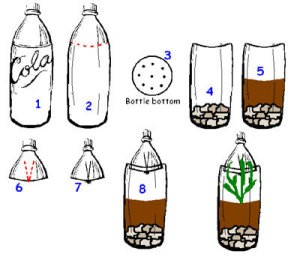 Begin with a plastic cola bottle. Choose a size that will suffice for whatever you're planting.
Remove the label (or paint it, or wrap contact paper around the bottle.)
Poke drainage holes in the bottom of the bottle.
Layer the bottom of the bottle with rocks, pebbles, marbles, packing peanuts, anything that will promote drainage.
Add 3 - 4" of potting soil.
Cut a 'V' shape in the cut side of the top portion of the bottle
Insert your seeds, seedlings or small plants. Gently squeeze the bottom of the top of the bottle so that it will fit inside of the bottom portion of the bottle. (see illustration)
Place on saucer on your window sill and enjoy watching your plants grow, or transplant to your garden when they are big enough.
By Doggy
May 2, 2007
0

found this helpful
You didnt put in to cut the top of the bottle, but I am going to assume from the rest of the directions that you do. I love this idea. Have you done it with herbs. I really want to grow some herbs and I live on the fifth floor of an apt building and so I dont have a yard. I do have deep window sills in my living room though. Thanks for the idea and any help you can give me with what types of plants you have grown in these bottles. Whatever I grow will have to stay in the bottle since I dont have a yard.
By guest (Guest Post)
Flag
May 3, 2007
0

found this helpful
Right now, I'm starting coriander (the shoots just poked up today lol). I use it as a starter, and to root garden cuttings, but I imagine that you can grow just about anything that doesn't need to develop an extensive root system.
Sorry about omitting the cutting of the top portion of the bottle. I didn't notice the omission 'till it was too late. Yes, absolutely, cut the top portion of the bottle, leaving enough of the straight side to cut the 'V' and tuck into the bottom (assuming you want the top on).
Almost any container can hold a window garden, especially the deep plastic ones that meat comes in. (Wash thoroughly).
May 3, 2007
0

found this helpful
what a great tip I will try this with my mom who
was the best gardener she could revive plants and flowers that I nearly killed. She has alzhiemer's but
lots of good days and projects are fun for both of us.
Also this would be great to take to some Veterans at
the local VA Hosp to cheer up a room.
Thank you for the ideas...
May 10, 2007
0

found this helpful
Great tip and terrific drawing!
March 12, 2014
0

found this helpful
I use large, clear, round plastic water jugs from the grocery store as greenhouses. I cut them with a coping saw and leave a small attached area. I put the seeds inside in proper soil and close the top. I leave the lid on the bottle in early spring. I put these in a sunny area during the day and at night they come inside.
Once they can be left outside, I remove the little lid on the top half and they continue to protect the new seedlings. You need to avoid the center of the bottle and you need at least 4 inches of soil so that the plants can survive until they are transplanted. Good for the environment because you can reuse these year after year.
By Barbara W. from Ewing, NJ
September 10, 2011
0

found this helpful
A pic would have been helpful. I would of liked to see a picture of where and how you cut the jug.
I set out plants I grow from seed and they need protection from wind and pests. I use clear juice jugs with the bottom cut out and no lid as a mini greenhouse for each plant. The plants get off to a great start! This also works to start seeds in the garden.
By denowolfes from Talbott, TN
I'm thinking of trying to make a small indoor greenhouse for next winter. I have an odd-ball idea for one and would like to get some feedback on what people think. I want to take a large plastic storage bin (the bottom part is clear) and turn it upside down, put the seedlings on the inverted top, hook up a plant light in it and put it in a sunny window. The bottom part of the bin would be snapped back in place to keep the humidity in there. Would that work? Does anybody have any thoughts on this?
Hardiness Zone: 8a
By Cricket from Parkton, NC
March 30, 2010
0

found this helpful
Your idea is not bad; but is maybe more complicated that you need. Really, you only need the "greenhouse" to keep the seed medium moist until the seeds sprout; then you need air circulation or you risk the sprouts "damping off". That can be accomplished with bin, for sure. Once the seedlings are up and growing, the grow light is the key--you certainly have the right idea there. You might want to make a frame for the lights (PVC pipe is easy and fun to work with); because you will want to be able to raise them as the plants grow--but keeping the lights close to the sprouts is helpful.
A "soil-less" planting mix should keep molds and odors minimized, but you will need periodic fertilizer.
If your indoor air is dry, you can use your bins to keep you plants from drying out by putting a layer of gravel in the bottom (maybe an inch or so), then setting the plants (in pots) on top of the gravel. Keep the gravel wet--as long as the plant itself is not sitting in the water, you should not have roots rotting.
I think your biggest advantage will be your grow lights! Good luck!
March 31, 2010
0

found this helpful
Jilson, Thank you so much for your feedback. I'm going to print it out and save it for this winter. Hopefully then I can get some seeds to sprout and give me some flowers for next spring!
April 2, 2010
0

found this helpful
I also think you are trying to do too much with the storage bin. The lights and other instructions will be a great thing and should get you through. Good luck
Save the little plastic containers with attached lids that some fruits come in and you sometimes get for take out food and use them to start your garden plants. They work like mini greenhouses.

By demmi

Safeway has muffins in plastic containers that have a space for each muffin. They work well for mini greenhouses, too.

By Susan

I cut the ends of the two litre clear plastic pop bottles and put them over my small transplants in the garden. Make sure to remove the cap as this allows the circulation of air to the plant.
Tomatoes love these!

By Donna