Organizing Household Paperwork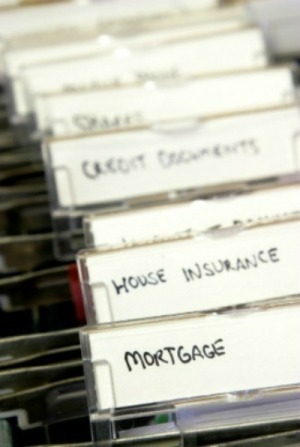 Since most of us can't hire our own file clerk, we are left with the task of organizing the mounds of household paperwork. This is a guide about
organizing household paperwork.
Solutions
Share on ThriftyFunThis guide contains the following solutions. Have something to add? Please share your solution!
October 6, 2010
13

found this helpful
I want to share something my husband has been doing for several years. When we get the first statement from any business, he clips off the return address portion of the envelope or statement. He then cuts out the name of the business and slips it into the little plastic sleeve on the green hanging file folders. Neither of us is able to write small enough to get it on those little tabs. It takes a few minutes but it only has to be done once per business. We've had several people remark about it so I thought I'd share it.
By MartyD from Houston, TX
Read 2 Comments
Kelly Ann Butterbaugh
0

found this helpful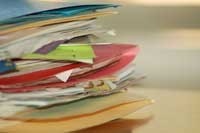 Tax time is a good time to clean the filing cabinet and eliminate yourself of old paperwork. Yet, the fear of throwing out financial papers causes many people to save everything, leaving a packed filing cabinet with yellowing paperwork.
Out With the Old and In With the New
While saving old tax claims is not only wise but a necessity, how often are these forms really reviewed? For most people the hopeful answer is never. The moment the taxes are in the mail place all receipts and copies of the tax forms in a large envelope, label it "2005 taxes", and seal it. Should an audit or other evaluation require the forms to be produced, they will be neatly together in the filing cabinet without any worry. Each year remove the oldest year and shred the entire envelope.
How long should a person keep the forms? While there is no concrete answer, many CPAs suggest that seven years is more than enough. For most people who file accurate tax returns without any special circumstances, the statue of limitations expires three years after the date of filing.
Do I Really Need It?
No, some things do not need to be saved. Items like old checks, monthly bank statements, credit card bills, and utility bills are catalogued by the company issuing the bill/statement. Should the need arise, they can pull up the account history easily. Shred utility bills the moment the payment is posted to the account. Credit card statements fall into the same category unless there is a tax deduction on them.
Other items absolutely need to be saved. Receipts for major purchases such as household improvements or jewelry need to be kept for insurance or resale. All warranties and receipts for the items under warranty should be saved as long as one has the items. Mortgage statements, vehicle pink slips, and contracts should be kept indefinitely.
Taxes, Taxes, Taxes
Most paperwork is kept for tax purposes. Pay stubs need only to be kept for the tax year. Once the amounts are checked with the W-2 form issued for that year, all pay stubs for the year can be shredded. In other words, only keep the current year for which you have not yet filed taxes.
Other items which can usually be thrown away but might be kept for taxes are credit card statements. Often these list items purchased rather than amounts spent like store receipts. This helps to prove that a person spent $145 at Staples for business supplies rather than on an iPod.
The final note about cleaning out the filing cabinet falls into the heading of safety. No, not safety from an IRS audit or a late charge on the light bill - safety from identify theft. Always shred discarded documents. A stolen identify is far worse than a missing tax form from 1988.
June 8, 2017
0

found this helpful
Adding some drop in files to a cardboard box allows you to effectively use it to store your important papers, projects, and more. This is a guide about how to organize a cardboard file box.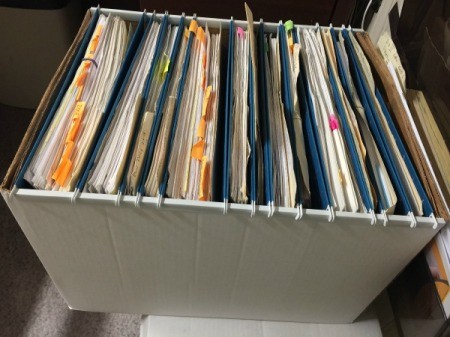 Questions
Ask a QuestionHere are the questions asked by community members. Read on to see the answers provided by the ThriftyFun community or ask a new question.
July 7, 2013
0

found this helpful
What to do with all the information, such as reminder notes merchandise, doctors, coupons, everything? I always jot this down on scraps of paper which I can seldom find.
By Julie
July 15, 2013
0

found this helpful
I keep a pocket organizer in my purse where all reminders and appointments are recorded when I make them and coupons and ads are kept in a small organizer that I keep with my canvas shopping bags. Larger notes and postcards, etc., are paperclipped to my large kitchen calendar near the appropriate date.
October 26, 2014
0

found this helpful
I use a spiral notebook, and scotch tape to tape all my bits of paper into it instead of rewriting all that info into the spiral.
Read More Answers
How do I select "what" business or personal papers to trash? (I am a "compulsive hoarder").
By Parker1981 from Phoenix, AZ
July 6, 2012
0

found this helpful
I purchased a file cabinet at the Thrift Store. I can file all my papers, taxes, receipts, and owners manuals, also box of photos, takes a lot less room than boxes and I can easily find what I need. You could put it in a storage room or back bedroom in closet.
July 8, 2012
0

found this helpful
Personally I don't know why anyone unless for business purposes, would find a need to keep credit card statements, past utility bills or old insurance statements. I keep only the most current ones and shred and trash the rest. I've been doing this for years now and, as of yet not found a need for any of them. If I ever do I can go online and print out a copy. I don't even keep appliance manuals. Most can be downloaded from the internet if I ever need one. I keep receits of large purchases. I have scanned a lot of paper documents on a thumb drive and keep originals in a safe deposit box.
Read More Answers
I am trying to re-organize my home - sort of downsizing everything, including paperwork. I need to know what I need to save, how long I should save it, and how to save it. I know about tax info. I'm talking about receipts, instructions, Medicare stuff, medical stuff, etc. Just about everything I've been holding on to that takes up 4 file drawers. I grew up with "save everything for 10 years" - canceled checks, bank statements, merchandise receipts for big items, etc. I just need to know how long and what do I keep. I really want to get a handle on our paperwork so that if someone asks "Where's this?" I can pull it with ease.
Diane McIntyre from Lewiston, ID
Editors Note: Here is another helpful ThiftyFun article: Should It Stay or Should It go?
By guest (Guest Post)
July 22, 2008
0

found this helpful
i have seen on various websites that you should just scan all your papers and keep the files on your computer or a flash drive. it will definitely help out having papers since I'm living in a small space but it's not very safe, is it?
By guest (Guest Post)
September 26, 2008
0

found this helpful
I read Getting Things Done a few years ago, and I recently wrote a (very long) post on how I adapted a small part of David Allen's approach to get some kind of control over my household paperwork. I was convinced when I started that I'd need about four filing cabinets, but the secret is not to put your 'current' stuff and your 'archive' stuff together. That way you can have the things you need daily where you can access them easily, and the archive in a back room or on a high shelf where you don't have to worry about it because you only need to get to it once in a while. (And you'll probably end up with less of both than you imagined - check out the photo for my day-to-day filing box which holds 1-2 years worth of filing at a time.)
Read More Answers
Archives
ThriftyFun is one of the longest running frugal living communities on the Internet. These are archives of older discussions.
November 19, 2007
0

found this helpful
I am looking for tips for paperwork organization at home.
Thanks,
Carol from Strongsville, Ohio
Answers:
Organizing Household Paperwork
I am not an organized person, but am learning to become one. The free web site that I love is flylady.net and she is teaching me daily how to do little "babysteps" to eventually be organized. Check it out! (09/09/2006)

By lindajeang
Organizing Household Paperwork
I use binders for organizing my papers. For school papers, I use a 3 hole punch so the papers stay in. Then when I don't need the paper, I can just rip it out. For other papers, I use sheet protectors which I found at a great deal. I have a big binder for 'mail', where I put things that I want to go through again later. I have one for recipes, etc. I can't organize in files, I need to see what everything is and go through quickly so using sheet protectors are a godsend to me. (09/09/2006)

By Kim
Organizing Household Paperwork
Hello fellow northeast ohioan! I am in Lorain. My system is fairly simple. I have one file drawer (it came in my desk) and several hanging files. They are marked as follows :
insurance
medical
bank
credit reports
automobile
utilities
paid off
misc receipts
paycheck stubs
verizon wireless
local restaurant menus and coupons
school papers (one file for each child)
social security (hubby on disability)
That's it! When I pay a bill I mark it with the amount paid, the check number, the date and then I paperclip it to the last one. All gas bills together, all electric bills together etc. Then every once in awhile I shred the old ones but I always keep at least 4 months of utilities and some other things longer. I have a small fire safe in my closet that I keep the deed to my house in, our social security cards, birth certificates, etc in for safety. I keep track of my monthly budget and expenses in a regular school notebook. This system has served me well for almost 20 years. Good Luck!
(09/09/2006)

By Cindy S.
Organizing Household Paperwork
My system is very similar to Cindy S', except I also have a hanging folder for taxes, and I mark all bill due dates, work hours, and any extra money I earn outside my regular job on my wall calendar so I don't forget them. At the end of the year, I use the calendar to do my taxes and then keep it with my tax papers for that year. It's been very helpful to me to have all that info in one place. (09/10/2006)

By Jantoo
Organizing Household Paperwork
There is a cool book called "Getting Things Done" which addresses this in detail. We have applied it, and we have no more "piles"! it's easy to do and even a little bit fun.
(09/26/2006)

By Nicole
Related Content