Painting glass bottles is a great craft for showcasing your artistic talents and making beautiful or whimsical decorative pieces for your home or to give as gifts. This is a guide about painting glass bottles.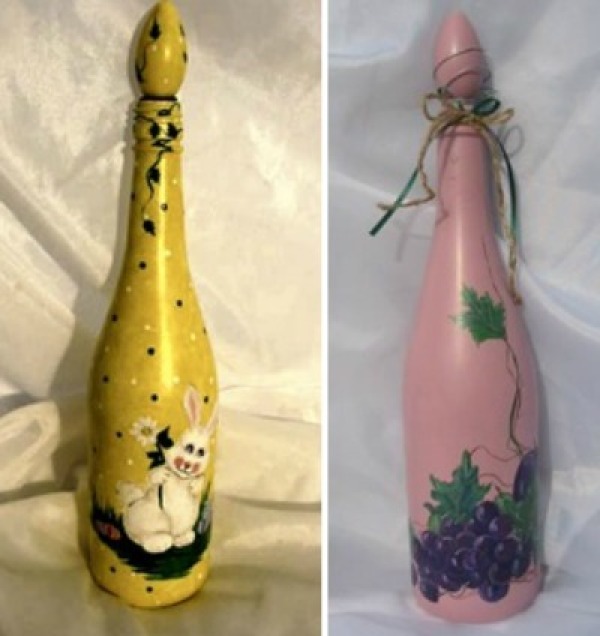 Filter

: All Articles
Sort

: Relevance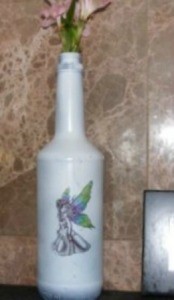 Here is how I made a vase by recycling an empty bottle:
I sponged painted a vodka bottle with white acrylic paint and let dry completely. Then found a fake tattoo I liked and rubbed it on bottle. I put polyurethane on it to seal it. To finish it off, I put flowers in it for an instant vase.
I also use stickers, paints, anything that can and will stick to the bottle. Right now i am working on putting beads on one.
Source: Having picked up a ton of bottles from dirt path.
By Moonseekerjade from Onset, MA
I have never painted a clear glass bottle and recently bought one that is so beautiful and is painted a soft pastel frosted look on the outside. How do I do this and what type of paint do I buy?
By Lettie
September 28, 2014
0

found this helpful
Go to any craft store such as Hobby Lobby, Joann's etc. They should have paint for glass and be able to tell you how to use it.
Reply
Was this helpful?
Helpful?
Yes
November 29, 2014
0

found this helpful
If you got to the store they will give a paint that will be for painting for the glass.
Reply
Was this helpful?
Helpful?
Yes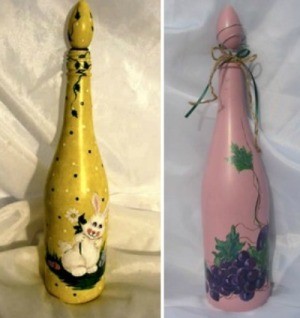 With the holidays coming up, many people will be celebrating with wine and champagne. Or, if you're like me, sparkling cider. Save those bottles. These bottles can be used for numerous things, or just look nice as decorations. The tops are "after Christmas clearance replacement bulbs."
Supplies:
Bottle
Large Christmas Light Bulb
Glass paint
Clear Kilz Spray Paint
Electrical Tape
Optional: Felt for bottom of bottle.
Optional: Decorative Wire or Ribbon
Instructions:
Clean bottle and let dry. Wash light bulb, also. Wipe with rubbing alcohol. Let dry.
Base coat bottle and light bulb with white or light-colored glass paint. Let dry overnight.
Paint bottle and light bulb with your color of choice for background. Let dry overnight. You may need several coats to totally cover.
Paint your design on according to your preferences. Let dry.
Glue round piece of felt on bottom of the bottle. Spray with clear spray paint. Let dry.
Spray light bulb with clear spray paint. Let dry.
Wrap electrical tape around base of light bulb until you form a snug fit into the top of the bottle.
Wrap twisted wire or ribbon around the neck of the bottle if you so desire. You can also add beads for a more festive accent.
You can fill these with hand soap, bubble bath, oil and vinegar, fruit juice, etc.
By Artlady from Edmond, OK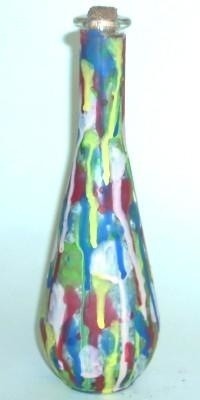 This cute craft uses watered-down paint to create a dripping pattern. Depending on the colors you choose, the results can look like marble, tie-dye, dripping paint and much more. Great as a gift itself, or filled with bath salts/oils or other non-food items.
Approximate Time: 20 minutes without drying time
Supplies:
glass jar
assorted acrylic paints
clear craft varnish/sealer
paintbrush
water
Notes On Jar:
Try to use a "bumpy" glass for this project. The more super-slick the glass, the less the paint will stick and the straighter the drips will remain. You want a slightly rough glass to help the paint stick and give lots of interesting paths for the drips.
Notes On Paint
How you want to mix the paint is entirely up to you. I usually mix a tiny bit less than 2/3 paint with a tiny bit more than 1/3 water. You want the paint to be watery enough to drip, but not so watery that it loses color or drips right off the jar. Some paint will drip off, and you definitely need to do this project on a layer of newspapers and garbage bags. But your aim is to make most of the dots drip down, but not completely off, the jar.
Instructions:
Start by washing and drying your glass jar very, very well.
Begin making dripping dots on the jar by dipping your paintbrush into the watery paint and making big dots on the jar.
Let dry between colors. This can take a few days, a few minutes here and there. It may take two minutes to paint the yellow dots, but if you want them to stay yellow, you need to let them dry before adding other colors.
You can mix colors to get a neat effect, just make dots all around the jar with two different colors. Let the colors drip together, don't try to force them by placing one right below the other. Each time you apply a new layer of paint, make the dots smaller. Start the dots big and keep going until they shrink down and blend into the background. It's OK if every dot doesn't drip, just try to make sure most do.
Once you reach the desired effect, let the jar dry for at least a day to make sure everything is set.
Cover the jar in a light, even coat of clear varnish and let dry. The jar will last for awhile, but not forever. You can clean it with a damp rag, but never put it in the dishwasher, oven, soapy sink and so on.
To make the same exact jar I made, you will have to apply the colors as follows:
blue and yellow, let them drip together and then dry
red, let drip, then dry
green and peach, let them drip together, and then dry
blue, let drip, then dry
red, let drip, then dry
yellow, let drip, then dry
By Aysha from Boise, ID
When I wanted to paint some glass for a gift to a friend, but didn't have any money, I discovered that acrylic paint and varnish work pretty well.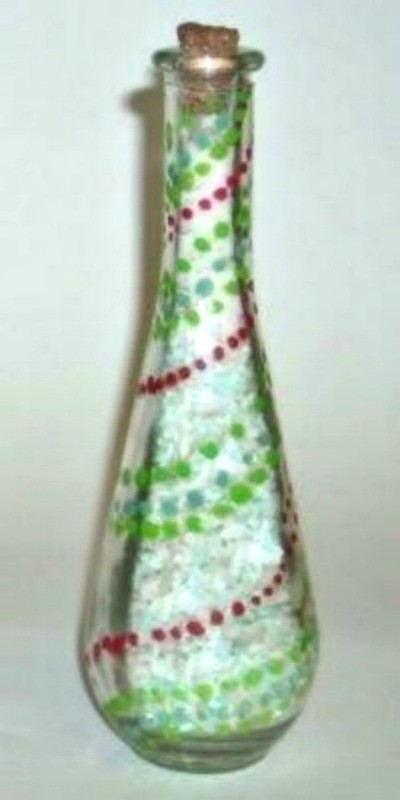 Have you ever priced any of those colored bottles that are popular? Why pay those prices? Make your own! My grandmother used to make her own. She'd collect bottles of all shapes and sizes: coffee jars, syrup bottles, ice cream topping jars, perfume bottles, etc. The fancier, the better. She'd not only spray paint them, but also put on a glaze so the paint had texture and swirls.

With some of the bottles that were close in size, she'd stand them on top of each other, gluing them together as she went, making towers. Ending with a fancy shaped bottle on top. Then they were put in a safe spot to let the glue dry. Then she would spray paint the jar towers and let them dry overnight. These jar towers were really decorative in her windows with the sunshine beaming through. Really nice looking!

By Terri