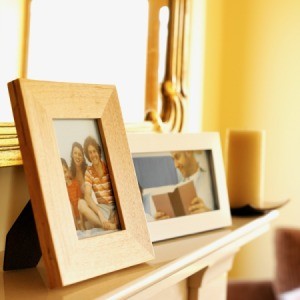 Framing pictures takes some skill and patience to get them straight and secure. This guide is about photo framing tips and tricks.
Ad
---
Solutions: Photo Framing Tips and Tricks
Read and rate the best solutions below by giving them a "thumbs up".
Use the crinkled cardboard sheets inside light bulb packages to help anchor a photograph inside a frame. Place the glass, followed by the picture, followed by the crinkled cardboard (cut to fit), followed by the back of the frame.

By Darla
When finances were low, I would make collages of photos by plastering photos of my loved ones on a sheet of cardboard in a pretty array, making sure there were no open spaces. Most of the pictures were of us doing fun things together. Later, I would put it in a poster frame. These were favorites among my family members and we still have them today.

By Denise
Give a "thumbs up" to the solution that worked the best! Do you have a better solution? Click here to share it!
Questions
Here are questions related to Photo Framing Tips and Tricks.
I have ten 12x18 collages, one of each of my 10 grandchildren. I cannot afford to frame each one, so would like ideas on how I might be able to mount them as a group on a wall. It would be okay to tack them onto something, but would like ideas about what that something might be. I have a nice wall by my entry door in a mobile home, that provides at least 80 inches of width.

The collages are each 12" high by 18" wide. I'm sure there are many of you who can visualize what I might do. The wall is painted paneling, so it is not entirely smooth. Just wondering what kind of material I might use on which to tack them. All I can think of is bulletin board-like stuff, but there must be more attractive and finished looks than that. Any ideas? I'm expecting to have to bunch them up quite closely to get them all up.

wondernana from Clovis, CA
AnswerWas this interesting? Yes No
Ad
---
---
Most Recent Answer
By Gloria (Guest Post) 01/31/20090 people found this helpful
Some ideas I've seen. I recently visited a home with hundreds of family photos on the wall attached to a simple piece of colored cardboard with ribbon separating the photos. I saw another with pictures tacked together and then thin beautiful ribbon crisscrossed over them with beads attached here and there with a glue gun.

Another idea: Dollar store frames are inexpensive as well as those at thrift stores. I touch them up and give some a personal touch with craft paint. I've even seen scraps of fabric or colored paper hung on the wall with pictures attached to the fronts with spacing between them to let the color and pattern show through. My favorite though is to purchase an old large frame artwork from the thrift store and make a collage inside. Simply glue the photos onto it. then do scrapbook style adding ribbon, or cut colored paper, gift wraps strips or whatever between the photos.

One can even cut out mini paper or fabric frames and glue the picture behind them. Once dry, add them to the collage. One can cut out hearts of fabric or colored paper, cut out the middle and place one a loved one's image inside. Any shape can do. Be creative. If the frame is plain paint texture, patterns, or color collages on it. Touch up scratched frames or paint them your favorite colors.

Spray painting is fast, and many stores carry generic cans for about a dollar like walmart and kmart and probably a few others. can paint quite a few with a single can. or enhance the aging and ruff up an old frame a little more and then rub in a second color into the scratches, or even add a little sparkle with metallic paints, gold, copper, silver, or even a little glitter. Use old broken jewelry or beads as embellishments.

A trip to the beach photos, use cheap liquid glue and glue sand over an old or cheap frame, after drying a couple of shells and instant theme frame. Theming frames can be fun and one can use their imagination to do lots of things on the exterior of frames as well as within a collage inside a large old picture frame.

Garage sales are sometimes a place to find frames as well. I collect them when I find them inexpensive and then when I need one, I choose the size, and then dress the frame up for my project of the moment. I've even used these frames to put my artwork in and with my personalized touch ups have received raves from the art world where I used to live. Let your imagination sour, there is no wrong way to do it.
---