For my 20-year reunion, I printed copies of all the pictures from high school that I could find onto photo paper. I bought large hole punches in a 1 inch and 2 inch size, and punched the pictures out. I also typed out a few small "KHS Class of 90" sentences using MS Word, printed them out, and punched those as well.
I bought the punches on sale at a local craft store for half price, and have been able to use them for hundreds of pictures since then. I was able to make enough confetti for 25 tables for about $8.00, not counting the photo paper, which was given to me. You could use regular typing paper as well, but the photos won't be as vibrant. You could use this for any theme or any color scheme. You'll find that many people scoop the pictures up and take them home with them!
By shelf2812 from Dallas, Texas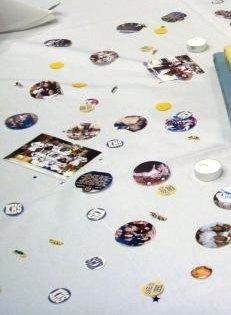 Our class is preparing for our 45th reunion. We are looking for ideas/samples of info sheets that have worked for others. We have had such a low return from prior reunions. We would like to make a memory book this year. Any ideas would be sooooo appreciated.
By Lani
October 20, 2014
0

found this helpful
For our 30th reunion, I created Trivia sheets for each year of high school, from 1976 to 1980. I did one set with just information on them, such as: gas & milk prices, who was who that year, major news stories, etc. Then I did one set with questions, & answers on another page. (I did both types, for all 5 years. Yes, it took awhile to put together & type up! But they were a BIG hit!) Some questions: Who was Vice President of the USA? Who won the Academy Awards for Best Actor & Actress? Who was our Homecoming Queen? ...Etc.
Hope this helps!
I am planning a 10-year reunion for a very small class. I don't expect more than 30 people to attend, including spouses. Some guests will also bring their young children (3 years and under).
What can I do to motivate people to come? I think we will be doing it at the High School we attended, as it was recently renovated and it would be interesting to see the changes. But what then? Any suggestions will help. Thanks.
By kraw from Nova Scotia
May 31, 2009
0

found this helpful
For such a small class, food should be simple, but feel fancy. For example, you could buy blocks of cheeses (mozzarella, colby, cheddar) and use those deli-style toothpicks to skewer them. You could also spread cream cheese on small rounds of rye or whatever. There, you have quick and easy hor d'oeuvres. Baby gherkins and dill spears would add a little tang.
Drinks are pretty easy. Water, of course, and things like unsweetened tea (so the guests can sweeten to taste,) coffee... or perhaps a local store might be willing to either donate or discount the drinks. You can also make a simple punch with a lemon-lime soda and sherbet. It'll seem fancy without the expense. For those who want to feel really fancy, there's a good array of "sparkling" juices.
If you planned a "sit-down" dinner, there's another area that can be jazzed up without breaking the bank. Depending whether your class includes vegetarians, vegans or folks with other dietary limitations, you could do a meat tray and a crock of soup, or something like pot roast and bread, or good old spaghetti and garlic bread, with salad and dessert. Of course, if at least one or two of your classmates still live nearby, you could ask them to help with the planning at least, and maybe with food and drinks.
Sorry if I seem to ramble; I just added things as they came to me. Best to you, enjoy!
Jo Cordell aka JustPlainJo
May 31, 2009
0

found this helpful
If it is a small group of classmates, it ought to be fun! Perhaps a picnic-like affair ? Here in the south we use any excuse for a "covered-dish" type thing too.
Ask your friends, and former classmates to help plan the menu. This will help get others involved. Folks will be more likely to attend something that isn't too "fancy" and isn't expensive. And if they can bring their children along, that is often a plus too.
Do you have a Park near-by? Many parks have those covered shelters that can be reserved for a group use. So if its too hot, or even if its raining, you'll be under-roof. There are usually large picnic tables and benches too. That solves your seating problem. Most parks have swings and other playground equipment for the children. If each family gave a few dollars, that would cover the cost for table coverings, paper goods, and such.
Perhaps someone would bring a large cooler of ice for the drinks. We sometimes use an old washtub for ice and soft drinks. The least expensive way to have drinks is either lemonade, or iced tea ( both sweetened and unsweet) The most expensive is bottled water !!
Classmates might enjoy seeing the renovations that have been done to the school since y'all graduated. There is always much fun of telling and re-telling the funny stories that happened, or who did what, and so on.Children enjoy hearing about things that their parents did way-back-when. especially if it is something naughty or mischievous! :)
Y'all have fun! Have someone take pictures.
May 31, 2009
0

found this helpful
Have you thought of having a picnic? May be every one bring a dish.
I am looking for ideas for class reunion banquet table decorations. Our school colors are maroon and white and the mascot is a maroon and white tiger. Any suggestions?
By Margaret from MS
March 29, 2010
0

found this helpful
All Recess No WorkThe best class reunion decorations are those that bring you back to the good old days and also help you celebrate how far you've all come since then. Choosing the right decor is what will set the ambiance for the evening and is important for creating what type of memories that night will hold.
Choose Nostalgic Decorations
Use the Colors of YesteryearUsing the colors of your alma mater is the starting point of decorating for a class reunion. Streamers, balloons and other party supplies can all be found in your old high school hues. Other fun ideas include buying pom-poms and cheerleader cones for centerpieces throughout the room. Small child-size versions can be found at many toy stores and even local everything-for-a-dollar shops. If you want a more elegant theme, without all the usual festivities, finding table linens and candles in your old school colors will still add the nostalgic touch these get-togethers need.
Add Personal Decor
Showcase the MemoriesHaving attendees bring in their own personal memorabilia for class reunion decorations is another great way to make the evening ultrapersonal. Old trophies, letterman jackets, certificates, and awards, as well as pictures, can be placed around the room for people to look at. If you are going with a theme, such as recreating your senior prom, have the ladies try and find dresses similar to the ones they wore or even the actual gowns for those who kept them. Have them either wear them or bring them to hang up to create instant decor. Partying like they did when they were younger is a wonderful way to ensure a good time.
Add Old Photographs
Reminisce About the Good Old DaysHaving everyone bring old photographs in from that era is also a great idea. They do not just have to be school related either. Summer sports, first cars, and other pictures that capture the era can be hung up or displayed on buffet tables so people can reminisce as they eat. They make great conversation starters, and talking of the days of yesteryear is a great way to make sure that everyone has a good time. When trying to think of the best class reunion decorations for your get-together, the trick is to remember that the evening is all about creating a wonderful new memory -good luck.
March 30, 2010
0

found this helpful
How about mirrors, with red tinsel on them, with a school prop on top of it all? By prop I mean something like a little tiger, megaphone, text book, yearbook, or old school photos that you can copy from a yearbook, a copy of your school or class song, graduation pictures, a reproduction of your graduation ceremony brochure.
I graduated with 27 classmates and it is time for a 20 year class reunion. Does anyone have ideas to make a small town class reunion fun? There are only 4 of us that do not live within a 25 mile radius of our high school. So, most people know each other and keep in touch.
I was thinking we could do it at the high school's homecoming, be in the parade and watch the game on Friday. Saturday we could have a pot luck lunch at the community center (which is free and nice). Saturday night we could have an optional dinner at a restaurant in a local town that does larger groups. It has a nice buffet and a full bar. I am thinking the football game and potluck would be family-oriented while the Sat. night dinner would be for classmates and spouses only.
We did the pot luck and dinner out at our 10 year reunion. Does anyone have good ideas for things the kids could do before, during and after the potluck to keep them busy? I do not have children and am at kind of a loss. Also, would it be too much to have the class get together for dinner Friday night before the game AND Saturday night as well? Or should Friday night just be an optional thing, mainly for those coming from out of town or families who do not want to cook at home before the game. Let me know!
By amy1989 from St. Paul, MN
May 18, 2009
0

found this helpful
I have been doing my reunion since the 10th and now we're having our 50th. I would send out pstcards(cheaper) and ask them to respond back. I would have the reunion at one of your old haunts. With feedback you will know how many will show and they can pay on their own. Get a website going and you can put that site on your postcard for all who have e mail.