Planning a class reunion can be fun, but it is a lot of work too. This is a guide about planning a class reunion.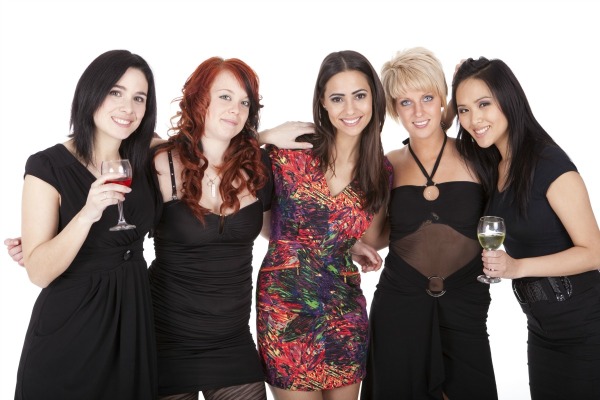 Filter

: All Articles
Sort

: Relevance
For my 20-year reunion, I printed copies of all the pictures from high school that I could find onto photo paper. I bought large hole punches in a 1 inch and 2 inch size, and punched the pictures out. I also typed out a few small "KHS Class of 90" sentences using MS Word, printed them out, and punched those as well.
I bought the punches on sale at a local craft store for half price, and have been able to use them for hundreds of pictures since then. I was able to make enough confetti for 25 tables for about $8.00, not counting the photo paper, which was given to me. You could use regular typing paper as well, but the photos won't be as vibrant. You could use this for any theme or any color scheme. You'll find that many people scoop the pictures up and take them home with them!
By shelf2812 from Dallas, Texas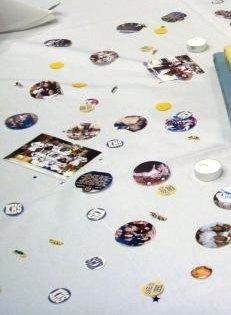 I'm planning our 30th HS Reunion, and am in charge of decorating the hall. Knowing that many people will be shy and bring spouses who won't know anyone, I've come up with a decorating idea that encourages interaction and laughter.

Down the center of each table, I'll run streamers, in our school colors. Then, I'll lay out packages of candy and toys, from our childhood, the 60's and 70's. For example, boxes of candy cigarettes, pkgs. of pop rock candy, wax lips, gold mine bubble gum bags, etc. Also, small wooden yo yo's, glow in the dark peace-sign necklaces. In the center of each table, will be a centerpiece, including more nostalgia items to bring up conversation and memories.

I know this will be a hit! Just mentioning "pop rocks" has made some of us recall trying to eat them in civics class....not knowing they'd make loud noises! And in the middle of all of this, I am laying strips of laminated pictures, from our yearbook. I was going to laminate pages of the yearbook as placemats, but think that smaller strips, along with the candy and toys, will fit better.

By Kathy B. from Tampa Area
Our class is preparing for our 45th reunion. We are looking for ideas/samples of info sheets that have worked for others. We have had such a low return from prior reunions. We would like to make a memory book this year. Any ideas would be sooooo appreciated.
By Lani
Answer
Was this helpful?
Helpful?
Yes
For our 30th reunion, I created Trivia sheets for each year of high school, from 1976 to 1980. I did one set with just information on them, such as: gas & milk prices, who was who that year, major news stories, etc. Then I did one set with questions, & answers on another page. (I did both types, for all 5 years. Yes, it took awhile to put together & type up! But they were a BIG hit!) Some questions: Who was Vice President of the USA? Who won the Academy Awards for Best Actor & Actress? Who was our Homecoming Queen? ...Etc.
Hope this helps!
Reply
Was this helpful?
Helpful?
Yes
I am planning a 10-year reunion for a very small class. I don't expect more than 30 people to attend, including spouses. Some guests will also bring their young children (3 years and under).
What can I do to motivate people to come? I think we will be doing it at the High School we attended, as it was recently renovated and it would be interesting to see the changes. But what then? Any suggestions will help. Thanks.
By kraw from Nova Scotia
Answer
Was this helpful?
Helpful?
Yes
Have you thought of having a picnic? May be every one bring a dish.
Reply
Was this helpful?
Helpful?
Yes
Read More Answers...
We are having our 20 year class reunion. We are having tailgating party, and tour of school at a home football game on Friday night. Alumni preordered class T shirts to wear to game.
Saturday night is our main event - casual attire at a "ranch", with DJ, and good catering. We mailed out questionnaire sheets and schedule of events months in advance, 20$ single, $40 couple; T shirts were $10 - and we will "make" $2 off each shirt to put back into class account. Giving out awards.
Some awards given at the 10 year were:
Florence Nightingale - given to nurse who worked at St. Jude
Gulliver's Travel - person who traveled farthest
Most Fertile - most kids
Coolest Job - person worked for Virgin Records
Head of the Class Award - given to person who is principal at former school
We are making name tags with senior pictures on them, that will be printed out prior to registration that Saturday night. We also plan to have a table for a deceased classmates memorial.
By amcouch from Winchester, TN
I am looking for ideas for class reunion banquet table decorations. Our school colors are maroon and white and the mascot is a maroon and white tiger. Any suggestions?
By Margaret from MS
Answer
Was this helpful?
Helpful?
Yes
How about mirrors, with red tinsel on them, with a school prop on top of it all? By prop I mean something like a little tiger, megaphone, text book, yearbook, or old school photos that you can copy from a yearbook, a copy of your school or class song, graduation pictures, a reproduction of your graduation ceremony brochure.
Reply
Was this helpful?
Helpful?
Yes
Read More Answers...
I graduated with 27 classmates and it is time for a 20 year class reunion. Does anyone have ideas to make a small town class reunion fun? There are only 4 of us that do not live within a 25 mile radius of our high school. So, most people know each other and keep in touch.
I was thinking we could do it at the high school's homecoming, be in the parade and watch the game on Friday. Saturday we could have a pot luck lunch at the community center (which is free and nice). Saturday night we could have an optional dinner at a restaurant in a local town that does larger groups. It has a nice buffet and a full bar. I am thinking the football game and potluck would be family-oriented while the Sat. night dinner would be for classmates and spouses only.
We did the pot luck and dinner out at our 10 year reunion. Does anyone have good ideas for things the kids could do before, during and after the potluck to keep them busy? I do not have children and am at kind of a loss. Also, would it be too much to have the class get together for dinner Friday night before the game AND Saturday night as well? Or should Friday night just be an optional thing, mainly for those coming from out of town or families who do not want to cook at home before the game. Let me know!
By amy1989 from St. Paul, MN
Answer
Was this helpful?
Helpful?
Yes
I have been doing my reunion since the 10th and now we're having our 50th. I would send out pstcards(cheaper) and ask them to respond back. I would have the reunion at one of your old haunts. With feedback you will know how many will show and they can pay on their own. Get a website going and you can put that site on your postcard for all who have e mail.
Reply
Was this helpful?
Helpful?
Yes