My dog loves the snow, but unfortunately can't stay out in it for very long. Within a few minutes, the snow and ice gets packed between the pads under his paws, causing him such discomfort that he just stops and can't walk any further. We had another dog that suffered with this same problem. I always thought that there had to be a solution for this, but we all know that shoe stores for dogs just don't exist. One can find all kinds of clothing for dogs but nothing for the paws.
One day while doing laundry, an idea hit me and the results were amazing. This is an easy project to make and solves the "packed paws" problem.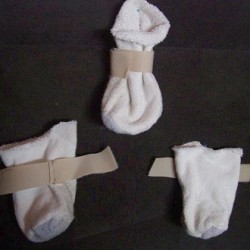 Take two pairs of socks (you can use child's size if your dog is small) and cut off the tops of each. You want to leave them long enough to reach at least knee high. (I know - dog's don't have knees, but we will use our imagination.) I then cut circles to fit in the toe end of each sock (cut 2 for each sock) from that spongy rubber type of shelf lining.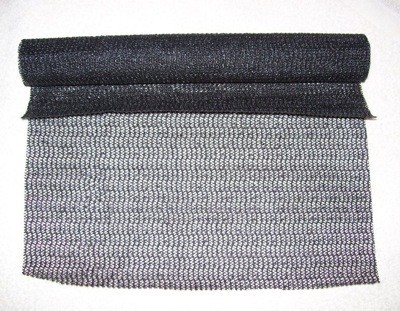 Cut another circle, slightly bigger for each from the part of sock you cut off. Insert the two rubber circles into toe area and then the sock circle. Stitch around circle securing to sock. This is creating the "sole" of the booty. Then take a length of Velcro long enough to hook to each other in front of booty. I sewed them to the back center.
That's it! Just slip them on your dog and secure them closed with the Velcro. The first time you try this, your dog will probably look at you as though you are nuts. Mine did. He wasn't sure about them and on his first excursion out, he stopped every few steps, shaking each foot. But he also realized that he no longer felt pain and got use to them quickly. He has no problems wearing them. They are soft for the dog, machine washable and keep his feet dry while outside.
Hope this helps others whose dogs have experienced this problem.
By maryeruth from Palm Coast, FL
February 11, 2011
1

found this helpful
Oh you are wonderful! I bought booties for my Boston Terrier but they are a tiny bit too small even though I measured properly and I am afraid the next size up will be too big!
This is a fabulous idea and I can't wait to try it. Thank you!
December 23, 2016
0

found this helpful
I will try this wonderful idea as well, thank you so much!
Here in the Black Hills of South Dakota we have lots of snow. To keep our dog Link's paws from being too raw, I take olive oil and rub into his paws weekly. It creates a barrier to keep his feet from cracking and hurting.
By Linda from Rapid City, SD
March 29, 2011
0

found this helpful
You still have snow?
Bless your Heart and Link's too.
Link is a very lucky dog that you care for his poor paws this way. Maybe it won't be too much longer before you and Link can both enjoy the sunny days of spring.