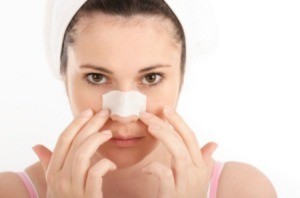 Large pores on your face can be worrisome. This is a guide about reducing the appearance of large pores.
Ad
---
Questions
Here are questions related to Reducing the Appearance of Large Pores.
How can I minimize my pores on my face?
By meggeiboo17 from Killeen, TX
Ad
---
---
Most Recent Answer

By lynda [44]09/14/2009
I have large pores, too. It totally depends upon age, diet, vitamins, sun exposure, and methods of skin cleansing, not to mention belief as to what causes it. As a cosmetologist/hairdresser, remember first that there is natural skin oil containing good protective bacteria which are delicate, easily destroyed by heat, chemicals, and scrubbing.

Keeping this in mind, one of the first secrets is to keep the face naturally clear of other bacteria, from hands, dirty linens/ cloths, dust off chairs/ throw pillow, boyfriends' hands, clothing, poor laundry detergent, over washing, and over scrubbing with soaps of any sort, but most especially with stronger soap-type cleaners.

If you are young, you may unconsciously lean on your elbow and support your head with your hand. If in the heat, sweating a lot, unconsciously wipe the sweat, dust, and bacteria into the pores. Since heat causes things to expand, and cold causes things to contract, that needs to be considered into the equation and solution, each one different for each person.

Rx or over the counter meds are another factor. Habits like riding a motorcycle can cause pores to collect dust and get larger.

One of the worst chemicals one can use on large pores is mineral oil, straight or in the ingredients of cheap makeup.
It is a known pore expander,dust collector, and offender for large pores.

My routine goes like this: keep hands clean at all times, but with gentle bar-soap or dish detergent for sensitive skin,( i can only find it at fiesta grocery market in sunlight brand, is creamy white and very mild, but works.)

I change linens faithfully each week to keep dirt away from my face. I never touch my face with anything that has not just been washed. All makeup must be minimal, liquid, and not cheap, because I have most sensitive skin.

Fact: every face has a combination of skin types: large pores, tight pores, avg.Pores. Taking a shower will feel
good, but will force the pores to widen with hot water if the face it directly into the jets.

Cold wind will both close the pores and chap the combination skin. Use a face mask for very cold wind.

Never apply anything unknown to your face. Never scrub your face skin with anything, only rinse with mildly warm water, not a scrub or brush. Use the least amt. Of soap, chemical, make up possible. Avoid dusty places, homes, streets, and the beach, as well as remember to change your vacuum bag often and dust home often.

Do not use hot water or ice water on the face. It must always be lukewarm, and very clean. Try to buy a bundle of cheap white face cloths that can be bleached weekly. Store the cloths in a dust proof container.

Avoid getting hair spray on the face directly or in drifting. Use no witch hazel or alcohol. Try to find the scrub gloves for the body, buy several. Use only one for two months, for use on the face only, not neck or any other parts of the body. One time a week, use d r y glove to scrub the large pores gently, and the rest of the face even more gently, then rinse glove only with soap and water, dry and store in very clean place until next week's use.

Dollar general's "hair, skin, nails" vitamins help keep the large pores healthy, if the rest of the diet is fairly balanced with a little fat/oil eaten daily on toast, in veggies, along with a small amt. Of meat of any kind. Sugar should be kept at a minimum.

If you are taking rx meds, check with your doctor to see if they can cause skin problems since you have large pores. If you are not taking rx you should simply remember that any touch to the skin is traumatic to the skin. A n y!
I prefer Revlon liquid makeup, and a cream cheek color.
I use makeup only on the large pores as a protectant, and a little around my mouth. Revlon seems to work better and not make the pores larger.

[If you are middle age or older, get enough rest, eat a balanced diet with a little quality high cacao chocolate
bar and a cup of reg. Coffee each day, along with veggies, and good vitamins, minerals, and milk thistle for good elimination. Keep your mind and body active.]

In the mornings, gently rinse with lukewarm water only, and a clean face cloth e a c h day. Never use one twice without cleaning in laundry. Never use cloths for any other purpose, such as wiping counters or cleaning shoes, or as a rag. Hang all wet cloths on a clean surface to dry until laundry time.

If you develop a pimple, immediately put a tiny dab of liquid detergent on just the very spot. Let dry, do not rinse. Only one dab per day, unless it gets rinsed off at end of day. Add new one until pimple is dried up.

At night, rinse off the day's dust first, then blot well until totally dry before applying a simple protectant that has no mineral oil, to the large pores especially, as well as to the rest of the face. After using a cloth to remove
the small amt. Of makeup.

Sorry, no time to proof read. Must end now. God bless, and good luck. : )
I have very large pores (holes) on the nose and near the cheeks (bumps). I tried Eskinol Pore Minimizing toner and it works "well" for me, but it contains alcohol, so I'd like to skip that. I wanted to try Neutrogena alcohol free toner, but it's expensive and I searched and found that it does not get really good reviews (maybe it'll be just like water like my Celeteque hydration toner).
So now I want to try cheap, natural, drugstore alternatives.
Please help me!
God bless.
By Francine B.
Ad
---
---
Most Recent Answer

By hershey06/28/2013
Witch hazel, just like alcohol, will dry out your skin. If, like me, you have oily or combo skin it could Over dry your skin & cause your body to Over produce oil & you'll end up with even more break outs. The neutrogena alcohol free toner does work well for me. It gets rid of any make up or dirt that my cleanser missed & doesnt leave my skin feeling tight at all. Good luck.
I would like to know how I control large pores and blackheads. I have tried many products and none seem to work! i don't have a lot of money and hate wasting it on products that don't work.

Julie Capone from Watertown, NY
---
Most Recent Answer

By Rosa [4]07/02/2012
After reading dozens of solutions, one thing is apparent, and that is to keep your skin clean. It seems that all the products out there seem to work for everyone, but the root of the solution seems to be the cleansing of the skin. So, what ever your try will work as long as you continue to cleanse your skin continually. If you stop cleaning, it will stop working, get it? Good luck.
I have large pores on my nose and on the skin on either side of my nose. I call it "orange peel" skin because nothing conceals the pore size. The rest of my facial skin is normal and has no large pores. Every makeup I've used settles in these pores and looks bad at the end of the day. Does anyone have a brand of makeup that is best or any tips for this problem?
-ATB
---
Most Recent Answer

09/13/2009
I posted on another question regarding makeup also, take a look if you will. I suggested using Milk of Magnesia as a great base to hold the makeup on as well as it tightens the pores. The stuff is easy to find at any store and is CHEAP for a large bottle. Apply with a cotton ball to the face especially the large pores as this will shrink and tighten them but do remember to use a good moistureizer when you wash your face off at night, I recomend using avacado mashed and blended with virgin olive oil,leave on about 10 minutes and wash off then use a night moistureizer. We use this in theatrical makeup for stage shows. The M.O.M. also will keep your make up looking fresh all day as well. Good luck!
I have a serious problem with my skin pores. My skin is dry, but still I have enlarged pores on my skin. Please suggest to me an effective way to control/reduce pore, because it looks really ugly.
By raii from Kathmandu, Nepal
---
Most Recent Answer

By shannon11/10/2009
There is a company called Bare Escentuals, and they make make-up and skin treatments from all natural minerals. They have a product called Rare Minerals Skin Revival Treatment. It is supposed to be the only product in the industry that can actually reduce pore size. Other products just reduce the appearance, but this actually has been proven to reduce the actual diameter of the pores. It is expensive, about 60 bucks and will last maybe 3-4 months. You can find it anywhere Bare Escentuals is sold, QVC, Sephora, Ulta, etc.
I'm 46 yrs old and have noticed I've got large pores on my face. I can't make it look smooth even with makeup. What can I do to make my face look and be smoother?
By Michelle D.
---
Most Recent Answer

By Donna02/27/2012
Clinique cosmetics has a line of pore refining products that really work. One is a refining serum that works to reduce pores with daily use. The other is called Instant Perfecter. You use it either under or in place of make-up. It instantly smooths your skin. By the way, I don't work for Clinique. I'm just a user of many of their products.
Solutions: Reducing the Appearance of Large Pores
Do you have knowledge about this guide topic? Feel free to share a solution!
Archives
Thrifty Fun has been around so long that many of our pages have been reset several times. Archives are older versions of the page and the comments that were provided then.
I have oily skin, I don't want to dry it out but what can I use to minimize my pores?
Dominique from New York

---
RE: Minimizing Pores
Is that Da City you live in? There are more products to minimize pores than rats in the subway in your city.
However, I recall the movie "Mommie Dearest", where Joan Crawford plunged her face into ice every morning after cleaning and before going to the studio and that really thick makeup. I remember my Mom doing the same thing. If you have an icemaker, maybe this would work for you. (11/10/2006)
By the Oracle
RE: Minimizing Pores
Hi, Dominique. I'm a firm believer in taking very good care of our skin and thus recommend a good quality toner. Please check with some of the "better" skin care lines: Mary Kay, Estee Lauder, etc.
That said, Oracle's simple recommendation of ice water is good. You might also enjoy an egg-white facial masque or an oatmeal masque.
Take care of that skin! Cheers, (11/11/2006)
By Rose Anne
RE: Minimizing Pores
Most folks have a "Combination" skin, both large and tight pores, on separate parts of their face and neck. Best advice is to NOT overdo with ANY product. EASY does it, and DO NOT USE ANYTHING WITH MINERAL OIL ! It is the biggest offender for producing larger pores, as most professional Cosmetologists know. Oil of Olay is OK for mostly tight pores, but not so good for oily skin. A good multi-vit/mineral along with Vit. E supplement is conducive to good skin. Don't EVER use bar soap of ANY kind on the face or neck, only mild liquid unscented body wash.
Neutragena, although more costly, is safer than most anything else. Watch the talc content in makeup and cheek blushes because it can clog also. Do NOT use HOT water, but rather tepid luke warm washes and rinses. Ice water is for skin in the VERY BEST condition to begin with. Also, blow dry your skin after blotting with a clean face towel to MAKE CERTAIN it is dry before adding ANY SORT of creams, moisturizers, etc., to minimize fungus growth beneath the coverings.
I prefer to use a dry hand "glove" scrubber once a week to the largest pore areas only, then wet it and use lightly on the tighter pore areas. When blow dried, one can apply a tiny dab of Neosporin with a clean toothpick tip, should there ever be a blemish. It seems to treat most every sort of blemish effectively.
I like to use non-oily makeup SPARINGLY, using a new toothpick for filling any tiny lines, and only using makeup around the nose and mouth areas, fading into the rest of the face, then brushing on blush lightly on the cheeks.
I use a lipliner then chapstick for lipgloss, giving it a very natural look which I enjoy and on which I am complimented frequently. Hope this helps? God bless you. : ) (11/12/2006)
By Lynda
RE: Minimizing Pores
Actually, I also used to have oily skin and Vichy Normaderm is amazing, I always tell all my friends how my face got so smooth and defined yet they never go and buy the product because of the price. It's definitely worth it plus more. I started off with the face wash and now I have almost all the products under the normaderm name anyway. I highly recommend it. =) (11/12/2006)
RE: Minimizing Pores
I have extremely oily skin my face. I have found that if I use a facial brush to clean my face both morning and night with a good cleanser, my pores are so much smaller. It also breaks out far less often too. I had nothing but problems using my hands or a washcloth. (11/12/2006)
By susanmajp
RE: Minimizing Pores
A dermatologist once told me that facial skin is very delicate and not to scrub it. She told me to always use chemical peels as they do not injure the skin. (11/12/2006)
By cookwie
RE: Minimizing Pores
Take 1 teaspoon of yeast and soak it into milk for 15 minutes and then apply it on your skin for 30 minutes. It will help to almost finish your pore problem, without drying your skin. Be sure that you use this remedy for at least 2 weeks daily, before going to bed. Do not use this in the morning it wont be that effective. Do not use warm water to wash your face. (01/08/2007)
By
RE: Minimizing Pores
Use Biore Deep cleaning pore strips. Once per week or less on a clean face. Don't talk on the phone, drink, chew gum nor eat when using the strip. You want your face to be perfectly still. Occasionally smooth down the outside of the strip when wearing it. The strips need to make good skin contact. Available at probably most drug stores, Target, Wal-Mart... Sometimes the strip leaves a little gunk behind - just wash it off. The strips come in a box.(06/21/2007)
By cookwie
RE: Minimizing Pores
I have huge pores on my nose and nothing worked. I used the nose sticky strips, scrubs, masks, peels; and they were all no use. The best thing I have used is toothpaste! Put it on like a face pack to the areas where the pores are most noticeable. Leave it until it has dried a little. Then, once you have rinsed it off completely, apply a thin coat of non perfumed hemorrhoid cream/jelly. Hemorrhoid cream is also good to apply all over your face and works in the same way as a firming face cream. Make sure to get non perfumed, LOL, because it has a very strong distinct aroma and you might give off the wrong messages, ha ha! (11/17/2007)
By Borasic Lint
RE: Minimizing Pores
What about a microdermabrasion for your skin, does that help? Oprah says that she loves it. Do any of you guys know which microdermabrasion she uses because she says that it makes her pores very tight. (02/01/2008)
By Sharon
For large pores, make a paste of almond meal (from the health food store). Put it on your nose, chin, or wherever your pores are large. Let it dry and rinse with cold water. Follow with an ice cube rubbed on face and nose. This works. I sometime add a bit of alum to it. You can also scrub your face with the Almond meal. It draws as it drys. Then proceed with your makeup.
I also use lemon to bleach my freckles when they get too many. Stay out of the sun.
By Renett from Southern CA