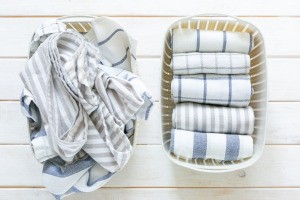 Marie Kondo has been making waves in the house organizing sphere for quite some time now, but even more so now that Netflix released a TV series featuring the guru herself in "Tidying Up with Marie Kondo." I have watched the show myself and some of her ideas have been on my mind lately. My family of four just recently picked up and moved across the globe with most of our possessions in only seven suitcases. As we are settling into our new home, I am trying to be conscientious of what new things we bring into our house. Having less stuff can make for much easier organizing.
One of the things people struggle with the most in keeping an organized home is keeping up with the heaps of laundry. I definitely have struggled with this myself. Since we couldn't bring much with us on our move and we were moving from a tropical to a colder climate, we didn't bring many clothes. We planned on getting more suitable clothes for the climate upon arriving at our destination.
As I was doing laundry today, I realized if you have less clothes you have less laundry. Yes, you must do the laundry more often instead of ignoring the growing piles so it may seem like you have more laundry. I like the extra push of needing to do it or else we wouldn't have anything clean to wear. Another bonus is that you have much less to fold. We seem to have the perfect amount right now that at the point where our clean clothes are getting low, we have the right amount of clothes for a good full load.
In her show, Marie Kondo has everyone put all of their clothes on the bed and then go through each piece of clothing and to get rid of any piece that doesn't spark joy. If you have a hard time with this concept of your clothes giving you joy, I suggest you sort your clothes by these rules:
How to Pare Down Wardrobe:
Does it fit?
Does it have stains or holes?
Have you worn it in the last year?
This is a good place to start in paring down your clothes. The next step is to make sure that you actually donate it right away, don't put it in a bag and leave it in the garage!
If you're interested in more Marie Kondo tips you should read one of her books: